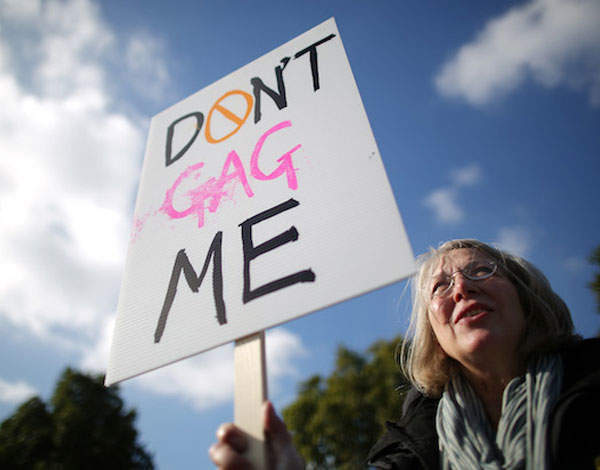 The Lobbying Bill — or Transparency of Lobbying, Non-party Campaigning and Trade Union Administration Bill to give its full but less snappy title — returns to the House of Lords this week following the rejection of two key amendments by MPs.
This controversial 'gagging law', as some have called it, has created plenty of debate within the charity sector — the key issue being that the proposed restrictions on political activity twelve months prior to the election will stop organisations speaking up for the beneficiaries they serve or highlighting injustices.
Opposition has become increasingly strident since the bill was announced last summer, with a petition of over 160,000 signatories supporting changes to the bill backed by national and local charities from Oxfam and Mumsnet to the Countryside Alliance.
Regardless of the outcome of the next round, the bill has certainly brought charity campaigning into the spotlight. There are pros and cons, of course, but most agree that open and honest debate is the foundation of democracy and that charities play a vital role in this. Charity campaigning can help balance powerful lobbying by the private sector too, highlighted by the British Heart Foundation's successes with food labelling and tobacco, for example.
Indeed, campaigning has led to some of the greatest social and political improvements in modern history — the abolition of slavery, universal suffrage, and a treaty banning landmines were the result of the very same activities now under scrutiny in Westminster.
Despite this, many funders — whether private philanthropists or corporate foundations — hesitate about supporting campaigning. At NPC we have found this reluctance often stems from concerns that it is harder to know if you have made a difference, it takes too long and the results seem intangible. However, these challenges are often over-stated — many charities are now able to make convincing, evidence-based cases for their contribution to change, with interim milestones in place to track progress.
Good charity campaigning is about going beyond immediate needs, such as providing advice to vulnerable refugees, to challenging and changing the root causes of a problem, for example, by researching and then promoting to government fair and workable immigration policies. It is essential for tackling important, cross-cutting issues like the environment or human rights that are influenced by many interlinking factors.
Ultimately, campaigning is not the solution to every social problem, but it is a powerful approach that can create fundamental, wide-ranging and lasting change.
The philanthropy sector's unique ability to act independently provides opportunities for bold and brave giving to support campaigning in a way that other funders cannot, due to the longer-term nature of the work and the range of factors involved.
There are some notable philanthropists already working in this sphere. The Sigrid Rausing Trust supports human rights around the world, so there is a natural campaigning element to the work, and runs a specific programme focused on advocacy and research.
The Open Society Foundation — founded by investor George Soros — similarly pursues a wide social aim, with its focus on building tolerant and open societies that all people can participate in. The Barrow Cadbury Trust's mission of social justice for all is supported by the public and policy influencing it undertakes. In NPC's Funding impact report, the trust is up front about the challenge of measuring the impact of campaigning, but explains that a collective action approach has been developed, focusing on their contribution towards the changes they're aiming for rather than just direct casual relationships.
Whatever happens with the Lobbying Bill, we hope philanthropists don't shy away from the challenge of funding campaigning. It's an effective way for ambitious funders to make a difference, not just to a specific issue or beneficiary group, but more fundamentally across the sector and to society as a whole.
Ria Bowler is communications manager at New Philanthropy Capital (www.thinknpc.org)