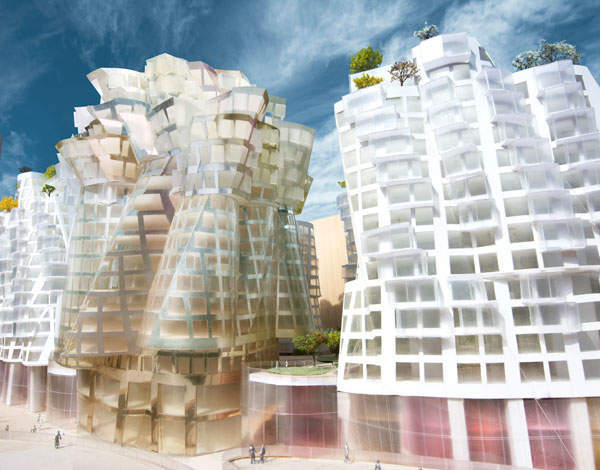 'Well, in all my trips to London I've seen it and thought: what the hell are they going to do with that? That's such a great opportunity and voila, I'm here,' Frank Gehry tells Spear's. He's standing in the shadow of London's most treasured derelict: Battersea Power Station, where he's been speaking at the launch of the third stage of redevelopment in and around the iconic monument, Europe's biggest building site.
The project will create some of the most sought after homes in London; the combination of the brutal statement of Giles Gilbert Scott's monument to power and Gehry Partners and Foster + Partners' flowing and expressive 'Flower' and 'Skyline' buildings will provide contrast. The world's most famous architectural coalition has made interesting buildings that ripple and spiral, using titanium, glass and greenery.
Grant Brooker of Foster + Partners highlighted deliberate openings inside the Skyline, designed to light the shopping street and give passing train passengers the ability to glimpse the imposing chimneys bookending an elegant homage to commerce. Whether the power station and its proud, brick singularity will engage in fluid conversation or stand aloof will be a point of interest but yesterday's launch sought to emphasis a concept of unity, physically and socially, throughout the overall project.
Rob Ticknell, CEO of Battersea Power Station Development Company, promoted the Development Company's 'Community Charter' saying: 'We want people who have a commitment to London. We want people to live here, what we don't want is people just buying empty apartments and just storing wealth here, that's the last thing we want. We want Battersea Power Station to be a truly active, vibrant community.' He's keen to emphasise 'we're not having these big launches anywhere else in the world,' but he adds the caveat 'Let's see what happens after that.'
Ticknell has his work cut out to convince sceptics. The charter itself is an attractively designed manifesto which is big on proposals but short on method and the high costs of the new units and the fact only 15 fifteen per cent are 'affordable' won't rule out the possibility of foreign buyers holding empty apartments.
There's also the fact the area won't reach its potential for another decade, as one leading property adviser told Spear's: 'You're paying punchy prices there and it's option money, you're not going to be able to get a beer or a cup of coffee for a long time. You can put your money down but it terms of gratification it's going to be near on ten years of living on a building site.'
Gehry is confident the design can negate the risk of empty sales: 'Our goal from the start has been to create a neighbourhood that connects into the historic fabric of the city of London. We have tried to create humanistic environments that feel good to live in and visit.'
On the viability of this and his sense of social responsibility Gehry says to the assembled media: 'As an architect, all my life I've felt a responsibility to be positive and upfront about social issues. I'm not going to give you a litany of my philanthropic involvements to date, but I have been involved in quite a lot of projects and volunteered for many housing projects in New Orleans, with Brad Pitt. There is a sense of social responsibility; I think I became an architect for that reason and I probably wouldn't be involved unless I felt there was adequate address of those issues here. It's a big deal.'
Although the London skyline continues to develop, it's unlikely Gehry will get the opportunity to leave another signature on it. From the plans presented his work will be instantly recognisable. If they meet council approval and are well rendered in the build then Gehry will have created a neighbourhood which can serve as both a bustling, involved community and an attractive place for wealthy patrons to buy and live. 'It's a great icon,' Gehry says on the power station itself. His Flower can be testament to the fertility of that.