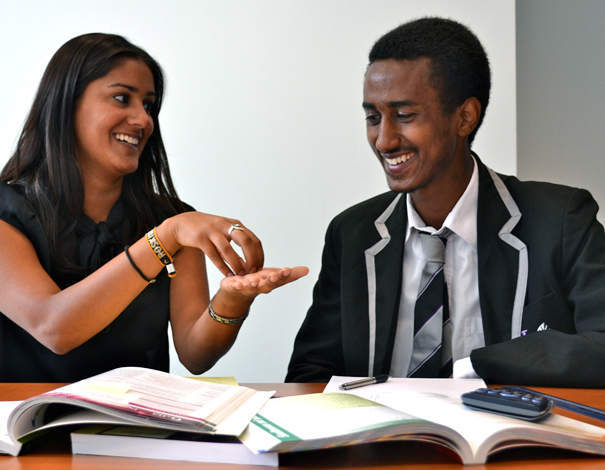 Author: Aoife Moriarty


'If you look today at schools in disadvantaged areas of London and how many kids they send to Russell Group Universities, it's typically about 6 per cent of their cohort,' Andrew Berwick tells me matter-of-factly.
Berwick isn't just saying it; he's one of those trying to change that statistic for the better. The former teacher and City strategist is Director of The Access Project, a charity which provides extra tutoring to secondary schools where more than 30 per cent of students receive free meals.
Tutors come in the form of high flying consultants, hedge fund managers, marketing managers and company directors. For an hour a week, they give a student additional learning support at their place of work. The only requirement is a university degree and knowledge of their chosen subject.
Neil Cosgrove, UK Managing Director for The D.E. Shaw Group and a former Cambridge graduate, is one such tutor, helping students to boost their grades in maths.
Above all, Cosgrove admires the programme's practical nature: 'I really enjoy the connection that comes with meeting my students face-to-face,' he tells me, 'and because the tutoring sessions take place at my office, I can actually focus more energy on teaching and less on travelling.'
A host of charities and social enterprises already exist in the UK to help disadvantaged students better their grades. Action Tutoring in London, for example, aims to help students on the D to C borderline achieve the five A* to C GCSEs they need to secure a college place and improve their prospects.
But what about those who want to aim higher academically, that have the potential for the country's top universities but just need that little extra push? That's where The Access Project comes in, says Berwick.
'Unfortunately even in a school that's well led and has committed and talented staff, I think one of the issues is that achieving the highest grades – particularly at A-level – is hard,' he explains.
'In independent schools, the high grades will be the majority of the focus. And yet we know the kids who go to them are more likely to receive extra tuition than those at state schools. Because you know what? It's hard to get those very top grades.'
These days, private tuition is a booming industry. A recent survey by The Sutton Trust shows that pupils at private schools are nearly twice as likely to get additional tutoring as those from state schools (27 per cent as opposed to 14 per cent). It's an obvious and unfair advantage for those with the means.
'For any student, unless your parents are funding you, or you work day and night to afford it, it's just unfeasible,' eighteen-year-old Maksud Rahman says of the possibility of extra tuition.
The Hackney student, who attended Central Foundation School, was fortunate enough to become part of the Access Project in Year 10, receiving additional support in maths and chemistry. He recently scored AAB in his A-levels and will study chemistry at UCL from September. Cosgrove was one of his tutors.
'I was very, very far behind,' Maksud, who spent a year abroad in Bangladesh, explains. 'And maths is actually one of my weakest subjects in general so I've always struggled with that. But having the tutors there to help me made a world of difference. It just skyrocketed me.'
The supremely confident young man, who is the first in his family to go to university, is full of praise for his tutors: 'Neil works in a hedge fund, so obviously he's got a lot on his plate. He took time out of his day to tutor me, not only for one hour, but sometimes two hours. Anytime I had any issues I could go to him and talk to him. That is support I have never, ever experienced and I doubt that anyone would in a school alone because there's so many students.'
The Access Project's primary focus is on social mobility in education and, consequently, the workplace. They highlight that fifteen per cent of secondary school pupils are eligible for school meals, yet these students make up just two per cent of the intake at selective universities.
Founded back in 2006 by Alex Kelly, a 21-year-old teacher at Highbury Grove School, the programme started off small but is now expanding throughout London and Birmingham. Berwick joined up three years ago, taking over as director in September last year, and is overseeing the growth.
'Specifically I think I carry with me from my experience of teaching this real passion about what happens at the very top end of society, in terms of who goes into positions of power and influence,' he says, 'and the fact that it's not a route that's obtainable for the majority of kids from poor backgrounds'.
Of course it's not just the students that benefit; tutors also get a chance to brush up on chosen subjects, with Cosgrove citing this as a 'hidden bonus' of the scheme. Berwick is in agreement: 'For me, I was teaching GCSE Maths this year and I absolutely loved it. It's great to go back to a subject you haven't looked at for a few years to challenge yourself academically.'
Arguably, a system that requires both private and state school students to have extra tutoring is fundamentally flawed. But for The Access Project, it is simply about levelling the current playing field.
Of the volunteers' motivations, Berwick says: 'I think there is an element of wanting to see social justice there. Most people working in the City and elsewhere are aware they are not reflective of society at large and care about that and want to do their bit to try to improve it.'
But can schemes likes this – potentially rolled out on a national scale – make a difference? Young Maksud Rahman seems to think so: 'They make a world of difference. Not only with grades and study, but also in motivation and what you aspire to be.
'Sitting in a big office being surrounded by those kinds of people is an experience which very few people in their school life – especially in Hackney – will ever have. I would never have set foot in a hedge fund if it wasn't for the Access Project. It gave me a glimpse into a different lifestyle and a different way of doing things. It definitely has motivated me to work a lot harder.'
To find out more about the Access Project and how you can get involved, go to: www.theaccessproject.org.uk