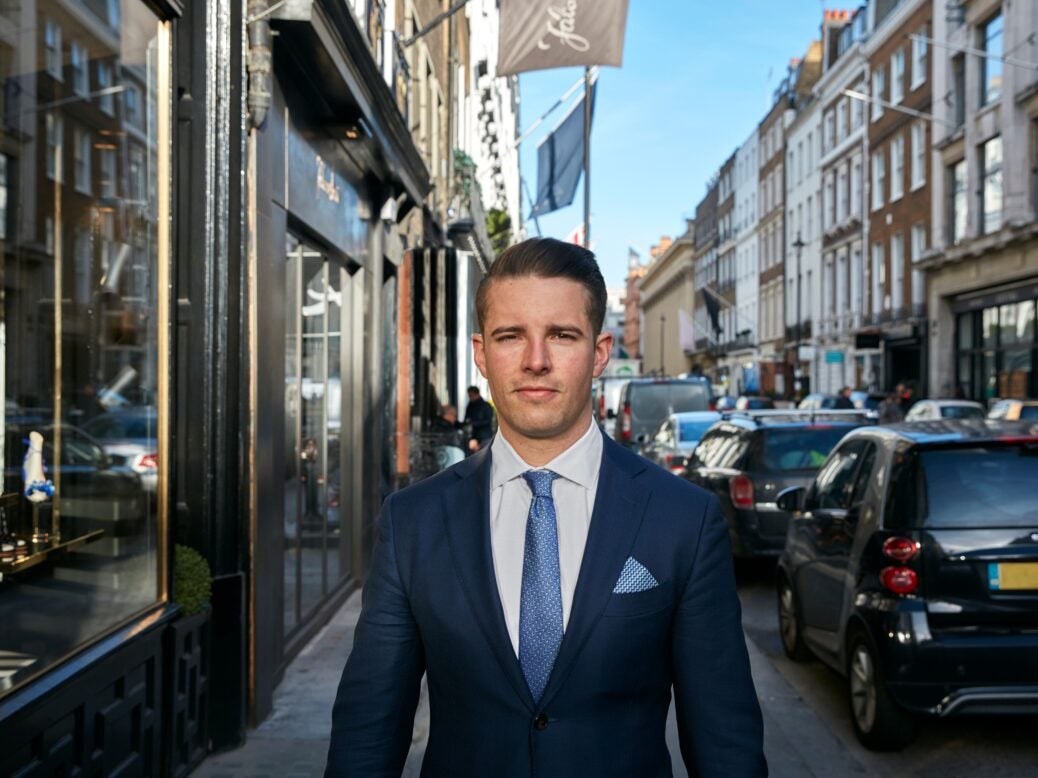 The striking redevelopment of Albemarle Street in Mayfair is breathing new life into one of the area's more overlooked addresses – and putting it on the map, discovers Arun Kakar
'Everything about Mayfair at the moment is top of its game, and people are recognising that.' That's what Spear's was told last year by 'Mayfair guru' Peter Wetherell – a former Spear's property adviser of the year and veteran of more than three decades working in the area. Yet within this benighted district lies one street, which has not hitherto enjoyed the spotlight shone upon its immediate neighbours, Dover and Old Bond street. That's Albemarle Street, now the subject of a rapid and ambitious redevelopment project.
At the heart of this is Matt Farrell, managing director of Tropheum Asset Management, which has worked on some of the most high profile acquisitions in the European real estate and has a £1.5 billion portfolio, covering around 335,000 square feet under management. As well as Albemarle Street, some of London's most lucrative postcodes including in St John's Wood and New Bond Street are also on its books.
'We're not scared to take on big projects,' Farrell tells Spear's over coffee at Isabel, one of the newer additions to Albemarle Street. Opened in 2017, it's the glittering sister restaurant to Notting Hill's celebrity favourite, Casa Cruz. For Farrell its opening was a 'real turning point for the street – a special place that really fits with our vision'.
What is that vision? 'We saw it as really important to give people a reason to come to Albemarle Street,' he says. 'You can't come to Isabel on the internet, you can't have a really unique experience at Oswald's.'
About 30 seconds away from Bond Street, which features several fashion flagships, Farrell says that the firm wanted to position Albemarle as a 'complementary district'.
'The original vision was that you have the most expensive retail street, the most desired street in the world,' Farrell says of Bond Street. On Albemarle, meanwhile, things were different. 'You just saw a huge disparity in the quality of the two streets,' he recall. 'So for us it was a real opportunity to create this destination.'
As well as Isabel, Albemarle Street now hosts several new arrivals intermixed with some of the more traditional haunts. Designer Alexander Wang notably opened its flagship store here in 2015, which stands opposite Marlborough London gallery, a mainstay on the street that first opened its doors in 1946. These are all consistent with Farrell's determination to avoid 'becoming homogenous' with this Mayfair thoroughfare. He recalls a recent visit to the Tokyo's luxury shopping district Ginza where he came across 'the same mix of brands' as other such parades.
'The overriding strategy was to have the best, certainly niche brands [such as] Aquazzura and Self Portrait, the younger brands which complement the brands on Bond street, because to be on Bond Street, you have to have a very established brands,' he says.
'We don't want to have a boutique which has other stores in London or on Bond Street, we don't want big brands, you want a little bit of that familiarity but you also want some more niche brands,' he says, name-checking jewellers Boodles and House of Garrard as examples. Galleries play a crucial part to play too in creating a balanced experience, he notes.
'If you just have fashion fashion fashion fashion, it loses that importance,' he adds, pointing to the Marlborough and John Martin as two of the artistic highlights on the street. 'The gallery world is really important for us, because I think consumers, the way things are changing on that experiential level – going to a gallery is an experience, it's not necessarily going to buy, it's going to look  [and] appreciate work.'
Farrell is optimistic about Albemarle's prospects as a destination, but he's also bullish on the challenges facing the high street more broadly, challenges that even the luxury sphere isn't insulated from. As well as new efforts to create a more 'experiential' mode of shopping for consumers, Farrell is confident that the bricks and mortar store will ultimately prevail. 'It's going to reach saturation point at some level,' he says of online. 'People aren't just going to stay in their houses and never go out.'
Thankfully, he's of an equal sentiment when it comes to Brexit. 'We do business across Europe and a few other places,' he says. 'Here, the rule of law, the legal system, transparency, all that sort of stuff is great for business.'
Arun Kakar writes for Spear's