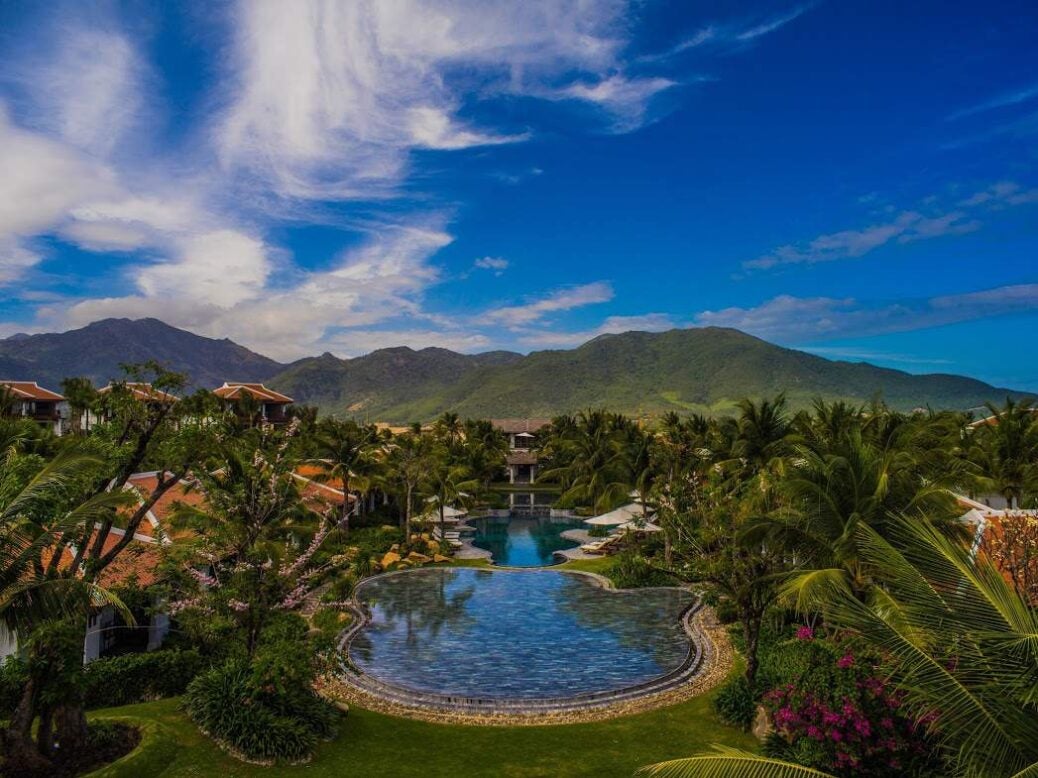 A trip across Vietnam reveals a country ready to shake off the legacy of the 'American war' and embrace its burgeoning art scene, writes Emelia Hamilton-Russell
At midday, Ho Chi Minh City is furnace-hot and wet at the same time, the tarmac shimmering like water and emitting an alarming scorched rubber smell. After 14 hours on a Vietnam Airlines flight, the heat and white light almost drive me back into the plane. The city itself seems to spill into the airport. Women in conical hats push great trolleys that hold what look like the entire contents of their homes, wrapped in plastic shopping bags and held together with bailing twine. Outside, families of five are crammed on to 50cc mopeds, children bookended by parents. We grapple our way towards a taxi, trying to avoid the onslaught of traffic. This, we are told later by a kindly Vietnamese stranger, is exactly what you shouldn't do. When crossing a road in Vietnam, confidence is key. The mopeds expertly weave around pedestrians, and any faltering or hesitation is likely to get you flattened. All the hotels in Ho Chi Minh claim that Graham Greene wrote The Quiet American in them. 'The only hotel not saying that is us,' says Kai Speth, general manager of the Reverie Saigon in district 9.
He also explains that Ho Chi Minh is a very young city – the young people don't talk about the war, not because they don't want to talk about it, but because it's not part of their experience. They're keen to show tourists than there's much more to Vietnam than what they call the 'American war', which ended in 1975. If I want to ask about it, I should ask someone over 50, but preferably I should wait for information to be volunteered. I am glad we tackle the elephant in the room early, and I resolve to take Vietnam as I find it now, in 2018.
Next morning, we are up early. With only staying one night in Ho Chi Minh, we are keen to inhale as much of the capital's fumes as we can before heading for cleaner airs. Despite the advice to put the American war out of my mind, the echoes are everywhere. We go to the central post office, an imposing French colonial building where war correspondents would file their copy to editors in London, Paris and New York. We pass the war museum, but decide not to join the hive of Western tourists. Instead, a bowl of pho from a street vendor is a revelation. It's our first taste of truly authentic Vietnamese fare, and the hydrating, tangy noodle soup is the perfect antidote to the midday heat.
While I've enjoyed my whistle-stop tour of Ho Chi Minh, I'm also glad to leave this dizzying, high-octane city behind. Nha Trang, southern Vietnam's eastern coastal city, makes a perfect alternative. The sea is Nha Trang's main attraction. Warm and clear for most of the year, with glistening white beaches and rocky islands with coral reefs, it has become the most popular destination in Vietnam for scuba diving, snorkelling and other water sports.
The city itself still has the mopeds, riotously coloured billboards and street food, but the pace of life is more sedate and – with a population of around 500,000 compared to Ho Chi Minh's 6.6 million – it feels more spacious. People sit on their doorsteps gossiping, smoking cigars and ladling out bowls of pho from steaming vats. Armed with our knowledge of the correct way to cross a Vietnamese road, the traffic seems slightly less life-threatening, and we brave a moped tour of the local art scene.
Nguyen Hong Van, who opened Nha Trang's first art gallery, is the perfect guide. The tour is intimate, as most of the artists' studios double as their homes. Van introduces me to her family, bowing to me as if I were visiting royalty: her husband, the painter Bui Van Quang, and their four-year-old son, who tells me his name but I don't quite catch it. He giggles, delighted at my inept attempts to mimic him as he rattles through the Vietnamese alphabet.
The minimalist apartment is filled with Quang's paintings – bold, figurative and, I'm told, quintessentially Vietnamese. The noise of frogs is deafening as we sit in the back garden, Van feeding me home-made spring rolls and telling me about the other artists we'll be visiting. The story of one the tour's artists, Mai Loc, epitomises Vietnam's rapid transformation. Once living under the poorest of conditions as a miner, he befriended a Norwegian couple in 1995. They kept in touch, and for his wedding the couple gave him a camera, changing his life. Today Mai Loc is a much sought-after photographer who has his striking black-and-white images have featured in National Geographic. 
The Anam hotel, half an hour from Nha Trang, is its own tropical paradise. With beautifully manicured gardens and plenty of lush foliage it feels rural and private. We stay for five blissful days, basking in the sun and sipping fresh coconuts on the beach. From this enclave, the green landscape seems primordial, untouched – but of course it isn't. Developers are busy beyond the hotel borders, and £1 billion has already been invested along 20 miles of beach. As the plane takes off, marking the end of the trip, I remember something the hotel manager told me: 'If you come here next month, there will be a new airport. If you come here next year, there'll be five new resorts.' In the pearly morning light, mist evaporating from the lakes and damp forests, Vietnam from the air looks very beautiful, and I'm glad I visited soon enough to see it.
Emelia Hamilton-Russell is junior staff writer at Spear's 
Photo Credit: Waterlilies by Mai Loc, others provided by the Anam Hotel.