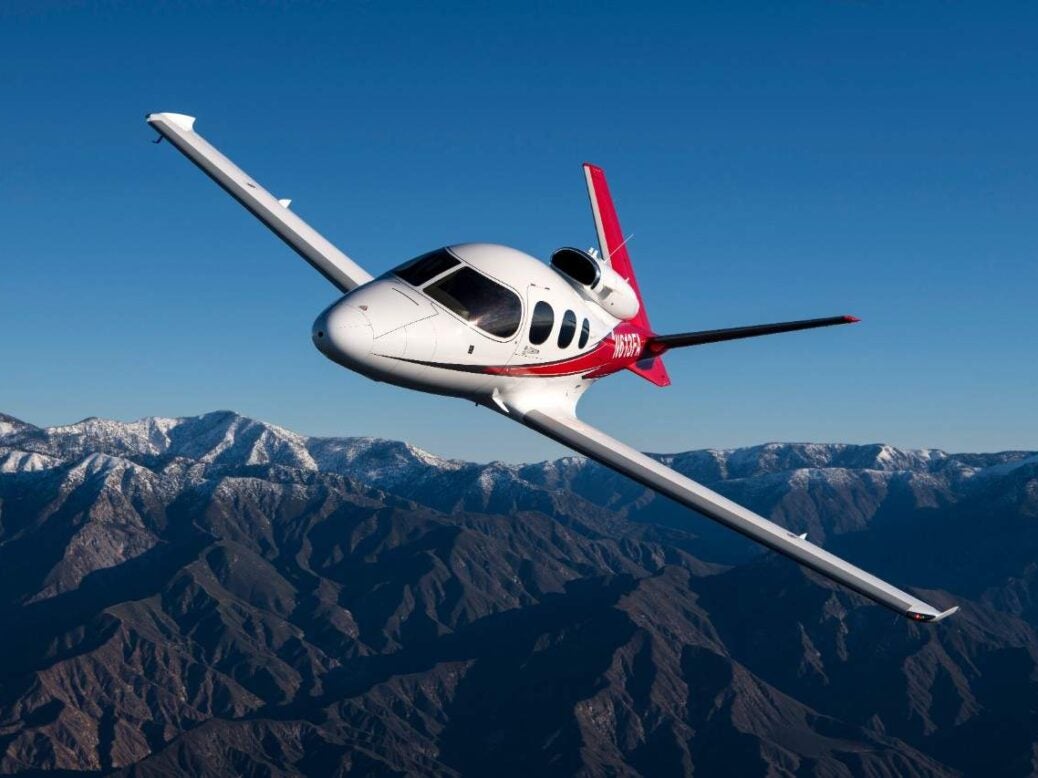 Cirrus's nippy G2 Vision Jet brings the performance of larger aircraft into a small but beautiful package, writes Ben Griffiths
Touted as your personal jet, the G2 version of Cirrus's renowned Vision Jet is a delightful single-pilot private aircraft that happily cruises in the magic 300-knot speed range, offering an attractive combination of the utility to fly in to smaller airports closer to your destination and the performance to do so at speed.
What's more, it will transport you there in style and comfort, with eye-catching good looks, a cabin that will please the most demanding of passengers, and an intuitive cockpit setup that will leave you grinning at the sheer delight of flying it around the skies.
For pilots used to flying single-engined propeller aircraft, the Vision Jet is pretty easy to fly. From outside, the most striking thing about it is the V-shaped tail assembly, while the streamlined fuselage expands to make way for a very spacious seating arrangement for five adults.
For this test flight we're departing from TAG Aviation at Farnborough for a flight to Newquay, with a diversion built into the return which will show off all the navigation kit and other features.
Uploading our flight plan via the Cirrus app is a breeze – the aircraft knows what we want to do with the press of a few buttons, and we're soon running through the onboard electronic checklist to start up and get ready to fly.
A nifty split entrance door allows easy access to the cabin, with the top portion rising up and the lower one dropping down with inbuilt steps. The pilot's seat slides right back too, enabling me to step straight from the stairs into my seat and slide it fully forward until my feet reach the pedals.
Enjoy the view
The first impression is one of light and excellent visibility. I barely need to turn my head and can see the wings either side of us. The nose drops away at a convenient angle too, so I enjoy a superb vista out front.
Buried in the nose cone is a radar for weather and traffic avoidance, and the famed Cirrus Airframe Parachute System – yes, a jet with a built-in parachute! – that means we can glide down to earth under silk canopies if anything catastrophic does go wrong. A single handle in the ceiling would fire this process.
For now, though, pre-flight checks completed and departure clearance given by air traffic control, we're ready to start. As we trundle away from our parking stand the pressurisation system is set up – a simple switch to click and we're good to go. So many complex systems on the Cirrus have been made simple. It's all with the single pilot in mind, helping eliminate many of the tasks a co-pilot would help to monitor. There's even an autothrottle among the optional extras.
Cleared for takeoff, we line up, the Cirrus poised like a sprinter. Advancing the throttle fully forward, the Vision Jet surges forward and seems to leap into the air. Pulling the sidestick back to rotate at 90 knots, we're soon nose up and climbing rapidly.
Making a climbing turn to the right, we're soon cleared up to 9,000ft by the controller as we scan for traffic on our collision avoidance screen and engage autopilot. Within about 15 minutes we're up well above the clouds. The whole departure has been remarkably smooth and well within the capabilities of the average private pilot – with proper conversion training, of course.
Much of this takes place on the ground, to learn the switchology and digital menu system so that it all happens intuitively in flight. As I've flown a similar cockpit before I can remember most of the things I need to do, with the help of experienced instructor and Cirrus demo pilot Adam Hahn at my side.
Cruising along on autopilot at flight level 200 (20,000 feet), it's easy to forget you're not in a much larger machine. The Vision Jet may be diminutive, but it punches above its weight thanks to an incredible avionics suite, the Cirrus Perspective Touch+ by Garmin. The wide cabin, with staggeringly large side windows, feels akin to a luxury SUV.
Beneath our Bose noise-cancelling headsets, the sound is barely noticeable. I try taking this off to experience cabin noise and it's no worse than flying in a regional jet or turboprop – which would make for a comfortable ride for any passengers.
All too soon it's time to put the Vision Jet back on the ground, for which we disengage the autopilot to allow me to discover how easy it is to hand-fly the approach. As I follow the flight director cursors on my display and nail the speed at 81 knots, we coast down to plonk our wheels square on the runway's 1,000ft marker.
Sadly there's just now the fun of taxiing back to our parking stand and the simple shutdown procedure – turn the big knob back to OFF – and climb out. The Vision Jet has won a place in my dream hangar for its nifty performance and ease of use.
Read more