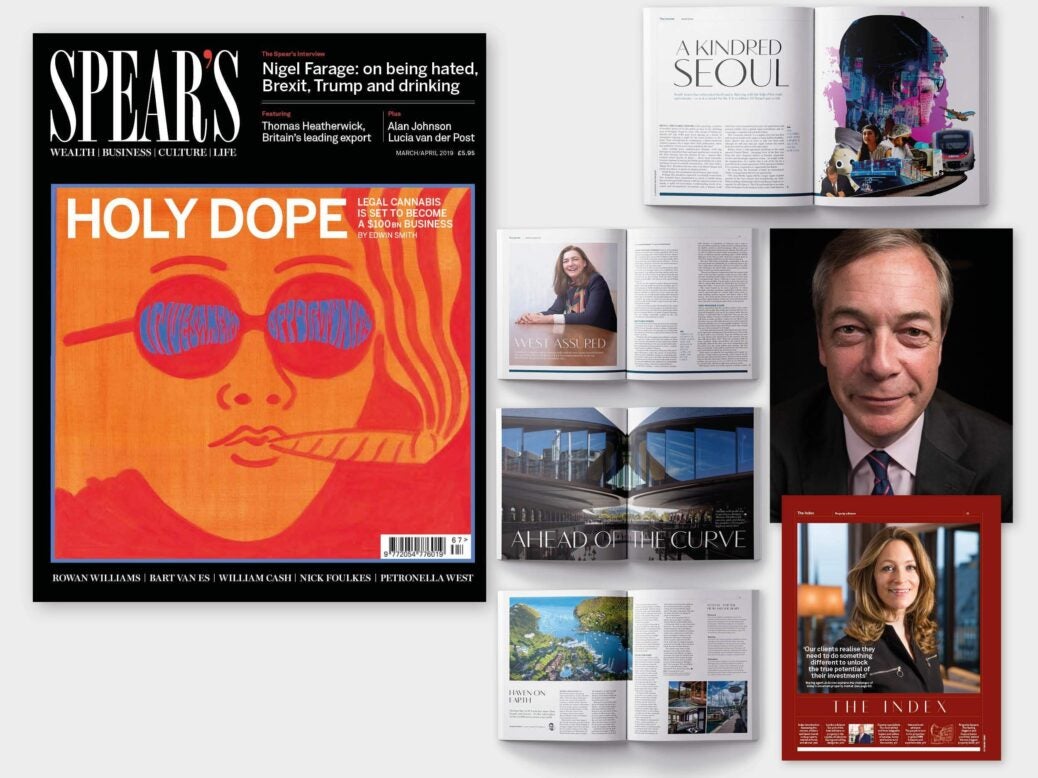 From Nigel Farage to Rowan Williams, Thomas Heatherwick to Bart Van Es, the latest edition of Spear's is packed to the rafters – get your copy now, writes Alec Marsh
Spear's has done some pretty dedicated lunching for the latest edition. I enjoyed Nigel Farage's company for the Spear's interview over a boozy lunch at Franco's in Jermyn Street, and then had an altogether drier encounter with the Costa prize-winner Bart van Es.
I confess I wasn't sure what to expect from Farage, but I liked him and found him to be a good listener. You may not agree with what he has to say, but you would be amiss for ignoring it.
Interestingly, Jason Cowley, editor of the New Statesman and a Spear's columnist, has some positive things to say about Farage – and vice versa. It's a funny old world, isn't it?
Also in this issue, my deputy Christopher Jackson ventured to Cambridge to visit Dr Rowan Williams, the former Archbishop of Canterbury, to interview him for the diary – it's a rather delightful read.
He also had a rather interesting encounter with the British designer extraordinaire Thomas Heatherwick. Emelia Hamilton-Russell headed off to Chelsea to meet our edition's philanthropist, the Nigerian Toyin Saraki, and Rasika Sittamparam, veteran of the Spear's Research Unit, met financier Petronella West, whose boutique wealth manager Investment Quorum conducts prayers before meetings. West is essential reading.
Elsewhere, Ed Targett has been to Seoul, drawing lessons for post-Brexit Britain, and Teresa Levonian Cole boarded the Golden Eagle train for a tour into the heart of Iran. We also have travelled to St Lucia, Vienna and Denmark – and have the politician Alan Johnson.
There were also lunches aplenty in the painstaking research that went into this edition's index of property advisers. While proofing the pages I totted up north of £2 billion in deals disclosed by our leading London selling agents alone over the past year – and not everyone talked turkey.
So no matter how much grumbling about the market, there's still a lot of action out there. In this year's index we've introduced a section for global strategic advisers, which is wholly appropriate. Among our other contributors, I should thank Lucia van der Post, John Arlidge, Nick Foulkes, Robert Amsterdam, Clive Aslet, William Cash, Sam Leith, Anthony Haden-Guest, Christopher Silvester, William Sitwell, Tim Barber and Johnny Ray – to name but a few.
Each edition of Spear's is an event, and this no different: Hedgehog  is a treat in the hands of David Dawkins, and you may never feel the same way about philanthropy again after reading Arun Kakar's report.
And I've not even mentioned our cover story: an eye-popping cannabis experience with a difference. Enjoy.
Subscribe here – www.spearswms.com/subscribe/
Interview: Lloyd Dorfman on UHNWs: 'You don't see a huge number giving'
Interview: Guy Hands, reign of Terra
Interview: Yanis Varoufakis on the end of Europe — and capitalism 
Image credit, copyright: Adam Dant