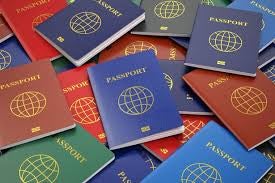 The annual Henley and Partners Passport index points to the 'big question' of Brexit as UK passports sinks further down its global ranking, reports Arun Kakar
The UK passport is the sixth most valuable in the world according to annual research from global residence and citizenship-planners Henley and partners, down from first place just four years ago.
The Index, which is based on International Air Transport Association (IATA) data, once again placed Japan at the top of the list, with its passport offering its citizens 'visa-free/visa-on-arrival' access to 190 destinations. Singapore and South Korea were placed in joint second, followed by Germany and France in third.  Denmark, Italy, Finland, and Sweden shared the fourth place spot, providing access to 187 destinations around the globe.
The firm said that it was unlikely that the UK would reclaim first place 'any time soon' as big questions loomed over the 'ultimate impact' of Brexit. It observed that most countries remained committed to a collaborative and mutually beneficial approach to citizenship, despite a rising 'isolationist sentiment' over the course of last year.
'Historical data from the Henley Passport Index over the past 14 years shows an overwhelming global tendency towards visa-openness,' commented Henley and Partners group chairman Dr Christian Kälin. 'In 2006, a citizen, on average, could travel to 58 destinations without needing a visa from the host nation; by the end of 2018, this number had nearly doubled to 107.'
The firm pointed to the rise of China in the rankings as evidence. The country was ranked 85th in 2017, offering its citizens visa-free access to just 51 destinations; but it has since risen to 69th place and now offers access to 74 countries worldwide. Notably, the UAE was the strongest climber over the last decade, jumping from 61st place in 2009 to 22nd place at present.
Countries offering citizenship by investment (CBI) programmes – granting citizenship status to an individual based on a specified investment into a country – with Malta the top ranked in ninth placed, offering access to 182 destinations. It was followed by St Kitts and Nevis, and Antigua and Barbuda in 27th and 28th place respectively.
Investment migration programmes, geared towards UHNW families seeking a second or third passport, were being increasingly embraced as the best way to improve 'passport power' and access a range of new opportunities, the firm claimed.  'More and more countries are looking to launch CBI programs, which attract talented individuals and bring enormous economic and societal benefits to their nations,' said Henley and Partners CEO Dr Juerg Steffen.
Elsewhere, several African nations saw their rankings decline; Sierra Leone, Nigeria, Gambia, and South Africa all dropped by at least 18 places since 2009.
Afghanistan and Iraq remained in joint last place, with a visa-free/visa-on-arrival score of just 30 countries.
Arun Kakar writes for Spear's