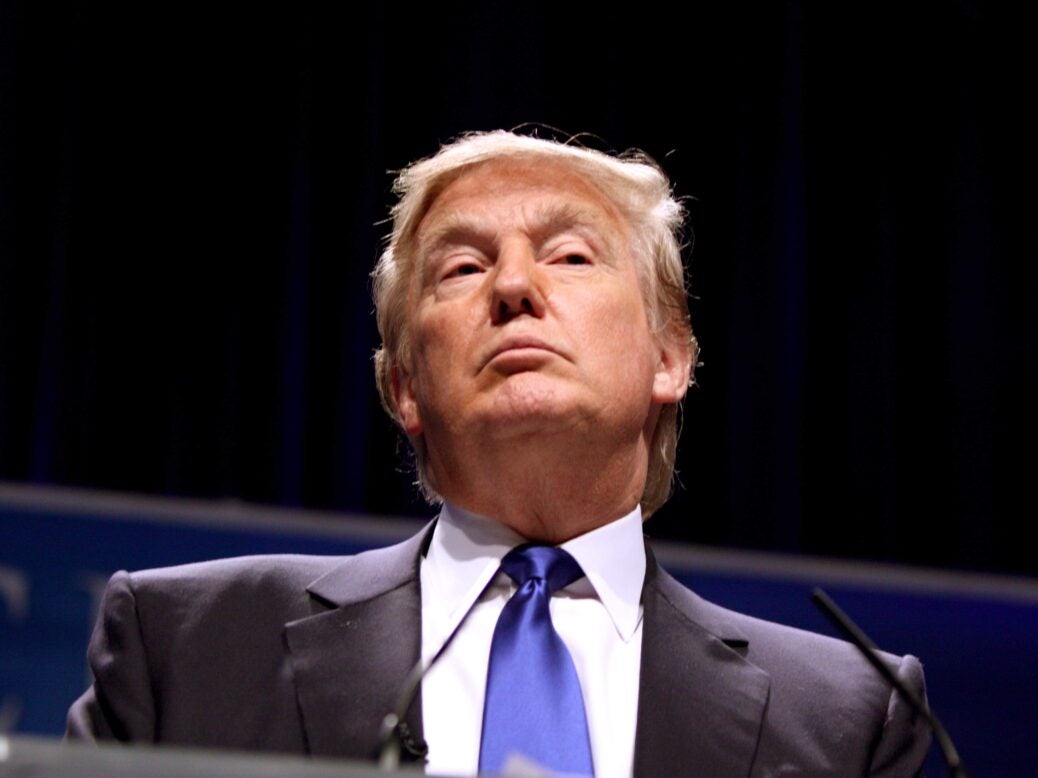 News that the 45th president of the United States is being investigated for obstruction of justice poses profound questions about America's future – and its sense of self, writes Matthew Hardeman
Any conversation about discourse or integrity in politics today probably ought to begin with Donald Trump.
That seems particularly true after yesterday's revelation in the Washington Post that the sitting president of the United States is being investigated for obstruction of justice: a watershed moment in what has already been a watershed presidency. It reminds us (as if we needed it) that so long as Donald Trump is president, America will be gripped by scandal.
On Thursday morning, Trump took to Twitter: 'They made up a phony collusion with the Russians story, found zero proof, so now they go for obstruction of justice on the phony story. Nice,' he announced to his 32 million-plus followers.
Trump followed up in a later post, again attacking those investigating him, calling them 'very bad and conflicted people,' although it was unclear in this instance whether he was referring to the congressional probes into his election campaign or to the special counsel's investigation.
He acknowledged the investigation on Friday morning, again on Twitter of course: 'I am being investigated for firing the FBI Director by the man who told me to fire the FBI Director! Witch Hunt'.
Whatever Trump might say, words like 'obstruction of justice' swirling around a sitting president represents portend a moment of real change for the most powerful nation on earth. The drama he has fostered is of course remarkable – but perhaps the biggest impact he has had is the one that isn't much discussed: that he threatens to change the way America sees itself.
Specifically, he challenges the notion that although the country might divide between Democrat and Republican, there is ultimately just one America – the idealistic patriotism that then-senator Barack Obama deployed so effectively in his speech to the 2004 Democratic Convention (the same speech that launched his career in national politics): 'There are no red states or blue states, just the United States of America,' as the then-future president put it.
But the difference between the 44th and 45th presidents could hardly be more stark. Indeed, it's hard to imagine a more divided America than Trump's. The culture wars of the past two decades have blasted the boundaries of loyalty through news and entertainment – thanks not least to Fox News and its Frankenstein-like offspring, Breitbart and the phalanx of conspiratorial 'alt-right' mega-stars they have spawned like shock jock Alex Jones (who most recently denied that the Sandy Hook school massacre ever occurred), with his fast-growing 'Infowars' show.
In a world of internet and cable TV it's now easier than ever before – perhaps it's even unavoidable – to bury one's head in the sand, on whatever side of the line one stands.
It is sobering to think that sometime in the future we might have an ex-president – and possibly an impeached ex-president – who is remembered by at least half the country as a demagogue and traitor: one who either invited or turned a blind eye to Russia's 'attack on America' – which is how Senate Democrats scrambled to call it during James Comey's testimony. Of course, the country has had its unpopular presidents, but you would have to go back to the pre-civil war period to find the sort of schism that might be created by a Trump post-presidency.
It would also constitute a major reversal for a nation where the names of past presidents adorn highways, airports, schools, parks and aircraft carriers: the American tradition of immortalising its leaders – Democrat and Republican – in search of that 'ever more perfect union' which Trump's predecessors have all paid testament to.
America is a country where presidents accrue mythic reputations long after they leave office. Jimmy Carter, who left office under a cloud of electoral loss, economic malaise and a hostage crisis in Iran, is still regarded as the poor relation of the past president's club – but today he is still remembered fondly for his remarkable post-presidency. And just look at Ronald Reagan – or 'Saint Reagan' as he is sarcastically referred to by more left-leaning Americans. To hear some Republicans talk about him (and fewer do, before the glaring contrast of the Trump presidency) one would think he built America himself.
Even Richard Milhous Nixon, the intellectually curious president with whom Trump is now readily (and unfairly) compared, rehabilitated himself to some extent after leaving office – his legacy of establishing diplomatic relations between China and the West, for example, is gratefully remembered; as is his paternity of the Environmental Protection Agency – the same EPA that has been gutted under President Trump.
At the current rate, by the time he leaves office, Trump will lack the sort of achievements attributed to Nixon. Or any other president for that matter. That's unless of course you count leaving left die-hard liberals wistful for the garbled traditionalism of George W Bush – all in just six months. One doubts that anyone outside the 'alt-right' will ever be wistful for 'the Donald'.
In the end, Trump will be seen by most as a disaster for America. But equally, he will always have his champions in the sorts of forgotten mill and mining towns of West Virginia, Ohio and Pennsylvania: the victims of what Trump darkly called 'American carnage' in his inaugural address. In these places, Trump will likely remain a sort of Jefferson Davis of our times: a fighter, an unapologetic rebel and 'cultural' icon – even, perhaps, if he fails to achieve anything he's promised for his supporters.
Will America ever be the same again? It feels like the true extent of division, shock and trauma brought on by the 45th president is yet to be absorbed by the nation that elected him – a nation that seems like it may never come to terms with its decisions again.
Matthew Hardeman is Senior Researcher at Spear's