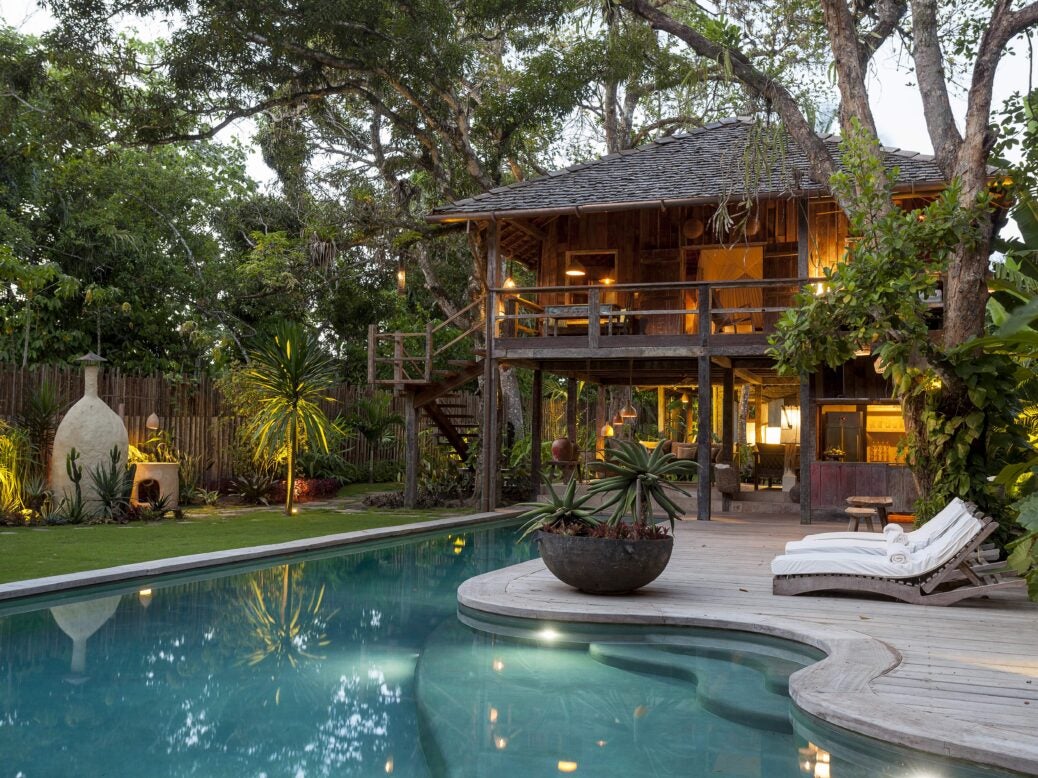 UHNWs and villagers live in harmony in Latin America's most beguiling town. Is this the real life? Is this just fantasy? Matthew Hardeman reports
'Paradise' – the word is so overused, you could be forgiven for imagining some hyperbolic getaway promotion. There aren't that many real 'paradises' left, after all: the mass market has saturated many of the places you'd have called unspoiled 20 years ago.
But if 'real' travel and luxury these days is about having a story – about knowledge, appreciation, craft and heritage, far from the usual reminders of one's own wealth and status – then hope lives on in a small fishing village on the Brazilian coast. You could even call it 'real luxury's' new capital. And though it might be familiar to the well heeled of Latin America, most have never heard of it.
Basking on the tropical shores of the Emerald Coast where Portuguese navigators first came ashore, an hour's drive from the town of Porto Seguro and a short flight from Rio de Janeiro in the jungle state of Bahia, Trancoso was cut off from the rest of Brazil until the hippies ('bibilanderos' as they are known) arrived in the early Seventies. Today it's just as much a home to 'Brazillionaires' and A-list refugees from the mass market as it is to sun-kissed beatniks – beatniks who have since become rather wealthy themselves, after laying early claim to some of the most sought-after real estate in the southern hemisphere.
The Quadrado – the rectangular swathe of grass and sand that is Trancoso's town square and its ethereal, beating heart – is fringed by colourful stone casas and pretty outdoor eateries. To wander here is to find yourself lost in time, somewhere between Brazil's colonial past and 20th-century bohemia. You'd think it hadn't changed for 500 years if not
for the occasional drone or helicopter whizzing by and its discreet, chic boutiques selling hip designs and $10,000 paintings.
Locals amble lazily to the beach (there are no cars allowed here), greeting friends, familiar faces and visitors with wide smiles and a warm 'bom dia'. There's the comedian on his bicycle; the local artisans selling grass hats, colourful wooden trinkets and dreamcatchers, hanging from the trees and splayed out on blankets in the shade. Villagers offer fresh coconut water and chocolate made from indigenous cacao, nodding in time to the sound of guitars, drums and singing from the circle of old fishermen under a tamarind tree.
By afternoon, the scene teems with life: shops have opened their shutters and restaurateurs adorn their rustic wooden tables with flowers. At the far end, a whitewashed 16th-century church (thought to be Brazil's second oldest) stands alone before a clifftop vista of the ocean, looming over children playing football and practising the martial art capoeira in the sun. It all seems too much to be real at first – a postcard too perfect to be genuine.
What's wrong with this picture? Surely I'm missing something, I think to myself. What is this remote, postcard-perfect Valhalla where earthy villagers and billionaires live in harmony, without all the resultant tension, or the guns and gates you'd presume to keep them apart? Everyone expects Brazil to be a mess, after all: it's the go-to country for stories of corruption and dysfunction.
The thing is, there's no pretension or aggression welcome in Trancoso. It's the same quality that gives the place the feel of a music festival, more than that of a 21st-century habitation. One imagines a similar experience discovering early Ibiza, Bali or Goa before hordes of tourists and their mercantile enablers arrived, checking in (and cashing out) with their multi-storey eyesores. Certainly, the devastation being wreaked on Vietnam's coastline by Chinese money is nowhere to be seen. That's because private beaches are illegal here, and building work above two storeys is strictly no-no – you'd never guess that global CEOs and billionaire hedgies have made the place home by peering out over its pristine ocean vistas. Their compounds – though no doubt lavish – lie hidden behind thick
jungle and thin wooden fences.
But this is a town united by celebration, where its wealthiest residents and visitors are also philanthropic patrons who have given millions to community causes. (Ray Dalio, chairman of the world's largest hedge fund, Bridgewater Associates, donated a six-figure sum after staying here, our host tells me.)
The sun sets, and the skeletal marquee of tinsel and lights in the Quadrado hints at the fiesta to come: that of São Brás, one of the oldest festivals in Bahia, bankrolled each year by a wealthy local. The village gathers for a 48-hour party to the sound of a single song that plays faster and faster into the night. A circle of fishermen chant as the crowd of onlookers swells to well over 100, before the old men stand and lead the procession to the centre of the party. Carnival, for all its scale, pales in comparison: this is friendlier, untamed, and feels immeasurably more real.
One after the other the spectacles unfold. Day breaks and native practitioners of the Candomblé and Umbanda faiths gather in their traditional blue and white dress, chanting to the rhythm of an ancient beat. A procession follows the drums downhill to the beach, singing and swaying to the music as offerings of flowers, fruits and sweets, perfumes, soaps and jewellery are pushed out to sea in small wooden boats to Iemanjá, the goddess of the ocean.
By sunrise, what seems like the entire village staggers en masse to the top of a nearby hill to carry an enormous mast bearing the image of their patron saint. The gathering becomes a roving street party down to the Quadrado, where the giant log is hoisted with ropes by the able-bodied men in the village, to fireworks and fanfare. Only 'one or two' people are usually killed by the falling log, a bystander tells me. You wouldn't get this party past health and safety back home – but this is Brazil, and wild is what this place is all about.
I find myself chatting to Bob Shevlin, who co-founded Trancoso's quintessential hip hotel, UXUA, with Wilbert Das, former creative director at Diesel, the European clothing giant. Both grew sick of the strains of fashion before setting their sights on this remote village in search of a simpler and more meaningful life. Today, they're a pillar of life in Trancoso, supporting local craftsmen and funding local initiatives, from music lessons to capoeira schools for village children.
'In Trancoso, people don't have a sense of "the other". They will engage you as just another person,' he says. 'If you stay a week, people will think you've moved in. In two weeks, you'll have a lover. People will be gossiping about you. You will have a nickname.'
At first sight, Shevlin hardly looks the type to have had a successful career in Europe's fashion houses, with his waist-length dreadlocks, technicolor singlet and bone necklace spliced with iPod shuffles ('one for my podcasts, one for my music, one for my audiobooks'). But nothing is what it seems here: even their hotel is camouflaged amid the colourful casas and foliage – at least from the outside.
The hotel's five-star status soon becomes obvious. No stranger to celebrities, Forbes rich-listers and Vogue cover shoots (I happened to wander through one myself and, safe to say, have never felt less attractive), UXUA is how the more eco-minded among the well-to-do enjoy Trancoso in style, with its chic Bahian cabins, treehouses and pools. It also has a residential team who have accumulated a number of private villas, such as Casa Anderson, where we stayed, which is owned by CNN anchor (and member of the Vanderbilt dynasty) Anderson Cooper. Bought from the first bibilanderos, the colourful casas are built with
local materials and antiques: Pataxo Indian craftwork and eucalyptus, truck canvas and cotton which blend effortlessly with the jungle. Guests relax on the decks, enjoy traditional massages, yoga classes and nature walks, and learn the secrets of Bahian cooking before wandering down to the hotel beach bar for a cold caipirinha and a horseback ride along miles of empty beach as the sun sets.
If you're thinking of coming, come now: Trancoso might be winning its fight against the excesses of modernity, but there's no telling how long it can hold out, for all its spirit and determination. This is paradise as it ought to be known.
Matthew Hardeman is senior researcher at Spear's