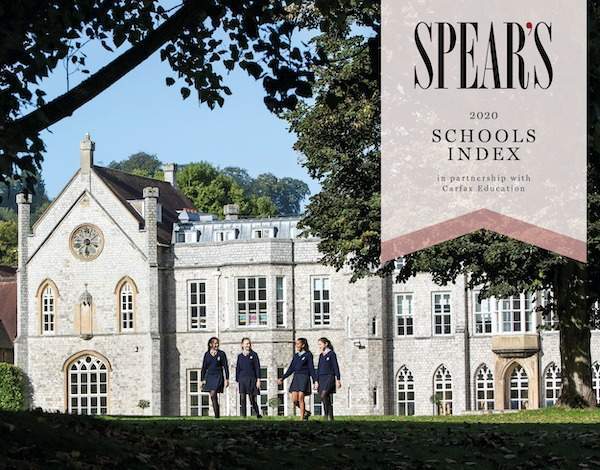 The top 15 schools in the USA, compiled by Spear's magazine in association with Carfax Education 
The Brearley School
Girls, Day ($51,790), 747 pupils, 4-18
Focus: Confidence and wisdom
Curriculum: US curriculum
Accessibility: JFK 25 mins, Newark; 40 mins
This New York Upper East Side school was founded 'to provide young women with an education comparable to that available to their brothers' – a very radical idea in 1884! The school prides itself on challenging 'girls of adventurous intellect' and preparing them 'for principled engagement in the world'. After graduating from top universities, there's no limit to the career choices for Brearley alumnae
Choate Rosemary Hall
Co-ed, Boarding & day ($60,950(B)), ($45,700(D)), 850 pupils, 14-18
Focus: Leaders & innovators
Curriculums: US curriculum
Accessibility: JFK; 1hr 30 mins
In 1974, Choate Rosemary Hall created a single foundation from two highly regarded Connecticut single-sex prep schools. Over their shared history they have educated politicians (including JFK), actors, literary giants and tech entrepreneurs. The school combines tradition with innovation and all its pupils (from the US and 46 other countries) go on to top universities.
The Dalton School
Day, Co-ed ($54,180), 1,300 pupils, 5-18
Focus: Intellectual independence
Curriculum: US curriculum
Accessibility: JFK & Newark; 30 mins
Founded in 1919, Dalton 'tailors each student's program to their needs, interests and abilities'. This style of learning empowers pupils to take responsibility for their own education, creating innovative leaders and creative problem solvers. Located in four buildings within Manhattan, this progressive school sends pupils to all the top universities in the US and beyond.
Deerfield Academy
Co-ed, Boarding & day ($61,800(B)), ($44,700 (D)), 658 pupils, 14-18
Focus: Preparing students for leadership
Curriculum: US curriculum
Accesibility: Boston Logan; 2 hrs/JFK; 3hrs
Deerfield Academy puts great emphasis on school spirit and a sense of community. Pupils form strong bonds in the boarding environment, reinforced by the family-style dining. A liberal arts programme with a strong emphasis on STEM, the academics are impressively demanding. Sport and other interscholastic activities play a large role in creating a rounded Deerfieldian.
Groton School
Co-ed, Boarding & day ($58,260(B)),( $45,370 (D)), 380 pupils, 13-18
Focus: Character, scholarship, leadership
Curriculums: US curriculum
Accesibility: Boston Logan; 1 h
At the age of 27, Episcoplian Reverend Peabody founded a school to 'educate the sons of the wealthy entrepreneurs of the Gilded Age'. It is now co-ed, with an international intake and a needs-blind policy. Groton prides itself on being academically rigorous, and 100 per cent of pupils go on to the most prestigious universities. A small school that packs a punch.
Harvard-Westlake School
Co-ed, Day, $41,300, 1,600 pupils, 11-18
Focus: Character & the pursuit of excellence
US curriculum
Accessibility: LAX International; 20 mins
A merger of two single-sex schools in Los Angeles led to the creation of Harvard-Westlake in 1991. With such proximity to Hollywood, there's no shortage of famous alumni, from Shirley Temple to Jake Gyllenhaal. The school is academically strong and pupils head to top universities across the US and beyond. Not surprisingly, there's a focus on communications, visual and performing arts.
Horace Mann School
Day, Co-ed ($53,200), 1,786 pupils, 3-18
Focus: Raising good scholars & good citizens
Curriculum: US curriculum
Accessibility: JFK & Newark; 30 mins
Originally an experimental co-ed school in 1887, Horace Mann continues to 'foster a capacity for effective critical inquiry and authentic self-expression'. It is located in the Bronx, with a junior division in Manhattan. The liberal arts curriculum is extended through independent study opportunities and an outdoor experience-based leadership curriculum, and top university places are assured.
The Hotchkiss School
Co-ed, Boarding & day ($63,180(B)), ($53,720(D)), 600 pupils, 14-18
Focus: Educating leaders and change-makers
Curriculum: US curriculum
Accessibility: JFK; 2 hrs
A top Connecticut prep school founded in 1891, Hotchkiss challenges pupils to go beyond their comfort zone. Students from across the globe are encouraged to try new things and build bonds. The school has excellent green credentials and this 'intentionally diverse, inclusive learning community' has educated Olympians, bankers, entrepreneurs, poets and producers.
Lakeside School
Co-ed, Day, $38,160, 850 pupils, 10-18
Focus: Wisdom, compassion and leadership
US curriculum
Accessibility: Seattle Tacoma; 30 mins
Set over two campuses in Seattle, Lakeside counts Bill Gates among its alumni. Academic standards are high and pupils are encouraged to think outside the box. A standout feature is the Global Service Learning Program, which focuses on global perspectives. Among other pursuits, the arts programme and volleyball team are impressive. Pupils are all prepped for entry to top universities.
The Lawrenceville School
Co-ed, Boarding & day ($69,500(B)), ($57,100(D)), 820 pupils, 12-18
Focus: Learning, integrity & high purpose
Curriculum: US curriculum
Accessibility: Philadelphia; 50 mins/Newark; 1 hr
Not far from Princeton, this prep school is a regular feeder to the Ivy Leagues and pupils come from far and wide to study here. Students are taught how to think and debate with academic rigour. Boarding is arranged on similar lines to British private schools, providing a home from home. The 700-acre campus has its own golf course, boathouse, solar farm and beehives.
Phillips Academy, Andover
Co-ed, Boarding & day ($59,850(B)) ($46,400(D)), 1,130 pupils, 14-18
Focus: Curiosity, selflessness, diversity
Curriculum: US curriculum
Accessibility: Boston Logan; 30 mins
As the oldest boarding school in the USA, with presidents and Nobel laureates among its alumni, Phillips Academy is proud of its heritage. Pupils come from 52 countries and the 'needs blind' admissions policy means 47 per cent of pupils receive financial aid. With impressive facilities and a staff ratio of 5:1, pupils achieve excellent results, making the school a regular feeder for the Ivy League.
Phillips Exeter Academy
Co-ed, Boarding & day ($55,400(B)), ($43,700(D)), 1,080 pupils, 14-18
Focus: Intellectually curious explorers
Curriculum: US curriculum
Accessibiluty: Boston Logan; 1 hr
Founded by the same family, this school and Phillips Andover have a long rivalry but take different approaches. PEA, founder of the Harkness method, encourages pupils to speak, listen and think. The campus provides plenty of space, with more than 450 courses on offer, at least 28 different sports, plus clubs from art to zoology. Alumni include Mark Zuckerberg, Dan Brown and John Irving.
St Paul's School
Co-ed, Boarding ($60,400), 540 pupils, 14-18
Focus: A sense of community
Curriculum: US curriculum
Accessibilty: Boston Logan; 1 hr 20 mins
This is one of the only fully boarding schools on the US east coast, and pupils are adamant that this is what creates such a tight-knit community. Academically selective, it attracts a diverse pupil body, while class sizes are small and academic results are excellent. Its ice hockey and squash teams are traditionally strong, and the arts facilities are top-notch.
Sidwell Friends
Co-ed, Day ($44,280), 1,150 pupils, 5-18
Focus: A dynamic educational community
Curriculum: US curriculum
Accessibility: Ronald Reagan; 15 mins/Dulles; 35 mins
The school of choice for the offspring of presidents, Sidwell Friends does not only cater to the elite, as financial aid opens doors to a much wider pupil base. Quaker values such as refl ection, service, stewardship and equity have been embedded since 1883. The two campuses are spread across Washington DC, with the lower school in Bethseda and the seniors on a campus in the city.
Trinity School
US curriculum, Co-ed, Day ($54,500-$55,200), 995 pupils, 5-18
Focus: Hard work & moral excellence
JFK & Newark; 30 mins
This Upper West Side school was founded in 1709 and is the oldest continually operating school in New York. Facilities on its campus include rooftop playing fi elds, two libraries, two chapels and a fi ne arts pavilion. Pupils are challenged to be curious and wrestle with complex ideas. Top university entry and Pulitzer Prize-winning alumni show this is a formula that works.
Carfax Education is the leading private education consultancy whose motto, 'academic excellence without borders' is underlined by a network of offices that stretches across London, Oxford, Monaco, Dubai, Abu Dhabi, Moscow, Singapore and Hong Kong.