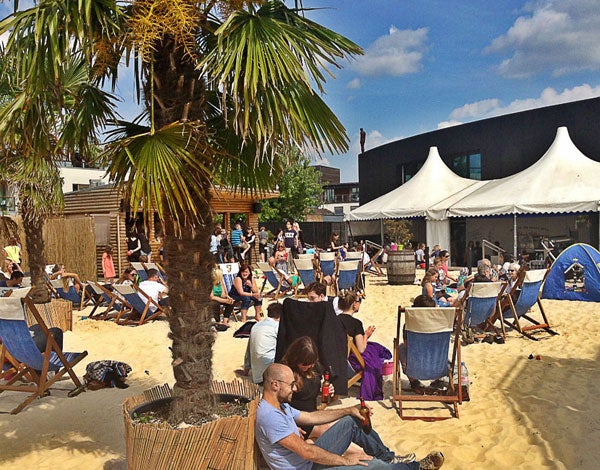 As we bask in glorious sunshine and July turns to August, the pop-up craze continues across Europe as those in the know search for the latest, trendiest and most exclusive fun in the sun. Temporary is becoming the new norm, and so it's only natural that summer gets a pop-up twist with beaches and beach-themed fun in big cities across the world.
Urban beaches have sprung up over the past few years in dozens of major cities, and that's not just in Miami, Rio or Barcelona. Nor is it just for special occasions, as when Nikki Beach sprang up at the Sundance, Cannes and Toronto film festivals. London now has a proliferation of beaches dotted across the capital, new additions emerging each summer, the most recent at Brent Cross shopping centre and the JW3 in Hampstead.
The best in London for the past few years has been at the Roundhouse in Camden, a celebrated event space whose terrace has been transformed with sand, a beach bar and live music throughout the summer.
Further afield, Paris has for a few years now been hosting three beaches on the banks of the Seine with its 'Paris Plage', a hugely successful month-long project where performers and vendors sell their wares on artificial sand. Locals and tourists alike take a break from the city to enjoy a slice of beach just a stroll from Paris' main attractions.
In the heart of Berlin, one of the most truly urban cities in Europe, Strandbar-Mitte hosts a beach, where the city can relax in and among its most famous buildings.
Finally, if you're heading to New York but don't fancy the three-hour traffic-laden weekend commute from Manhattan to the Hamptons, Brooklyn Bridge hosts a pop up beach for the duration of the summer, where the trendiest restaurants and bars in Manhattan's cooler neighbour are a stone's throw from urban sandy heaven.
The pop-up phenomenon, which started in America as an answer to high set-up costs, as part of the counter culture and with a constant drive to find the next best thing, has now permeated every stratum of society. Pop-ups from event space to restaurants to parties and festivals litter the calendar of those signed up to lists like the Nudge and the Handbook.
From the sublime to the ridiculous, pop-ups in all forms enrich urban environments and attempt at some level to bring something new and unexpected. In a culture where we demand everything instantly, pop-ups answer a yuppie trendsetter's need to constantly find the next best thing, for businesses to make seasonal profits and for the wider community to bask in creativity.
Clearly, whatever big city you find yourself in, there's a pop-up sun lounger with summer fun waiting.