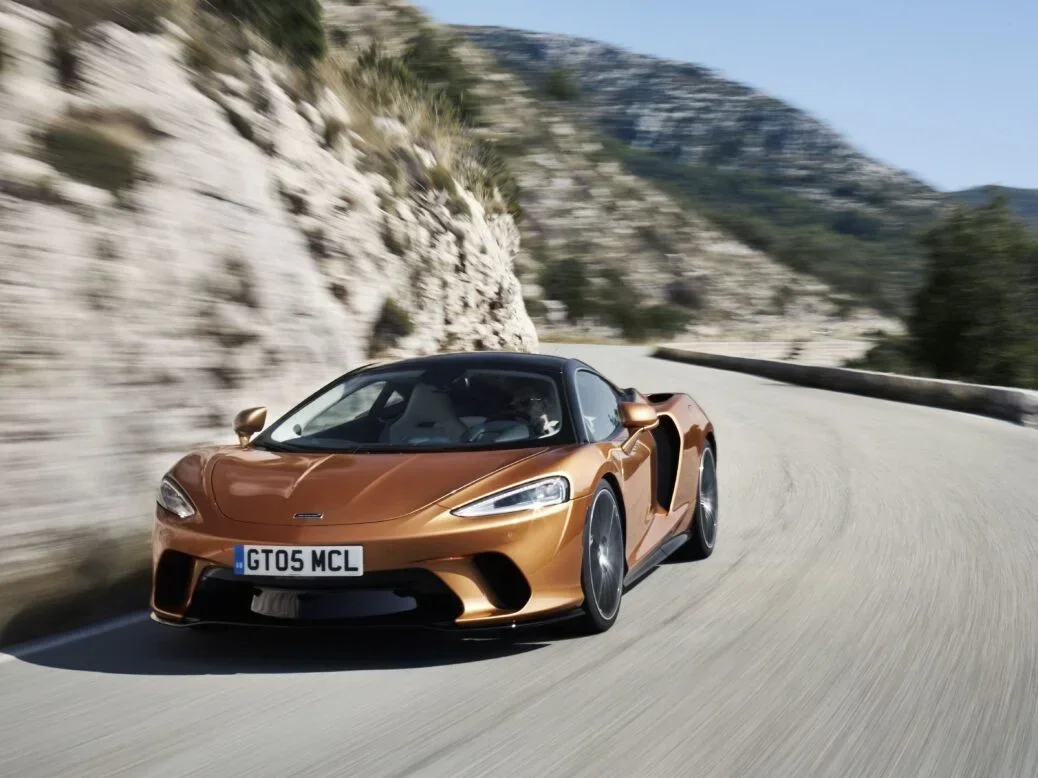 Cruising across the Mojave Desert or through the mountain roads of northern Italy, the McLaren GT finds itself at home.
Consider the GT. A performance vehicle meant to cross continents, a grand tourer that must balance driver enjoyment with passenger comfort. The seats are more expansive than your average supercar, yet the mid-engine gives the McLaren an agile edge when compared to its rivals. There should be room for a couple of weekenders as well as a few toys, perhaps for the putting green or the mountain range.
McLaren's GT Series of cars navigates this checklist with panache. The first debut, aptly named McLaren GT, features a carbon fiber chassis called the Mono Cell II-T. The lightweight material is shared with the brand's other road-gobbling supercars (and hails from McLaren Racing Formula 1 development), albeit with modifications for GT. A new upper structure expands interior storage and passenger area resulting in substantial cockpit space and luggage flexibility (including a front storage compartment). From the exterior it creates a fastback-style hatch, with the roofline cascading down the rear glazed window and connecting seamlessly near the edge of the spoiler.
While GT sits firmly in the McLaren design lexicon, its defining lines read more thoughtfully draped fabric than chiseled marble. Don't mistake that soft touch for weakness, though. Zero-to-60 passes in an effortless 3.1 seconds, courtesy of a twin-turbocharged, dry-sump 4.0-liter V8 producing 612 hp. It's mated to a seven-speed dual-clutch transmission with brake-based torque vectoring, all the McLaren tested technology in a roomier, quieter package.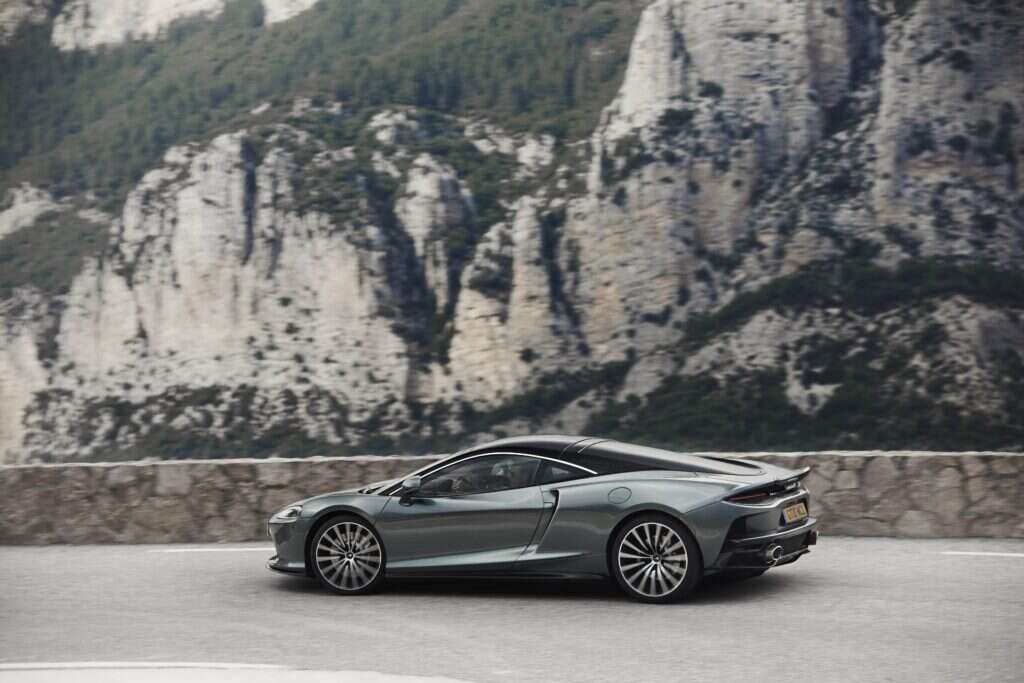 Maximizing ride quality without compromising handling, the Proactive Damping Control suspension system constantly analyses road conditions to predict and adapt to driver and highway tendencies, reacting in just two milliseconds. Convenient on days three and four of driving or even whilst running errands around town.
[See also: McLaren Artura: Performance Personified]
Indeed, these GT-series cars are the first to accommodate a golf bag, or even two sets of 185 cm skis. For those concerned about heat in the cargo space, seeing as GT is a mid-engine sports car, the engineers created an air flow system whereupon outside air is forced through baffles in the shelf support. The result is a type of insulated heat that protects against more extreme temperatures within the engine compartment. Kind of like drinking tea on a hot day.
McLaren chose to include its iconic dihedral doors, unique in the GT class. Not only do they provide a dramatic visual signature when open, but the doors are also optimized for use in tight parking spaces, an effect enhanced by the sills sweeping downwards to widen the door aperture.
At over 15 feet long – with the front and rear overhangs extending further than is traditional – GT is longer than most other McLarens. Emphasizing versatility, the 10-degree front approach angle (13-degree with vehicle lift engaged) allows for easy clearance on steep driveways. Practicality is further enhanced by an underbody height of 5.1in (with vehicle lift), which, as the company notes, is on a par with mainstream sedans.
Like any good supercar, launch control optimizes acceleration (and fun). From a standing start, it can achieve 0-124mph in just nine seconds. The maximum speed of GT is 203mph. Plenty of oomph and pizzazz if track days are important.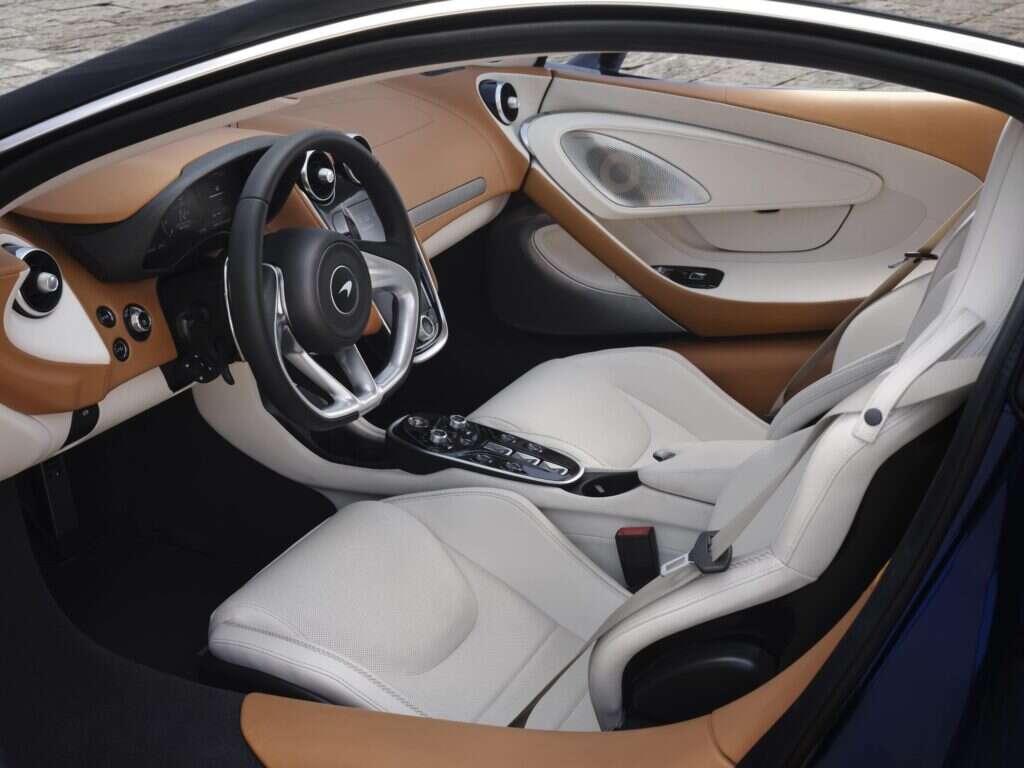 While Black Nappa leather is the standard interior trim, it can be upgraded to semi-Aniline luxury leather or semi-Aniline leather with Alcantara at no additional cost, including for the rear luggage bay. It's worth noting that SuperFabric is made up of woven fabric infused with a layer of tiny, armored guard plates to provide increased resistance to stains, cuts, nicks, and abrasions, that is also breathable, easy to clean and quick-drying.
[See also: McLaren Artura: Aerodynamics and the Pursuit of Lightness]
What's more, unique to GT are 10-way powered adjustment comfort seats, complete with heating and memory functionality. They provide excellent shoulder and back support as well as superb lateral control, making them ideally suited for both long-distance comfort and performance driving.
GT owners can purchase a set of bespoke luggage, handcrafted to order from the materials used in the cockpit. Comprising of a cabin bag, weekend bag, garment carrier and golf bag, the luggage can also be color-matched to the interior.
A practical yet stylish and functional supercar, dare we say?
The McLaren GT starts at $204,990 which includes three years of factory scheduled maintenance.
Contact the McLaren Concierge at: NAexperiences@McLaren.com
Visit the Elite Traveler x McLaren hub here