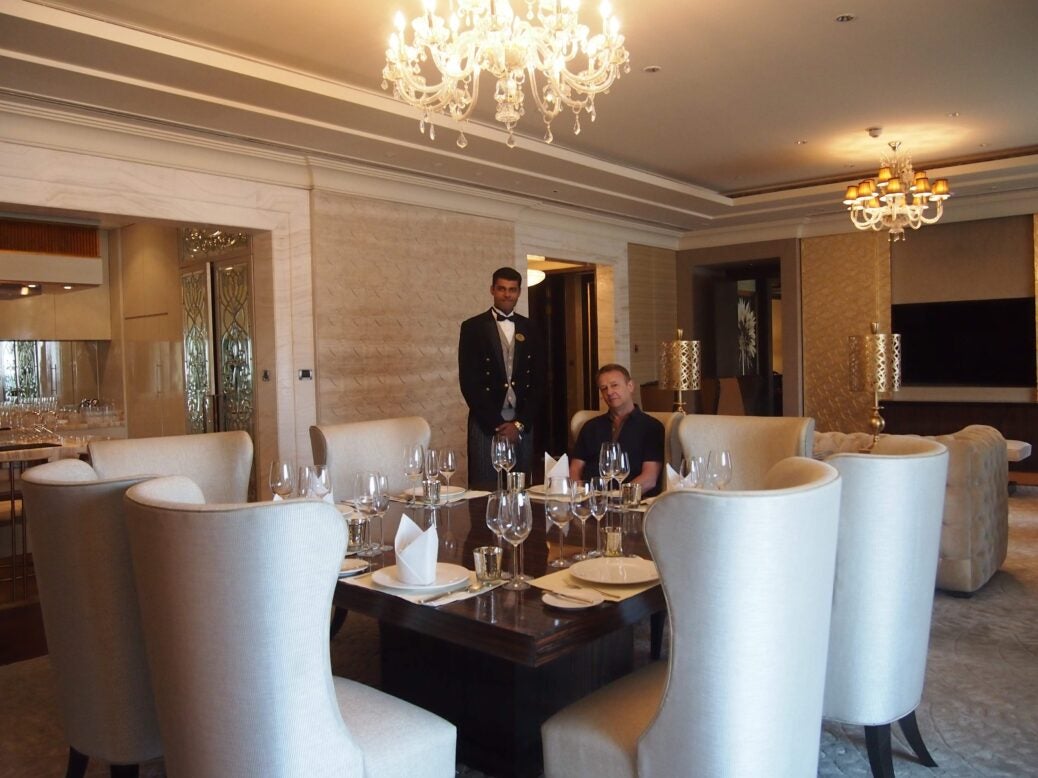 Andrew Harris reviews the ITC Grand Chola, Chennai.
It's big. It's definitely big, and with its 600 rooms, the biggest (by area) hotel in India. But is it beautiful? Ajit Bagera clearly thinks so. Ajit, my guide and mentor during my sojourn at South India's megalith of hospitality has been here since the hotel's inception in 2012. He is also, out of 180 chefs, the senior executive chef presiding over the other 179, with a calm but ruthless efficiency that surely makes dining in any of the Grand Chola's ten food and beverage options one of the principal reasons for checking in. Enticed back from emigration to Melbourne, Ajit is clearly a man immersed in his metier, he loves to talk food and wine… and armagnacs! We have some deep and meaningful conversations.
I have also been assigned a personal butler, and in keeping with the Grand Chola's ongoing assault on the Guinness book of records, together with its 1200 staff, one million square feet of marble for which an entire quarry in Sicily was purchased outright, the largest un-pillared banqueting suite in India regularly hosting weddings in the thousands, specially designed lifts which can and indeed have, hauled cars up and down, and its four entrance portals, I seem also to have the tallest man on the Indian sub-continent playing Jeeves to my Wooster. Resplendent in stripy trousers and Fred Astaire tails, like some well-meaning Hindu Boris Karloff, he emerges stealth-like out of shadows and from around corners you didn't know were there, just when you were convinced he'd sloped off to the downstairs kitchen. But as with everything else here, Adithya, my erstwhile man servant, exuded consummate professionalism, and with the propensity for getting lost quite real, not least after an extended gastronomic tete a tete with Ajit, I was in the end, very happy to have him on hand not least to navigate me through the marble maze.
The Grand Chola is named in deference to the Chola dynasty, which held sway in Southern India over a thousand years ago and was responsible for exporting Hindu culture right across South East Asia. Great patrons of the arts, the Cholas also left behind some strikingly beautiful temples, three of which are Unesco-listed, and it is this cultural legacy that has provided the design inspiration for the hotel. Much of the huge swathes of marble that dominate the interior have been carved by hand, replicating or influenced by, the designs still in evidence today on the walls and pillars of those Chola temples. An army of masons was imported from Mahabalipuram, the site of the famous shore temple down the coast from Chennai, where skills in stone have been passed down from father to son over centuries, lending a genuinely authentic touch to this contemporary homage in hospitality to the historical giants of South Indian regal splendour. And the Grand Chola is indeed grand, disporting a grandeur that RajaRaja Chola, perhaps the greatest of all the Chola kings, whose magnificent temple still stands at Tanjore a few hours' drive south, might have approved of. This isn't after all, the 'Shy Self Effacing Chola', or 'I'll Have To Ask My Mum First Chola'. It is the Grand Chola, built to make an uncompromising statement in unfettered opulence. And it most definitely does that.
Among the 600 rooms, there are 78 serviced apartments for longer term guests and a variety of rooms and suites of varying degrees of luxurious cossetting right up to the Grand Presidential Suite, with its private pool bigger than that found in many hotels, bullet-proof windows, dedicated lift entrance, and copious facilities for staff. There is also an entire wing on the second floor exclusively for female guests. The design and decor within all of the accommodation options successfully projects a very tasteful contemporary style that also manages to remain grounded in the South Indian heritage design leitmotif of the hotel, the result being as impressive as it is immediately welcoming.
With the ITC One category of rooms in particular, the Grand Chola lays claim to the best of business and luxury currently available in Chennai, a claim backed up by an exclusive entrance, in-room breakfast, 24-hour 'digivalet', one of several services controlled by in-room iPad, the use of meeting rooms (should you need to call a sudden business meeting for 3,000 people), alcoholic beverages during luxury hours (18.00-20.00), and late check out until 4 pm. And it is probably as a business base that the Grand Chola exerts its greatest pulling power, not least by virtue of being located in Guindy, a business hub just five miles from the airport, an important consideration in a city often stuck fast in grid lock.
Chennai can appear a challenging city to novice visitors, recently hitting number 7 on Lonely Planet's Most Hated Cities list, which, whilst I could probably concur with Wolverhampton's number 5 placing, I do see as a little overdone. There is in fact much to marvel at in the city founded as Madras by the East India Company in 1640; it's just not always made especially easy, that's all. However, your choice of nightly refuge from this metropolitan mayhem will assume an enhanced significance.
Lonely Planet has also voted the Grand Chola best business hotel in India which would seem a more apposite accolade. Once ensconced within its marble lined confines, there is literally everything there that any guest could possibly require, from the plethora of Ajit Bangera's remarkably high standard dining options, ranging from North Indian, Far Eastern and Italian to the showcase Royal Vega vegetarian restaurant, proffering the very best non-carnivorous Indian cuisine in one of the few major cities of the world where meat eaters can feel in a minority, to a whole range of retail and leisure options.
Not least Kaya Kalp (rejuvenation of mind, body, and spirit), the Grand Chola's sumptuously appointed spa. Could there be a more eagerly awaited conclusion to a day spent being burger-flipped between boil-in-a bag humidity one minute and teeth-chattering air con the next, than Kaya Kalp? And yes, that's right, it is of course rather big, nearly 2200 square metres big in fact, where the massive slabs of marble work as well as anywhere in the hotel, conveying a sleek serenity while you yield to a tamarind and mint coconut body polish or dip a toe into ayervuda with your head succumbing to warm oil poured from a suspended bowl (shirodhara massage), the list of treatments is extensive and the standard of execution, highly professional.
'Responsible Luxury' is a recurring watchword at the Grand Chola which claims to be the world's largest LEED (Leadership in Energy and Environmental Design) platinum-certified hotel – and ITC the world's greenest luxury hotel chain. Highly commendable achievements for sure, although if the reason I couldn't access the balcony on my otherwise fabulous hotel suite was to do with air con consumption, I could probably be tempted towards a bit of irresponsible luxury. But that remains a very small issue with a big beast of a hotel, one that manages to score very highly on pretty much all of its luxuriously appointed fronts. The Grand Chola clearly does the business, should business beckon in Chennai.