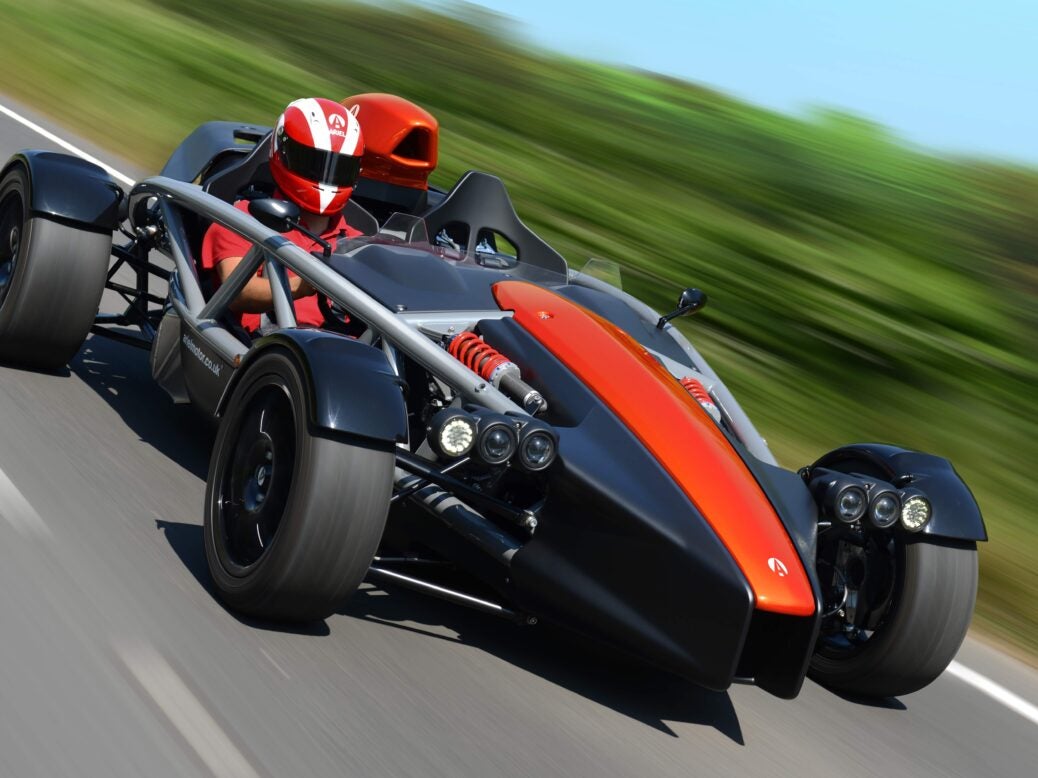 The lightweight, super-fast and madly enjoyable Ariel Atom 4 epitomises the very best of British eccentricity,  writes Mark Walton
OK, so it's true that Britain's reputation may be a little tarnished of late, but I like to think the whole Brexit farrago may have actually strengthened perceptions of us in other ways. I mean, there's no denying now that we're independent-minded, right? Downright bloody-minded.
We always did have a reputation for eccentricity and a weird sense of humour. I took an Australian friend to his first pantomime last Christmas. He'd never even heard of 'panto' before – imagine his face when Captain Hook came out and all the adults in the audience started booing at the stage. He just shook his head in disbelief.
Britain is mad, let's face it. Creative and inventive yes, but essentially mad. From Monty Python to Boaty McBoatface, we are an irreverent, unpredictable, often deranged
people. And the world knows it.
Take the field of small, lightweight sports cars. This has been a peculiar British obsession ever since Lotus founder Colin Chapman hand-built a spindly sports car in his garage in 1948. Low-volume British cars from the likes of Lotus and Caterham still enjoy a huge following in countries like Japan and the USA, and their reckless, anti-authoritarian nuttiness is at the heart of their appeal. Mad dogs and Englishmen go out in the midday sun, but we also drive leaky two-seaters in the pouring rain.
Which brings us to the new Ariel Atom 4. This is lunacy distilled – but also lunacy perfected. You are looking at the greatest lightweight British sports car ever built.
Ariel, a teeny outfit of just 30 people based in deepest Somerset, has been honing the Atom for 20 years. Launched in 2000, it originally had a Rover engine, soon replaced by a revvy Honda 2.0-litre. Atoms 2, 3 and 3.5 each raised the bar in terms of power and speed, and Ariel offered concessions to civility such as an optional windscreen. But they were
all essentially the same car: a tubular frame, curved with pent-up energy; engine at the rear like a wasp's sting; four exposed wheels like a Formula One car; and a cockpit, austere like a hermit's cell, just two plastic seats and a faceful of weather.
Kitting the atom
Over the years, Ariel has won plenty of awards for the Atom, and it probably could have gone on refining and tweaking for another couple of decades. Instead, four years ago it decided to embark on the biggest update yet of its plucky little car.
The catalyst was Honda providing early details of its next new engine, a turbocharged 2.0-litre. Physically bigger than previous engines, it led Ariel to a nut-and-bolt rethink of the Atom. While it looks the same, virtually every component of the Atom 4 is new, and the result is pure, madcap magic.
The Atom 4 has no doors, so you climb in by goose-stepping over the exoskeleton to stand on the seats. As you lower yourself down – like lying in a bath – the seats have the texture and firmness of washing-up bowls, but they're remarkably supportive and comfortable. Ahead is a tiny steering wheel in front of a colour screen, rimmed by colour-coded toggle switches. There's no key, just a remote immobiliser that stays in your pocket. The engine fires with a raw growl, micro-vibrations fizzing through your back like a trapped bee against a pane of glass. Your left hand finds the wand-like gear lever, linked to a six-speed gearbox… and you're off.
Light fantastic
The first thing you notice is the lightness. I know, the engine is doing all the work, not you, but you can still sense the low inertia, the lack of strain, the complete absence of heft. At just 593kg, this is a mere crisp packet of a car. The second thing you notice is how exposed you are. Even wearing a motorcycle helmet, your senses are assaulted by rushing wind, the smells, the noise. (The helmet isn't required by law; it's just so you can keep your eyes open above 30mph.)
Behind your head, the turbo whines like a jet engine as the revs build, interrupted by a demonic yap every time you change gear.
And the view! Through the car's open sides you can see the road rushing by like fast-flowing water, and through the zigzag steel you can see the front wheels, the suspension working, the steering angle changing, like a cutaway drawing come to life.
And you notice, of course, how fast the Atom is. Because no build-up of barminess can prepare you for the way the Atom 4 actually goes. The official figures say it'll do 0-60mph
in 2.8 seconds, and the Honda engine produces 320bhp – a lot in any car, but in a crisp packet the acceleration is brutal. Every short straight is dispatched with a dizzying lunge, every roundabout exited with a stomach-churning rollercoaster ride.
And I haven't even got to the best bit. The real genius of the Atom 4 is how it travels. Despite all the grinning terror, there's also huge reassurance in the ride. Previous Atoms felt nervous, darty, skittish, but the 4 feels composed and confident. The steering rack is slower than previous versions, but that doesn't mean its response is sluggish – the reaction to your inputs is laser-accurate, but it feels more deliberate and disciplined, reassuring you that you're in complete charge. The whole thing feels wonderfully calibrated and cohesive, transforming this once nervy track-day special into a compliant, dare I say refined road car. If it's possible to be 'refined' without doors or a windscreen.
That a handful of blokes in a shed in Somerset did all this is little short of miraculous. The Atom 4 is a triumph of ingenuity, vision, and, yes, foolishness. It's surely the best answer we can give to those who say Britain is losing its way – our reply is this preposterous car: daring, ingenious and addictively brilliant. There's life in the mad dog yet.