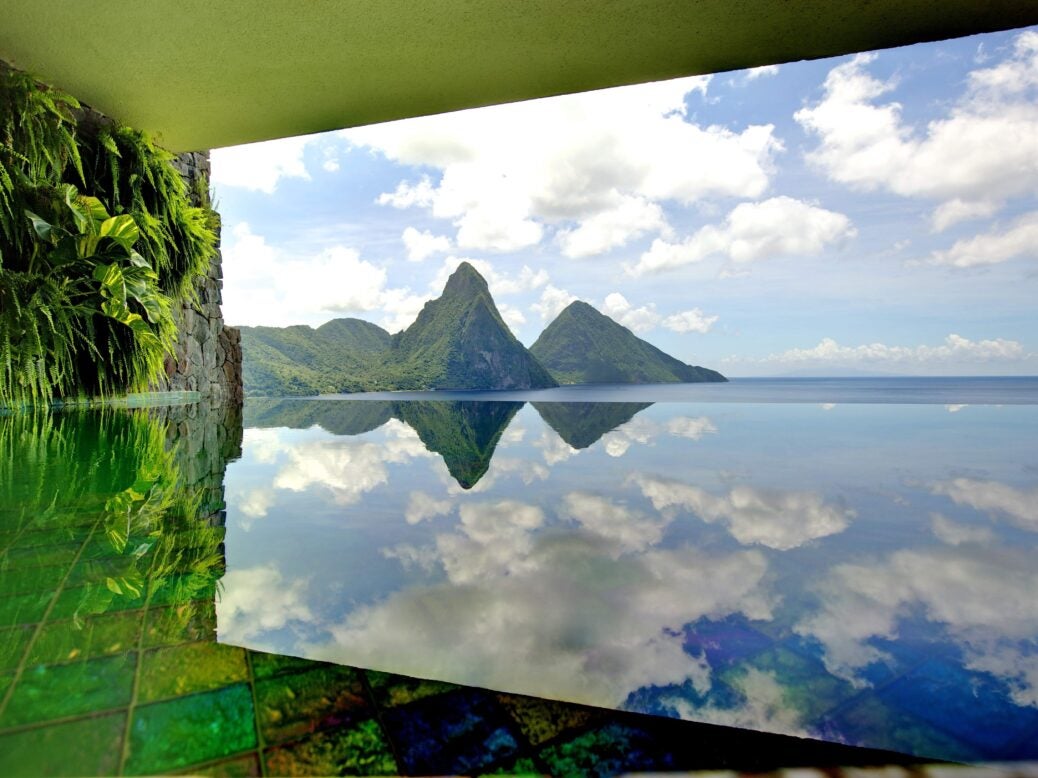 A honeymoon in St Lucia is enough to leave even the most reluctant of romantics weak at the knees, writes David Dawkins
'My island – so good the French and English fought for it 14 times,' our driver Francisco Jean Pierre shouts as we thread through St Lucia's narrow mountain roads. 'Right now, it's seven-all.'
Cheerily beeping all other drivers as we pass, Jean Pierre ('30 years in the taxi game') tells us that St Lucia 'used to be all about the bananas. You know the bananas?' Sitting in the back seat, we nod. 'Nowadays, tourism,' he adds. We tell him it's our honeymoon. 'NICE,' he shouts. 'Anywhere you stop in St Lucia is a picture postcard moment.' For the first time he turns around: 'Jade Mountain is very, very nice,' he says, looking out over the brim of his sunglasses.
We tip in currency bearing the very young face of Queen Elizabeth II and move out into a modern hotel sitting somewhere between Bond villain and Ballard. Jade Mountain is, at first glance, a knitted labyrinth of marble-like concrete and coral walkways, built on the side of a steep hill, overlooking the sea. This is tropical modernity and marks the end of Queens, colonies and irksome 'seven-all' stalemates with the French.
'It's a bit like the Barbican,' my wife adds, 'but nice.' A small hummingbird hovers behind the stairwell while tangerine clouds of koi carp beg for crumbs in potted pools around the walkway's edge. It's a lot of fun, and there's colour everywhere: even the plants have seemingly fallen for Jade Mountain, as all manner of purples, pinks and creeping greenery climb up, through and across the sharp, woven layers of rooms and walkways. Here St Lucia's colonial tussle has been put to one side, and its confidence as a top destination for HNWs really shines through.
Considered the most romantic resort in St Lucia (itself named the 'world's leading' honeymoon destination for 2018), Jade Mountain, or more specifically Nick Troubetzkoy's Jade Mountain, is one of the few hotels with the confidence to carry the architect's name as its own.
Troubetzkoy, of Russian-Canadian origin, has created one of the world's truly complex but breathtaking hotels. Although its finish is modern, its function honours St Lucia at its most natural, with every room view, every meal and every moment pointing back across the water at the iconic Piton spires. Approaching 800m high, the pitons are unblemished thanks to their status as a Unesco world heritage site. The top Sun and Galaxy rooms provide a peerless view of the sunset expanse from a personal infinity pool on your bedroom's edge.
There are just 29 suites, most of which have bedrooms offering varying shapes of infinity pools, windowless views and open showers. The two uppermost floors house the restaurant and roof, the latter being a beautiful sunset setting for evening cocktails; the former a similarly picturesque spot for yoga at sunrise (which I attend one time, under duress).
Meal-times are spent with tables arranged pointing across to the mountains and water. The food and drink are copious and excellent. Rum replaces whisky as the HNW tipple of choice and we sample a stiff shot of Zacapa XO to help, according to our host, 'get the night started'.
The next day we're in a car travelling to Mr and Mrs Troubetzkoy's farm. the restaurant at Jade Mountain and its sister resort, Anse Chastanet, are uniquely served by the 40-acre farm and we take a tour, plucking and crunching through potatoes, mustard spinach and cocoa pods. Mr Troubetzkoy, becoming ever more in my mind St Lucia's Willy Wonka, boasts an in-house chocolate factory at which we meet two busy chocolatiers working away on intricate dessert topping and Troubetzkoy-branded bars. There's also a chocolate beer, which might explain why, the following morning, we take breakfast in our suite – eggs benedict, accompanied by a small water pistol to keep the inquisitive birds away.
As with any top destination, there's plenty to do and see. A shuttle bus, arranged by personal mobile by your 'Major Domo', takes you down to a busy beach area which, with a short walk, becomes an all but private beach. Burgers, beer and cocktails are served throughout the day and there's excellent snorkelling, sailing and, if you can stomach it, zip-lining.
On our penultimate day I agree it is time to stop exploring and, despite running contrary to reserved English disposition, I reluctantly submit to the eventuality of romance on a honeymoon. We swim, drink, talk, dine and dance. The morning after we take a long walk around the forest pass before settling into a couple's Swedish massage. 'You're very tense, Mr Dawkins,' my masseuse says, 'Yes. Yes I am.' My wife – lying inert, face down – isn't even listening. As St Lucia's Nobel Prize-winning poet, Derek Walcott, once wrote, 'She's a rare vase, out of a cat's reach, on its shelf.' And in that moment Jade Mountain's work is done. I relax. In love.
Personal pics by David Dawkins