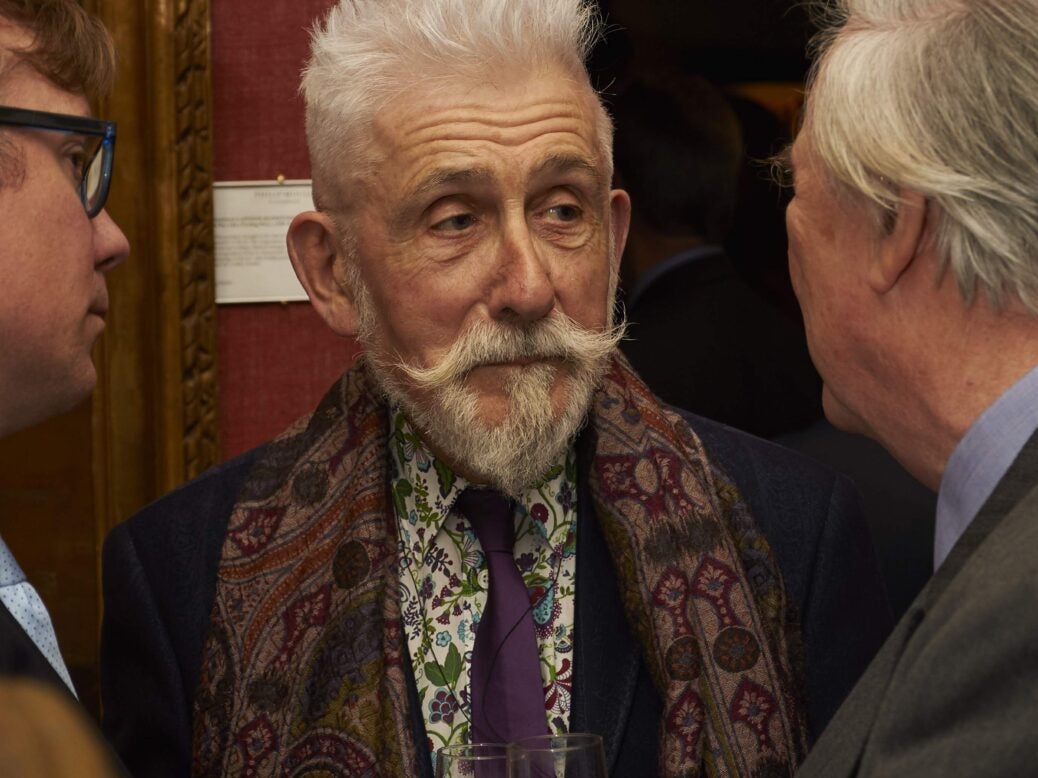 Philip Mould Gallery hosts a glittering crowd for the launch of Jeremy Musson's book on the life and works of the British architect Robert Adam
The great English country house has received due homage at Philip Mould's magnificent three-storey Pall Mall gallery for the Spear's sponsored launch of Jeremy Musson's beautiful book on the eighteenth century architect Robert Adam. 'Is Robert Adam here?' asked one newcomer to the party, as he sipped on the delicious champagne provided by one of the party's kind sponsors, Imperial Blue Finance. He certainly was, but not in person…
Guests included aficionados of both country houses and architecture – Julian Fellowes, Lord Young, Sir Roy Strong, Lady Lucinda Lambton, Peter York, Sir Peregrine Worsthorne, Harry Mount and Sir Simon Jenkins, the writer of the book's foreword – who gathered to pay their respects to both author and the illustrious architect, who lived from 1728 to 1792 and whose most notable achievements include Syon House, Harewood House, and Home House.
They were present to celebrate the launch of former Country Life architectural editor Musson's new book – Robert Adam: Country House Design, Decoration and the Art of Elegance, with sublime photographs by the late Paul Barker, published by Rizzoli at a very tempting £45. The richly illustrated volume, a biography and contextual account of Adam's life and work, also features Adam design drawings from the Sir John Soane Museum in Bloomsbury.
Among notable attendees were Gabriele Finaldi, director of the National Gallery, Christopher Woodward, director of the Garden Museum, as well as architectural historians, Dr Eileen Harris, Adriano Aymonino, Simon Bradley, editor of the Pevsner Building of England series, and John Goodall of Country Life. Modern day followers of Adam from the field of architecture were also present, including George Saumarez Smith and Francis Terry, as well as Spear's cover artist Adam Dant.
'You can tell a book is going well when the author starts becoming their subject,' host Philip Mould declared, tongue firmly in cheek, in his welcome. 'Just as Robert Adam is a byword for neoclassical architecture, thus Jeremy is a byword for Robert Adam. It's very much a case of "the man on the man".'
Addressing the eminent gathering, the delighted author paid tribute to his host and the gallery: 'Philip's gallery has all the ensemble of a good Adam interior,' Musson enthused. 'Imagine being in those spaces fizzing with colour from the classical world. It's like stepping through the clothes of the Prince Regent.' That he could point to a Thomas Lawrence of the man himself as he spoke was testament to the aptness of venue. Adam would approve.
In the same vein, Spear's, media sponsor of the party, received a mention, too: 'I'm sure Adam would have been an avid reader,' announced Musson, 'because he would have wanted to know who the wealthiest and most successful people were.'  Quite right.