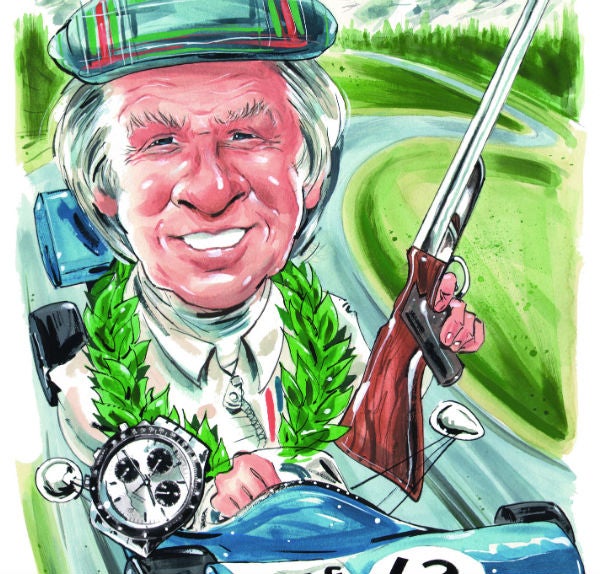 The three-times Formula One champion tells Emelia Hamilton-Russell the secrets of success, plus his passion for fish and watches – but not for cars…
How much is an ounce of gold?
I bought gold at $125 an ounce about 25 years ago – it's tucked away nicely in a vault. I don't know how much it's worth now.
What does it take to be the best?
When you're dyslexic, like I am, you can't think like the clever folk, you think out of the box. Motorsport was something that I could excel at.
What does success mean to you?
Winning is not enough – success is serial winning.
You're a great shot – why did you pursue a career in Formula One rather than shooting?
Racing driving has given me the ear of some wonderful people. It's glamorous, it's colourful, it's exciting, and it's global. Be nice and loud to me, though: between racing driving and shooting, I'm a wee bit deaf.
What was your favourite race? 
Either winning my first ever grand prix or my last world championship. Those two bookend my career.
2018 marks your 50th year as an ambassador for Rolex. What does that anniversary and the association mean to you?
Long-term relationships are something that I treasure. I've been with my wife 55 years;
my relationship with Rolex is like that.
What's the watch you're wearing now?
A stainless steel GMT Master. It's my everyday watch. I also have Rolex's King Midas watch, which is rather appropriate.
What's your favourite watch?
My first Rolex watch that I ever bought, long before I joined Rolex. I had just been payed $35,000 for my qualifying time in the 1966 Indianapolis 500, and that evening I went down to Houston, Texas and bought a gold Day-Date. I was desperate to own a Rolex.
When did you realise that you had become truly successful?
Successful people like to be with other successful people. I've met Steve Jobs, which was
a huge thrill.
What advice would you have for a young person who wants to be the best at what they do?
Under-promise, over-deliver and you'll never get the sack.
What are your luxuries?
Private jets – I never have to stand around at airports. Helicopters are good, too.
Where do you like to spend your evenings?
If I'm in London I'd go to 5 Hertford Street or Harry's Bar; in Scotland I'd go to Gleneagles; in Paris I'd go to Le George V; in Singapore I'd go to Morton's. If I'm anywhere else I'd go to Le Cirque.
What do you like to eat?
I'm a big fish man. I try to eat well, and I weigh the same now as I did when I was racing. I love Scottish salmon – but it's got to be fresh salmon.
Where in the world are you happiest?
At home with my dogs, my wife, my sons and my grandchildren.
Where do you live?
Switzerland – between Geneva and the Jura mountains. The quality of life there is high and there's lots of great little family-run restaurants.
What do you drive?
I'm not really a car man. I've never had a fancy car, and I've had a driver for 43 years. He drives an Audi A6 station wagon.