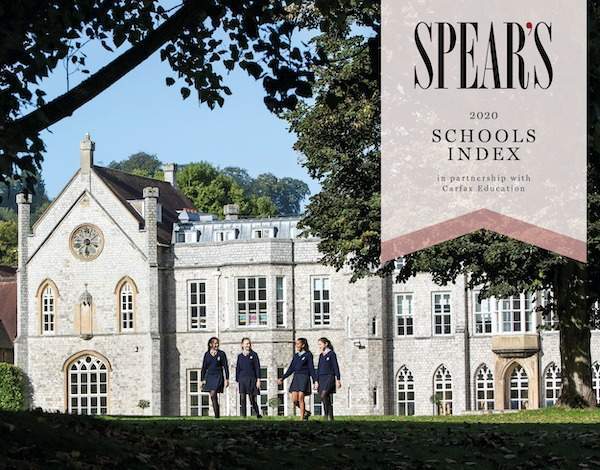 The top 10 schools in Southeast Asia, compiled by Spear's magazine in association with Carfax Education 
Alice Smith School (Malaysia)
Co-ed, Day ($12,500-$22,000), 1,600 pupils, 3-18
Focus: An outstanding British education
Curriculums: IGCSE/A-level/
Accessibility: Kuala Lumpur; 45 mins
Alice Smith founded the school in her own front room in 1946 after failing to find a suitable school for her daughter, and from these roots a strong and healthy school now educates children of more than 40 nationalities. The homely feel endures, and children quickly settle into this welcoming community. Academic achievement is high and facilities are world-class, especially on the sports front.
Bangkok Patana School (Thailand)
Co-ed, Day ($14,000-$26,500), 2,200 pupils, 2-18
Focus: Lifelong learners
Curriculums: IGCSE. IBDP
Accessibility: Suvarnabhumi; 25 mins
Patana means 'development' in Thai, and the school certainly lives up to this promise. Established in 1957, it is Thailand's oldest and largest British international school. Patana is non-selective and caters for pupils of more than 60 nationalities, all of whom are supported by multiple native language programes, including the 20 per cent of pupils who are from Thailand.
Harrow International School, Hong Kong
Co-ed, Day & boarding ($22,000-£40,400), 1,300 pupils, 2-18
Focus: Developing leadership
Curriculums: UK curriculum, A-level
Accessibility: Hong Kong International; 35 mins
This is one of four Harrow international schools, which fuse the DNA of the parent school with the best of local tradition and culture. A nine-acre site in Tuen Mun hosts the Regency-inspired school buildings, and the spacious grounds provide ample opportunity for activities. The school has grown rapidly, attracting largely expat families. Boarding is an option from Year 6.
Hong Kong International School
Co-ed, Day ($25,400-$29,000), 2,800 pupils, 4-18
Focus: Self-motivated learning
Curriculums: US curriculum, AP
Accessibility: Hong Kong International; 50 mins
Beloved by the American expat community, HKIS is open to all nationalities and faiths. It offers a two-stream Chinese programme (Mandarin as a second language or for near-native speakers) alongside the traditional High School Diploma. The campuses in Repulse Bay and Tai Tam feature robotics labs, design spaces, purpose-built music and art centres and top sporting facilities.
Kellett School (Hong Kong)
Co-ed, Day ($22,300-$28,500), 1,400 pupils, 4-18
Focus: Love of learning & confidence for life
Curriculums: UK curriculum, A-level
Accessibility: Hong Kong International; 45 mins
Rated outstanding, this established school is part of the heartbeat of the expat community and is now spread over two campuses. The liberal arts approach offers a wide range of academic subjects and yields strong results. All sixth-formers also do a mini-MBA as part of the curriculum. Kellett is highly regarded for its music and drama and sport is also a strength.
Marlborough College, Malaysia
Co-ed, Day & boarding ($20,000-$45,300), 900 pupils, 3-18
Focus:Breadth of experience
Curriculums: IGCSE, IB
Accessibility: Changi; 1 hr
The 90-acre campus, 15 minutes from the Singapore border, draws architectural inspiration from its sister school in the UK. It allows space for not only sports pitches, a 50m pool and a full athletics track, but also a school farm. Intellectual rigour and breadth of experience are key pillars, along with the extracurricular activities that the extended day of a boarding school provides.
NIST International School (Thailand)
Co-ed, Day ($17,000-$30,500), 1,500 pupils, 3-18
Focus: Growth, individual excellence
Curriculums: PYP, MYP, IBDP
Suvarnabhumi; 40 mins
NIST, founded in conjunction with the United Nations, is located near the centre of Bangkok. It embraces its international community and celebrates 'diversity and the strength and the richness it cultivates'. It has links with a variety of partners, including Harvard Business School. IB results are well above average, with half the candidates taking the challenging bilingual diploma.
St Joseph's Institution International (Singapore)
Co-ed, Day ($21,000-$22,300), 1,800 pupils, 4-18
Focus: Integrity, values
Curriculums: Blended, IGCSE, IB Changi; 25 min
Academically selective and rooted in Catholic values, SJI was established in 2007 in Singapore's leafy Thomson suburbs. Local pupils form half the pupil body. Junior years are streamed on Mandarin ability and by the end of Grade 6 all children are confident users. Results are competitive with top IB schools in the UK. It's worth noting that the SJI school year runs from January to December.
Tanglin Trust School (Singapore)
Co-ed, Day ($20,000-$33,000), 2,800 pupils, 3-18
Focus: Dynamic learning
Curriculums: IGCSE, A-level, IBDP
Accessibility: Changi; 25 mins
Tanglin has been popular with Singapore's expats (47 per cent UK passport holders) since its foundation in 1925. More than 50 nationalities are educated across the Tanglin Trust and the 'school within school model' gives the feel of a more intimate experience than the numbers would suggest. It has moved with the times and features impressive tech. One of the top schools locally for results.
United World College of South East Asia
Co-ed, Day & boarding ($39,153-$92,704), 5,500 pupils, 4-18
Focus: Responsibility, embracing challenge
Curriculums: GCSE, IBDP
UWCSEA, one of the 18 United World Colleges, takes a learnercentred, inquiry-based approach. Each grade at the Singapore school has a local and a global project supported by outdoor trips, while sustainability and innovation are embedded at all levels and are reflected in the architecture at East Campus. Academics thrive and sport, music and drama all flourish.
Carfax Education is the leading private education consultancy whose motto, 'academic excellence without borders' is underlined by a network of offices that stretches across London, Oxford, Monaco, Dubai, Abu Dhabi, Moscow, Singapore and Hong Kong.