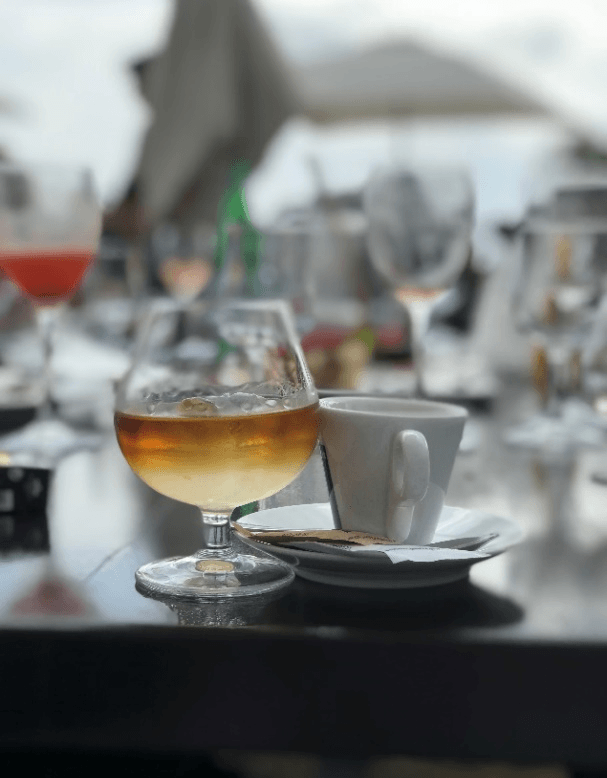 Matthew Gilpin enjoys a long, delicious and typically Spanish lunch in Ibiza, with incredible drinks to boot 
'A beber y a tragar, que el mundo se va a acabar.'
As a gin maker and cocktail explorer I believe the essence of a great drink cannot be described in terms of the liquid or recipe alone. Just as important are the place, time and company in which it is (or ought to be) drunk. It is a moment in time not just a chemical formula. Here's an example:
Lunch is the main event in Spain and our epic comida was now in its fifth hour. We sat, feet in the sand, a few yards from the sea at Yemanjá, an Ibiza institution. The sun was still hot.
Our table was rough varnished wood under a dried palm leaf palapa. At one end Sebastian Fogg and Laura Montana – London and New York's restaurant power couple – analysing proceedings with a forensic eye for detail. At the other end, under a jaunty Panama, chatting animatedly to my wife, Kristina, was 'Ginger Byron' Lang, for many years Gordon Ramsay's service director. Then, Craig and Kathryn Allen. He's a creative director, design purist and, as it happens, author of a seminal book on Catalan cooking. A party that knew its stuff.
We had dissected, devoured and debated sweating acorn-fed jamon iberico, bittersweet pimentos padron, maximalist paella mixta and unctuous arroz negro with sangria blanca and dark Spanish rosado. Nothing too adventurous but all perfectly executed. Craig gave the seal of approval.
As a round of cortado coffees arrived I was expecting the typical postprandial Hierbas Ibicencas. This is the heavily herbed, sweet aniseed-based liqueur served before the bill at pretty much every Ibiza restaurant. Sometimes home-made and thick as syrup or, more  frequently, the version mass produced by local distiller, Mari Mayans.
To some, Hierbas is the true taste of the island and it is a great evocative drink but like many aspects of Ibiza it doesn't travel particularly well. I wouldn't recommend taking a bottle to a party in London unless you know the host is a fan, or a DJ.
Seb clearly had other plans: "Señor Gilpin! Sol y Sombra!" He passed over a brandy glass. Liquid lay in two layers – tan above clear – surrounding a single, large, very cold, very Spanish, ice cube. I took a sip: Brandy. Osborne Veterano. I'm a huge fan of unpretentious Spanish brandy. It tastes as I thought brandy should when I was a boy and knew no better.
I stirred slowly with a finger, as some drinks demand. The Negroni is one, the Sol y Sombra another. Below lay clear Anis. A spirit from another age. The combination – medicinal, sweet, complex, astringent and heady. Most Spaniards would say a grandfather's drink, redolent of España Cañi "Gypsy Spain". An acquired taste, not for the faint of heart. The use of ice might be considered a modern affectation by the purist from Madrid but I prefer it nevertheless
I thought back to Seville during Semana Santa some years ago. We were there for the tapas at one of the old bars near the bullring – the Real Maestranza. The Sol y Sombra bebida, named for the half-shaded, half-sun exposed bullring seats, contrasts the sensual and astringent with tradition and authenticity, deeply rooted in its place.
Here it is: Light and dark, life and death, sweet and bitter, dancing in the eternal afternoon. The mystery of Spain in a glass.
So much more than a cocktail.
'Let us eat and drink, for the world will end.'
SOL y SOMBRA cocktail recipe 
Ingredients
50ml Osborne "Veterano" brandy
50ml Anis del Mono
Large Ice cube (optional)
Method
Build with brandy over anis in a small brandy glass with one cube of ice.
Finger stir.
Restaurant Yemanjá
Cala Jondal, Ibiza, +34 971 187 481
Matthew Gilpin is a former Royal Navy officer, barrister and fund manager is the founder of Gilpin's Gin. He studied Law at Oriel College Oxford and is a Fellow of the Royal Geographical Society.