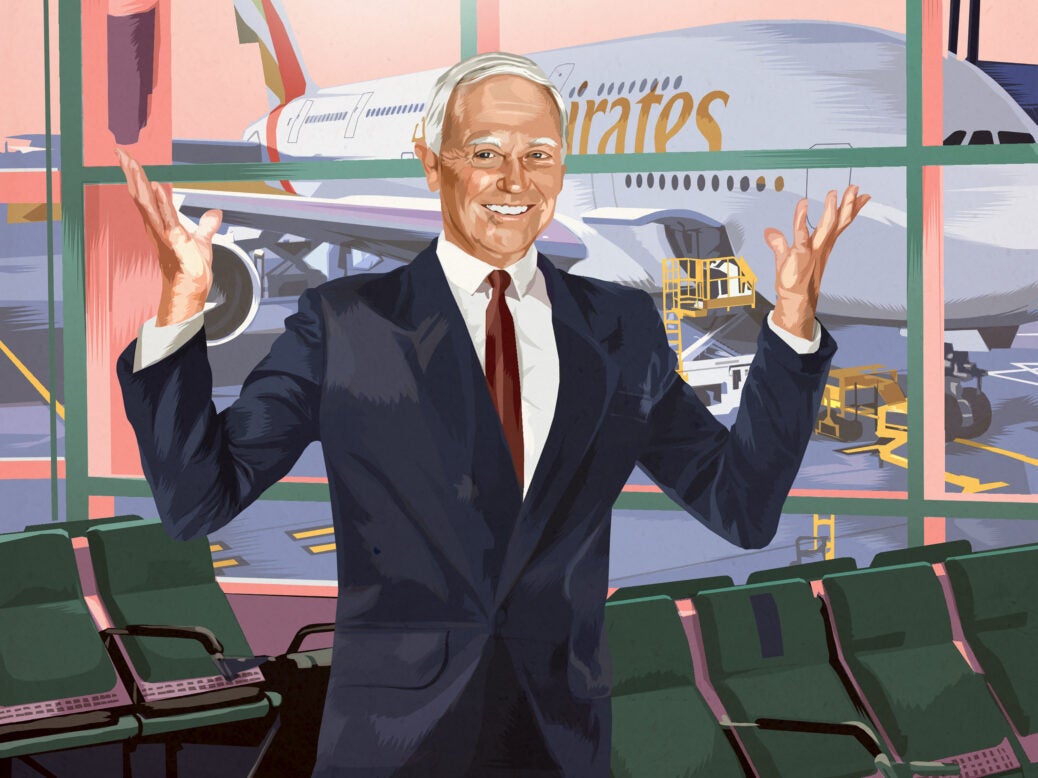 With most airlines rushing to scrap the double-decker Airbus A380, Emirates boss Sir Tim Clark is flying in the opposite direction. That's good news for UHNW travellers
The Airbus A380 was hailed as the future of air travel – the 'clipper of the skies' – but it is fast becoming an endangered species. After lockdown sent passenger numbers into a nosedive, most airlines said they would ground the four-engine double-decker for at least two years.
Now some (Qatar Airways, Singapore Airlines) are reducing the size of their fleet, while others (Air France) have scrapped theirs altogether.
Sir Tim Clark, the Briton who runs Emirates, is not among them. In fact, he's flying in the opposite direction. 'Superjumbo dead? No. I'd buy the lot if I could,' he says looking out of the window of his office at conga lines of the £350 million, 500-tonne behemoth ready to take off from Dubai International Airport to almost every major city in the world.
Clark is investing $500 million to upgrade Emirates' entire 117-strong A380 fleet, and buying five more of the jets. They will offer new first and business class, bar and showers.
'It's not the end of the luxury aeroplane era,' Clark says. 'The Emirates A380 is already one of the most sought-after travel experiences in the skies. Travellers say: "If the A380 is on the route, we're going on it." Now we're making the plane even better. We spared no money on the interior design.'
He adds that the sheer size of the superjumbo makes social distancing on board easier. The all-new A380 is different alright. Upstairs, the business class cabin has been refreshed with champagne leather and new wood finishes on the lie-flat seat-cum-beds. The bar at the rear has been redecorated in similar finishes.
'A lot of airlines go for dark blues and blacks and browns in the cabins. Why do they do that? Because they don't want to clean them!' says Clark. 'Our colour palette creates a beautiful light cabin.'
The 14 first-class suites upstairs in the nose of the aircraft are wider and have taller doors, for even more privacy. Over time, first class will be completely reconfigured with larger suites to make it even easier to relax and sleep.
'You know how quiet it is on top at the front; it's the quietest place on the aeroplane. You can't hear a thing,' says Clark. The two showers, reserved for first class passengers, have been redecorated with a design that echoes the Ghaf, the national tree of the United Arab Emirates.
The new jets will make their debut on major routes, including London to Dubai With his British colleague, Paul Griffiths, chief executive of Dubai International Airport, Clark is also making improvements on the ground – increasing Covid-19 safety and enhancing luxury.
A biometric iris and facial recognition system is replacing over-the-counter passport checks at departure and at the boarding gates. Emirates has also introduced iris and facial recognition to make entry to its business and first-class lounges contactless – although there will still be a staff member to greet you personally from a safe distance.
Clark is also pioneering, with the International Air Transport Association, the ITravel Pass – a mobile 'digital passport' to verify passengers' pre-travel Covid tests and vaccination status to meet the entry requirements of every destination.
All business class and first class passengers leaving Dubai now have an almost 100 per cent private, socially distanced experience from kerbside arrival in an Emirates chauffeur-driven car, to check in in the airport's separate premium-class terminal, to lounge, to boarding.
Business and first class travellers board direct on to the Upper Deck of the A380 from the lounges that themselves are one storey above the airport's main concourse. So far, so soaraway. But hang on a minute. Is the A380 really the right plane for our more environmentally conscious times? It's only months since most airlines scrapped their remaining Boeing 747 jumbos, arguing that large four-engine jets were too thirsty. In January Qatar Airways CEO Akbar Al Baker explained his decision to halve his airline's superjumbo fleet by saying, 'The A380 is one of the worst aircraft when it comes to emissions.'
Clark concedes that the older engines on the superjumbo are less efficient than those on the twin-engine A350 or the Boeing 787 Dreamliner but he challenges 'a lot of the assumptions critics are making about the aircraft'.
He explains: 'You have to think of the whole environmental footprint. A full A380 represents around two 787-9s or two A350s. If you fill it, the fuel burn per seat mile compared with the two 787-9s is only five per cent more.' He adds: 'Don't forget the on-the-ground impact. You have to service two of the smaller jets for every one A380 and staff two gates. That's two sets of tugs, lifts, staff, you name it.'
Emirates' hub-and-spoke model has environmental benefits, too, he argues. 'Those smaller twin-engine jets that fly ultra-long-haul point-to-point burn a lot of fuel just to carry the fuel they need to make such long journeys.'
For every 10 tonnes of fuel an aircraft needs to carry, it burns around two to three tonnes on average to carry the 10. But can Clark really fill all the seats in the A380? Many analysts say it will be up to a decade before demand for air travel returns to 2019 levels. Clark reckons it will take just two to three years.
'Demand is going to come back fast. No question about it,' he says. 'Do you honestly think that people are going to sit here for the next 20 years doing nothing because we've had a pandemic? Do you know how much money there is in banks at the moment? People are flush because they've had nowhere to go, nothing to spend on.
'Let's say we reset at the back end of the summer this year with the vaccine roll-out. Let's assume that you recapture the growth curve of the past few years. The maths tells you if it's 7 per cent a year for 10 years, you double. That's 8 billion air passengers. That's why, when people say Emirates is 'stuck with' all these A380s, I say: "No, no, no. We can fill them. This is the best that could happen for us and for passengers."'
John Arlidge is Spear's luxury editor. He also writes for the Sunday Times in London and for Condé Nast titles in New York
Illustration by Matthew Laznica
More aviation stories from Spear's