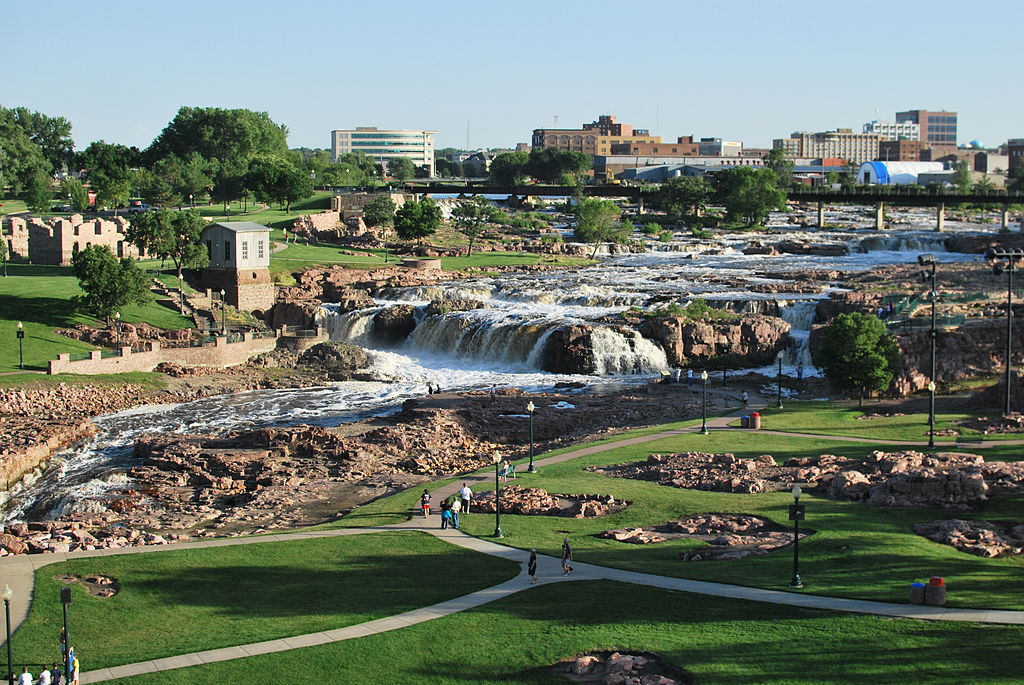 In South Dakota, not too far from Mount Rushmore, an ambitious little city has emerged as a sanctuary for global wealth
In the sprawling prairies of the American Midwest is a city that is unlikely to feature on any list of international business hubs. But Sioux Falls (population: 180,000) in South Dakota is something of a secret superpower. It is home to trust assets worth around $400 billion – that's more than the GDPs of Ireland, Israel or Norway. The city has seen a 600 per cent jump in the amount of wealth held by its trust industry since 2010, according to its mayor Paul TenHaken.
The amateur Ironman triathlete, who has been pictured wearing a bandana emblazoned with the Stars and Stripes, has been running his own marketing business for more than a decade. He is now also a Republican politician, who transmits an infectious zeal for his home town when he speaks to Spear's via Zoom.
'There's a mentality in the Midwest, and specifically in South Dakota, where there are millionaires all among us in this city, but you don't know it,' he says. 'And this is not a community or a region that flaunts wealth. In the past decade, we've seen what I would call an explosion in higher-end homes in the community. I will sometimes bring people into Sioux Falls to tour through different neighbourhoods and they say, "Where do all these people work who can live in homes like these?"'
The ascent of Sioux Falls began in the Seventies under the auspices of the former state governor William 'Wild Bill' Janklow. He welcomed Citibank, helping the company escape bankruptcy – and the 'anti-usury rules' that hampered its credit card business. In 1983 he removed the 'rule against perpetuities', a 1536 English law that terminates trusts within 80-100 years.
That reignited dynasty trusts, which can, in theory, last for ever. Mayor TenHaken takes Spear's on a virtual tour of the city's thriving downtown, where the iconic cascades of the Big Sioux river flow.
***
An unassuming two-storey building sitting at 201 South Phillips Avenue holds $80 billion worth of trust accounts. Here reside the trusts of the Wrigley gum family, the Carlson family who owned the Radisson hotel chain until 2016, and the family of the late hedge fund giant John Nash, according to a 2016 report from the Financial Times.
These are among the very few names reported, as this is a rare place where the privacy of trusts and their beneficiaries are guaranteed by state laws. It is also home to the office of South Dakota Trust Company, which represents '90 billionaires and 300 centimillionaire families' according to its website.
On another Zoom call, the firm's co-founders, Pierce H McDowell III and Al King III, describe their pioneering role in fashioning Sioux Falls into America's premier dynasty trust destination, which, they claim, other US states have begun to copy. King was a director at Citigroup in New York between 1993 and 1994, when the Arthur Andersen accounting scandal began to affect the corporate world.
'They cut the referral fees for bankers to refer their clients to the trust department,' he says. He read an article McDowell had published in the trade magazine Trusts and Estates about the dynasty trust in South Dakota, and saw an opportunity. He hired McDowell as Citi's chief trust officer in Sioux Falls, where the bank had already established its credit business thanks to Governor Janklow.
In 2002, the pair broke away from Citi and formed their boutique outfit. 'Our business model, our brand, our laws: the trusts, the asset protection, tax and the privacy; a combination of all that has allowed us to grow fairly nicely,' says King. Dynasty trusts have come in for criticism. They sit in a jurisdiction outside the reach of the Common Reporting Standard (though SDTC says it 'never accepts a trust relationship that it determines was solely established' for CRS avoidance).
One top London lawyer describes this space as a 'grey zone' – neither blacklisted nor safe enough to automatically pass the 'sniff test' that many private client advisers advocate, lest their clients face difficult questions in the court of public opinion. But another private client lawyer, Basil Zirinis of Sullivan & Cromwell, says South Dakota's trust laws have achieved a certain sophistication that, when combined with Sioux Falls' banking success story, 'gives people comfort'.
For now, South Dakota's boosters aren't unduly concerned. State governor Kristi Noem has an unequivocally pro-business stance ('roll out the red carpet, not the red tape') and she made headlines this summer for hosting Donald Trump at Independence Day celebrations at Mount Rushmore – and for insisting that businesses should be allowed to stay open during the pandemic.
The governor's staffer responsible for the state's economic management, Commissioner Steve Westra, reports a surge in phone calls 'in the last 100-plus days' from businesses affected by both the shutdowns and the protests in other states. South Dakota is 'extremely well off', Westra says, which creates a sense of stability for businesses. There is also no state income, inheritance or corporation tax. In terms of banking assets, the Federal Deposit Insurance Corporation showed it held $3.48 trillion in Q1 this year. There have been knock-on effects from Sioux Falls' recent prosperity.
Robert Vicino, a Californian entrepreneur who founded Vivos, a firm that provides luxury bunkers to 'preppers' and survivalists, claims that South Dakota is home to 'the world's largest survival bunker complex' located in a former Second World War base. He has seen a '700-800 per cent increase in enquiries' since Covid-19, some coming from wealthy Chinese and Middle Eastern HNWs.
'We're having a big impact on south-western South Dakota – I'm bringing up the economic tide,' he says in a video call. There has been interest in nearby properties as a result.
***
But Sioux Falls is not resting on its laurels. Tenhaken has been pushing to diversify the city's economy. He is proud of its first fintech accelerator programme, launched in 2019, and its growing medical industry. Sanford Health, one of the US's largest healthcare providers, is one of the largest employers here, alongside Citi and Wells Fargo.
Not even a victory in November by Joe Biden could ruin the party, according to Vicino. He is convinced that South Dakota is 'one of the safest places in North America' for businesses and big money – and will remain so, come what may. Tenhaken concurs, saying that Sioux Falls will always attract HNWs in its own unique style.
'We're not trying to become Seattle,' says the mayor. 'We'll never be that. But bringing in people and their dollars in businesses from other parts of the world is a good thing.
This piece is from issue 76 of Spear's magazine Click here to buy and subscribe