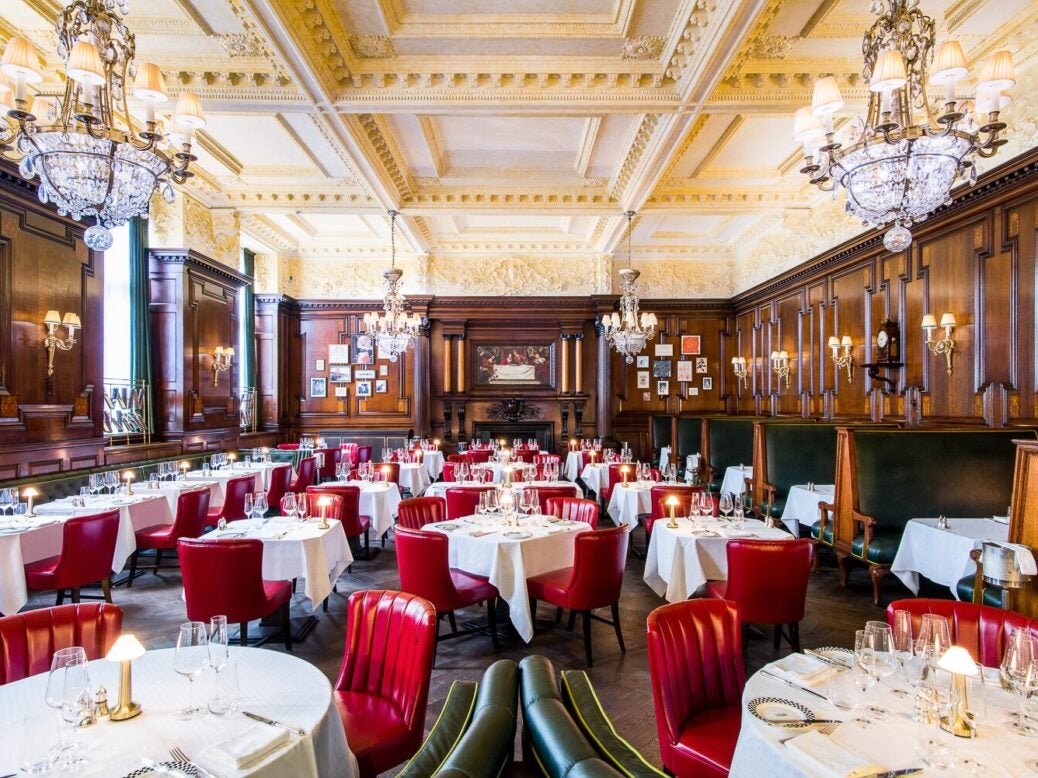 Christopher Jackson travels back in time to one of London's finest institutions
Any restaurant whose clientele has included Dickens, Gladstone and Disraeli has already established a reputation, if a slightly Victorian one. But Simpson's-in-the-Strand also has an Edwardian reputation, featuring in the Conan Doyle short story The Illustrious Client. Indeed, even in the post-War era, it's also a favoured haunt of characters in PG Wodehouse novels.
Inside, everything is nostalgic for Queen Victoria and all her works. The look is of a place which would quite like another Zulu war, prefers the poetry of Tennyson to any poet since, and thinks it still controversial that the corn laws were repealed. The décor lets you know this with every inch of wood paneling, and you don't have a menu here – you have a 'bill of fare'.
The best way to enjoy Simpson's is just to go for it – to enter the time capsule and be there ungrudgingly a while. The fame of the place is partly attributable to its association with the Savoy, but it was also here that Londoners were for the first time treated to the spectacle of beef being brought out on a trolley and carved.
Thus began – or perhaps it is better to say, was formalised – our great national obsession with beef. We all know now – thanks to David Attenborough and Extinction Rebellion – that it has led to potentially catastrophic levels of carbon dioxide in the atmosphere, as generation upon generation has preferred cow to anything to be found in the sea.
But to be fair, Simpson's today has a wider menu than its reputation would suggest. It has, for instance, a fine selection of native oysters and caviar which would satisfy Greta Thunberg: these come from Lindisfarne and Morecombe Bay in the north and Falmouth in the South-West. The caviar meanwhile is from Exmoor.
I went with the oysters and enjoyed their lively pinch. One of my companions went with the Dorset crab, with pickled cucumber, parsley mayonnaise and cured age, and pronounced that a success. The other opted for the native lobster salad, which came with charred baby gem, Granny Smith apple and Marie rose sauce. We were off to a good start, like athletes in the 200-metre dash, running three good bends.
Whatever the virtue of our starters, these were the selections of people gearing up for a vast amount of red meat. Soon, like the answer to a famished person's prayers seen in a surreal dream, came the famous carving trolleys. This bore a variety of delicious cow murders: a Buccleuch Estate 28-day dry aged beef Wellington; a Sirloin steak of the same variety; and a Daphne's Welsh lamb cutlet.
Soon sides were being flung down around the waiting cuts: creamed leeks, buttered mash, creamed spinach, triple-cooked chips – and that perennial favourite, peas and carrots. It was an image of the English national diet.
It was this sort of fare, one is made to feel, that made Queen Victoria Empress of India, gave Disraeli the edge over Bismarck, makes Dickens better than Flaubert, and generally led us from one success after the other, through the Second World War, and Hitler lost mainly because he was a vegetarian.
In other words, it's a patriotic place, with that whiff of Empire which is harmless for one night, but which over decades opens up onto the indigestion of the 1950s. At the same time, one mustn't overthink it: predominantly, it's a great restaurant, with everything perfectly cooked, assiduously presented, and served with cheerful warmth.
Our race was nearly run. For pudding, I opted for the Simpson's chocolate cake which came with chocolate mousse, cocoa nib ice cream and – amusingly decapitalised in the bill of fare as if it were somehow a historical ingredient – aero. It was also delicious, and by now the red wine was mounting within us, as if it wished to wrest from us some mighty finish.
One possible way to finish the evening is to do what we did and head next-door to the Savoy for a last drink. There are some reasons not to do this. One is that the roof recently fell in, sparking news headlines. The other is the enormous volume of the band which can be found playing in the bar area next to Kaspar's in the evening.
At one point the singer was bellowing out Elton John ballads as if he were in Wembley Stadium. It was a surreal end to the evening – but we sat there, replete, full of the fine nostalgia of Simpson's, we knew we would part – as we did – agreeing it had been a good night.
And like that, full to the point of obesity, we dipped the three of us together, in a big-bellied heap, for the finishing tape.
Christopher Jackson is deputy editor of Spear's