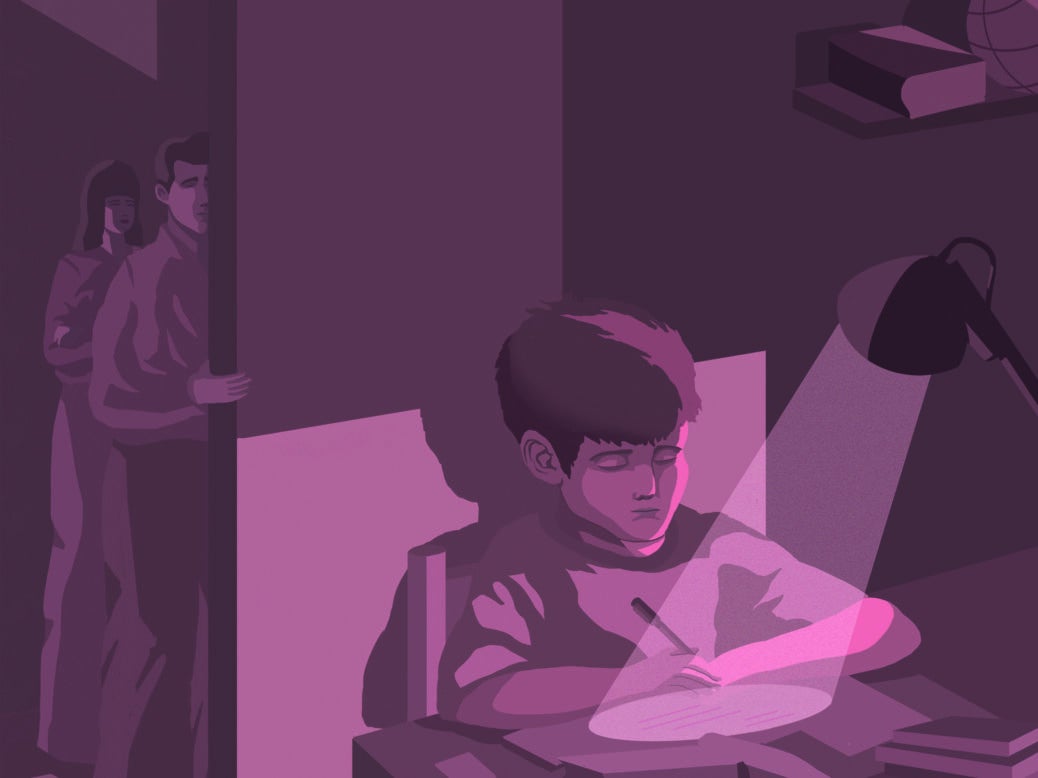 The race to get into leading secondary schools puts pupils and parents under intense pressure
Sheri Jacobson has been through a cancer diagnosis and chemotherapy. It's the sort of struggle that might make many of life's other challenges seem trifling by comparison.
But the stress of getting her daughter Cobie into secondary school was of a similar order of magnitude. It was, she says, 'agonising'.
When it comes to leading educational institutions, there is competition at every stage – from nursery to postgraduate study.
But many parents identify the ages of 11 or 13 (when pupils tend to join senior schools) as the most pivotal moment of the academic career. The average size of a private secondary school class is 18, but many are smaller – Millfield School in Somerset, for example, has a maximum class size of 13.
Meanwhile, in the state sector, almost a million pupils are in classes of 31 or more, according to 2019 government data. This, alongside top-quality teaching, often translates into examination results, which are crucial for getting into leading universities. But the benefits echo long into people's lives.
The most rarefied parts of British society are disproportionately populated by alumni of private schools, according to a 2019 report by the Social Mobility Commission. While 7 per cent of the general population attended a private secondary school, among FTSE 350 CEOs the figure is 48 per cent; among judges it is 74 per cent; of the members of the Sunday Times Rich List it is 57 per cent. Even newspaper columnists over-index, with 44 per cent having had a private education.
One only has to look at the relationships between leading figures from politics and business to realise that the social connections forged at school and university can be crucial for decades after.
What's more, competition for places at the very best schools in the UK is growing. Factors such as an increasing population, more international applicants (British independent schools recorded a 6 per cent growth in foreign students in 2020, according to market intelligence resource ICEF Monitor) and the emergence of tactics that see parents put their children forward for several schools have intensified the struggle.
To make sure the best pupils are chosen, many schools engage in a rigorous application process. St Paul's, for example, receives around 500 applications for places to join the school in year nine (when most pupils are aged 13).
To begin whittling that number down, it starts with the Independent Schools Examinations Board (ISEB) pre-test – a multiple-choice online test in English, maths, verbal reasoning and non-verbal reasoning that takes about 2 1/2 hours and weeds out about 200 applicants. St Paul's also asks for a reference from each child's headteacher.
The boys who progress to the next stage have further written assessments in English and maths, and two 25-minute academic interviews designed to test what director of admissions Dr Andrew Mayfield refers to as their 'raw horsepower'.
Candidates are then either rejected, offered an unconditional place, or put on the reserve list. At the start of year eight, St Paul's asks schools how the boys on the reserve list have fared in the past 18 months and assesses them again in English and maths before deciding who will fill the remaining places.
Of the 500 applicants, just 90 or so are admitted in year nine. (Almost the same number join the senior school from its junior school at the same stage.)
Mayfield says a 'careful and considered' process is necessary to ensure that the boys admitted won't fall behind at St Paul's. 'Our lessons are 35 minutes long and the pace of learning is brisk. We want everyone to be able to keep up.'
However, the intensity of some admissions processes can have consequences for children. 'I find it very distressing because it's the parents' ambition rather than the child's needs, and it can be the undoing of the child,' says Christine Leslie, who runs a bespoke service providing advice on schooling to parents.
Sometimes, she says, a child's admission to a top school is a status symbol for the 'chattering classes', who think that 'if they cannot say "my son's at St Paul's", or "my daughter's at Godolphin and Latymer", then it's social death for them'.
The process can fracture family relationships and even lead to mental health problems. Jeremy Monsen, an educational and child psychologist for the boroughs of Westminster and Kensington and Chelsea, who also has a private practice, had one client who came to him with concerns that his son may have learning difficulties after he did not get into his desired school.
Through therapy, Monsen convinced the father that missing the entry threshold was not tantamount to having learning difficulties (in some schools, pupils need to score within the top 2-3 per cent to gain entry).
In another case, a daughter was desperate to live up to her parents' success. 'Even though she was putting in the effort, she just didn't have the aptitude and her parents felt she was lazy,' says Monsen. 'And so began a horrible cycle of self-harm and eating problems.'
In the end, the case had to be referred to Child and Adolescent Mental Health Services. Some children are also being overworked in preparation for the schools' admission process.
'They will start learning a musical instrument or a foreign language at the age of three. From the moment they apply for nursery, it is 'technique, practice, and "death by photocopied worksheets",' says Leslie. 'There's not much time to go out and get muddied knees, because they will be timetabled with activities that parents think are going to help in their future life.'
Then there is the matter of extra tuition.
Almost all schools take the stance that children should not prepare for entrance exams, but this advice is largely ignored. 'School work alone isn't sufficient,' says Jacobson. 'My understanding is that you need supplemental help in order to stand a chance of competing.'
Of course, children should be given all the tools they need to do their best. But tutoring needs to be 'sensible', says Old Etonian and founder of Pegasus Tutors, Alex Sever. 'If you go into those exams having never seen a verbal reasoning paper before, you're basically doing it with a hand tied behind your back. But a child only needs about 20 hours of non-verbal reasoning preparation over the course of a year. If you do 200, the kid's going to hate it, they're going to have mental health issues, they're going to be burned out.'
This is not to say that increased academic pressure on schoolchildren is the root cause of mental health issues in adolescents (social media, says Leslie, has also been devastating). Indeed, many children take it in their stride.
Sophie Oakes recently completed the admissions process with her two boys and did not find it 'at all' stressful. She says she only tutored one son and kept mock interviews to a minimum, as 'Eton loathes a prepared child'.
'I'm struggling to think whether I even took son number one to Eton!' she says.
Oakes happens to be an education consultant at Carfax Education, which she acknowledges may have eased the process. Her sons also attended boarding prep schools – 'quite frankly, I felt it was the school's job to bring them up to speed,' she says.
Either way, her attitude is relaxed: 'I hadn't put any pressure on the boys. I felt that if it was not the right school for them, they wouldn't get in, and if it was the right place for them they would.'
Trusting that the process will deliver the 'right' outcome can be daunting, but seeking to exert too much control can be counter-productive. If a child manages to inflate their abilities via tuition and gains entry to a school that is too academic for them, they may suffer in the long run.
The focus should not be getting children into the top schools by any means necessary, but finding one that speaks to their unique needs, says Mayfield: 'We hope that parents and boys have been to [St Paul's] and that they've met us and understand us. In the right environment, they will thrive. In the wrong one, they might not.'
If 'academic' does not always equal 'best', what should parents be looking for when applying for schools? Sheri Jacobson's daughter wanted to go to Godolphin and Latymer because it offered lacrosse.
Her mother liked South Hampstead for its 'mental health track record'. Sophie Oakes' eldest son, she says, was 'a perfect candidate' for Eton – bright, quirky, and 'doesn't need the reassurance of others'. Her second son, however, is more dependent on friends and hates being (what he perceives as) 'the bottom of the pack'.
Eton was not the school for him. 'The key point is, do your research,' says Mayfield. 'It's not a competition. It's not a bragging right. It's about whether your child is happy, cared for and has fun going to school.'
But does the responsibility for dialling down the intensity of the admissions process fall squarely on the shoulders of parents?
Mayfield seems to think so, arguing that 'the stress of it comes from people trying to push children into schools that are not right for them'.
Similarly, co-educational boarding and day school Brighton College doesn't see it as a problem, says Alison Withers, who was the school's director of admissions until she recently went part-time: 'I think it does sometimes come from the parents wanting to get children into a certain school without thinking about whether it is right, but we're doing everything we can to make sure it's not [stressful].'
Brighton College also uses the ISEB, which is designed to reduce the number of exams children have to take by allowing test results to be shared among several schools. Prospective pupils do the test in small groups rather than a daunting exam hall, and have activities and lunch laid on.
They also have a non-academic interview where they are asked about themselves and their hobbies. Above all, Withers says, the school aims to admit children who are 'kind'.
But is 'softening' the application process, as Withers puts it, really enough? There are those who believe the whole system is due a shake-up.
Oakes criticises 'earlier and earlier' testing, and Monsen agrees, pointing at the SATs (exams taken by children as young as six that were originally only meant to monitor how schools were performing) as the origin of our problematic societal attitude towards testing children.
Jacobson goes further: 'I think they need to totally rejig the exam system. It needs to be more applicable to real-life skills and less about rote learning.' Cobie Jacobson applied for ten schools in total. She got into those for which she interviewed apart from St Paul's Girls, and was waitlisted at Godolphin and Latymer and South Hampstead.
'Being on a waiting list is agonising,' says Sheri. 'Several times a day my daughter was like, "Have they called, have they called?" Her second choice was a school called Francis Holland. It's a fantastic school. But you know what she said to me? She said, "I didn't work this hard just to get into a Francis Holland."
And in a way, she was right. It paid off.' South Hampstead eventually offered Cobie a place, which she accepted. The school is described by the Good Schools Guide as having 'a tradition of celebrating girls' education and empowerment' and counts Helena Bonham Carter among its alumnae.
As the daughter of a psychotherapist (who co-founded therapy platform Harleytherapy. com), Cobie was strictly monitored for 'signs of breaking' (including tearfulness, over-or-under-eating, sleeplessness, withdrawal) throughout her application process. She had therapy herself, and her mother 'made sure that she was still able to do all the things that she loved to do', such as horse riding, rollerblading and spending time with her dad.
Therefore, she 'coped', but it's easy to imagine how others wouldn't.
'Which is why, in my heart of hearts, I do feel like scrapping this whole system could be beneficial,' says Jacobson. 'Yes, the exams show hard work. But there are far more important things in life.'
Main image: Gaston Mendieta
More from Spear's
To the victor, the spoils: When UHNW divorce becomes a battle, this is how top lawyers win
Profile: Eton college head master Simon Henderson's 'woke' revolution
The Spear's Schools Index: Choosing the right school for your child