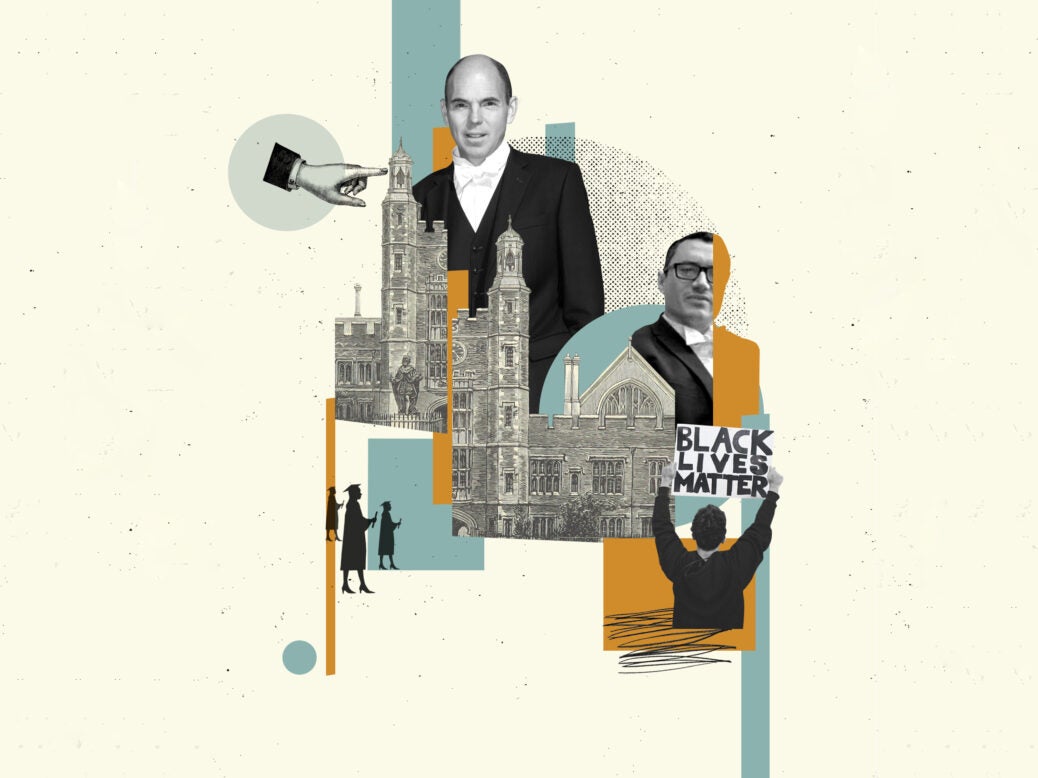 Simon Henderson, the head of Eton College is under fire over his attempts to modernise it. Alec Marsh hears from both sides of the argument
In its 581 years, Eton College has been presided over by 71 head masters. Few can have been more controversial than its present head, Simon Henderson.
In just six short years since his appointment in 2015 – having been poached from Bradfield College, where he had scarcely got his feet under the head's desk – he has garnered a nickname, 'Trendy Hendy', been criticised for pursuing a 'woke' agenda, and has faced calls for his resignation.
Among acts decried by detractors are his messages of support for Black Lives Matter campaign over social media in the weeks after the murder of George Floyd and a widely reported statement from the college's 'director for inclusion development' that she would like to see the BLM flag flying from the college gateway.
Henderson has also been criticised for the flying of the Pride flag from the college, and for an autocratic management style that is best encapsulated by the erection of a new office block for the school's leadership, nicknamed 'the tower of power'.
Matters came to a head last year with the sacking of an English teacher (or 'beak', in the parlance of Eton) for his refusal to remove a 33-minute video lecture entitled The Patriarchy Paradox from his personal YouTube channel.
The dispute was leapt upon by the press and framed by some as a battle for freedom of thought and expression at what many regard as the world's most prestigious public school.
Among Henderson's most trenchant critics is Lord Bellingham, an Old Etonian and former Conservative MP and minister, who became the unofficial ringleader of the anti-Henderson movement last December when he wrote a letter to the college demanding the head's resignation.
Bellingham, chair of a dining club of 45 OEs, said its members would withhold £2 million in donations to the college so long as Henderson remained in post. In a letter reported in the Daily Mail, the peer lambasted Henderson's 'woeful handling of the issue', saying it weakened his already 'very shaky' authority in the school and left him looking 'like a small and mean-minded individual'.
The sacked teacher, Will Knowland, wrote an article in The Spectator in January in which he said his 'disciplinary process was only the latest in a series of lustrations turning Eton into a stifling monoculture'.
The nine-year veteran of the English department fumed: 'It was not new legislation I'd transgressed, just a new religion with an old-time zeal to suppress dissent and punish heresy. The College's "approach to equality and diversity" – which it finally claimed I had breached – has never been explained to staff, making it impossible to follow.'
***
Scrape beneath the claim of a 'stifling monoculture' that Knowland warned of and you reach the heart of the matter. Eton is grappling with a question that faces long-standing institutions everywhere: how to respond to rapid and profound changes in attitudes to gender, race, equality, inclusion and diversity?
Against this background, Knowland tells me he believes his case shows that 'emotional safety is being prioritised over intellectual rigour and challenge' at Eton – alma mater, let's not forget, of 20 British prime ministers.
At the heart of it, believes Knowland, is a feeling among teachers 'that the range of ideas that they are permitted to discuss either in the common room among [other] masters or [with] boys in boarding houses or in lessons has been progressively narrowing'.
'You wouldn't know that the English department was an English department,' says Knowland. 'It could be a gender studies department.'
Likewise, he points to the growth of the 'personal, social, health and economic education' curriculum at Eton: 'Under Simon it's become a project,' says Knowland. 'I think he sees himself as much of a social activist as he does an educator.'
As to what degree Henderson himself would disagree with this assessment is an interesting question. (He declined requests to comment for this article.)
Under his watch Eton has engaged in a number of laudable social outreach initiatives. These include making its boarding houses available to the children of key workers during the pandemic; providing its online teaching platform, EtonX, to schools across the country free of charge (with more than 115,000 pupils registered so far from 1,600 schools); and increasing the number of fully funded, means-tested places to 90.
Also read: In search of Eton's 'general, total failures'
Indeed, that number will rise to 140 over the next five years, meaning one in ten of all boys at Eton will receive their education free of charge. The school will also help set up a number of government-funded sixth form colleges in the North and Midlands, similar to the London Academy of Excellence in Stratford, east London, of which it is a partner (along with five other public schools).
'We want to create a much wider network with as many as 50 schools and youth clubs, particularly in disadvantaged areas,' Henderson told The Times in a rare interview last year. (Interestingly, Lord Bellingham admits the widening of the scholarships scheme is 'inspirational'.)
One former beak I spoke to insisted that Henderson was committed to harnessing the school's power 'as an engine of social change'. He noted that Henderson's wife Ali, a former civil servant who worked in Number 10 for Tony Blair and Gordon Brown, now runs a major social access charity.
'That's where his politics are,' said the ex-beak. When Henderson, whose high-flying father Giles was a top partner at Slaughter and May and master of Pembroke College, Oxford, was appointed, he was 39.
This made him the youngest Eton head master in history, but also one by definition lacking, relatively, in experience. Some suspected he saw himself as 'a moderniser'.
For an interview with The Telegraph to mark his appointment, he wore a linen jacket and chinos and only put his tie on to be photographed.  'Maybe I'm not everyone's perception of what the Eton head masters would be,' Henderson told the paper. 'But I am the one they have got.'
***
When I once met him socially at Bradfield College, where he was head for four years, I recall being struck – and somewhat shocked – by his earnest focus on preparing the kids of today for the world of tomorrow. We are the same age, give or take, but if he had any nostalgia for the education we received in the Eighties or Nineties (he was at Winchester College), he certainly didn't show it.
Rightly so, perhaps. He has also expressed doubt that exams are relevant for 'the real world'. While my requests for an interview with Henderson or the provost of Eton, Lord Waldegrave, were declined, the school did introduce me to two Old Etonians who are supporters of Henderson's reforms.
One of these, Ollie Randall, who has written about his experiences at the college and wrote a letter in support of the head to The Times, tells me that Henderson's medicine was 'long overdue' at the £42,500-a-year Berkshire school.
'Cobwebs needed brushing away,' says Randall, 28. 'Henderson has done a good job at continuing what my head master Tony Little did – steering the ship in the right direction.'
He recalls the example of an Eton contemporary who was 'the only boy to come out voluntarily as gay' while at the school – and who waited until his final year to do so because of the culture at the school.
'That heteronormativity – I know from him and other Old Etonians who came out as gay subsequently – was stifling,' Randall says. 'That's an element of the environment that's just not good enough in the 21st century, and that's something that's been recognised by the leadership.'
In a similar way, he believes the appointment of women to senior positions in the school is welcome – and that, previously, female teachers 'had to be tough as nails' to stay for long.
The second champion of Henderson's reforms introduced to me by the college is an Old Etonian who has two children at the school. (As a result, he asked not to be named.) On the Knowland case, he is convinced that the school was well within its rights to sack the teacher.
'The idea that what Etonians need to broaden their minds is a little bit more reinforcement of the benefits of patriarchal society… they're the embodiments of the benefits of patriarchal society,' he declares. 'What they need is to have their minds opened to the opposite.'
More generally, he believes that Henderson is attempting to preserve the best of the school, but is all too 'aware there are an awful lot of people looking at it as an anachronism'.
He adds: 'You can't just hide away as head master of Eton. You have got to get on the front foot and tell the story. I think he's realised that and is doing it well.'
***
At any rate, six months on from the peak of the Knowland imbroglio and the loudest calls for his resignation, Henderson is still head master. What's more, even arch critics such as Lord Bellingham have softened their positions. The former North West Norfolk MP tells me he is no longer calling for Henderson to go.  Now he believes Henderson has time to 'pivot and recalibrate' his headmastership and save it.
'Where Henderson has done very well is in his whole mental health agenda, around bursaries and opening up Eton to those who wouldn't have had the chance to have gone near it in past,' says the peer, 66. 'Where I have publicly disagreed with him is in the realm of the woke agenda. The virtue signalling around Black Lives Matter… It was a wrong call. It was straightforward classic virtue signalling, which was demeaning.'
But, he adds: 'Eton, like the Conservative Party, won't survive unless it completely reappraises itself on a regular basis and moves with the times. You've got to do that. The key challenge is to bring in reforms but also carry your key audiences with you.'
One former beak tells Spear's: 'What you need to understand is that Eton is a really difficult school to run. High-net-worths are incredibly difficult people to deal with all the time. If you do something wrong they'll sue you and they'll put lawyers in against you.'
It's also a difficult place to run because you've got a big common room of highly intelligent teachers – many with doctorates – as well as the Old Etonian network.
'It's really an incredibly difficult job to do, and it's particularly difficult because Simon's predecessor Tony Little is generally regarded to have done the job extremely well. Tony was a very pragmatic chap who saw everything in grey, rather than black and white.'
By contrast, the former beak says, Henderson is a dogmatist – a puritan who risks creating a straitjacket environment that risks constraining gifted teaching and stripping a leading British school of one of its most characteristic and important assets.
'The thing you don't want to lose is those interesting beaks – those people who are quirky and fun, who make you laugh and make you think,' warns the teacher.
The challenge is, being daring or interesting exposes you to risk – especially when you never know if your lesson is being recorded by pupils. 'It's an absolute nightmare because every little thing can be a death sentence to a teacher, so you have to feel the head is behind you in the big picture stuff, not about to shoot you down.'
***
In time, another of the school's defining characteristics may one day come under threat. Few would be surprised if Henderson, who has four children including two girls, were not to give serious thought to making Eton co-ed.
When asked by The Times if this was on his agenda, he said it was 'a debate for another day', but one former beak I spoke to assures me Henderson secretly disapproves of the Eton's single-sex set-up.
What cannot be doubted is that Henderson has a strong educational and social vision, one that is undoubtedly more Roundhead than Cavalier, and which puts the demands of the future over the niceties of the past.
Given his age, it is perfectly possible that Henderson could have another decade or more at the helm of the world's most famous school. We can only wonder how many more future politicians and CEOs Eton may have educated by then.
I, for one, hope the influential OEs of tomorrow remember the day their head master tweeted in sympathy of Black Lives Matter or the Pride flag flew from the college building. Neither will do them any harm.
An earlier version of this article incorrectly stated that a Black Lives Matter Flag was flown from an Eton College building. The school's director for inclusion education wrote on social media that she would like to see the Black Lives Matter flag flying from the college gateway, but this did not happen.
Illustration by Barbara Gibson
More from Spear's
In search of Eton's 'general, total failures'
The world's best private schools
The Spear's Schools Index: Choosing the right school for your child