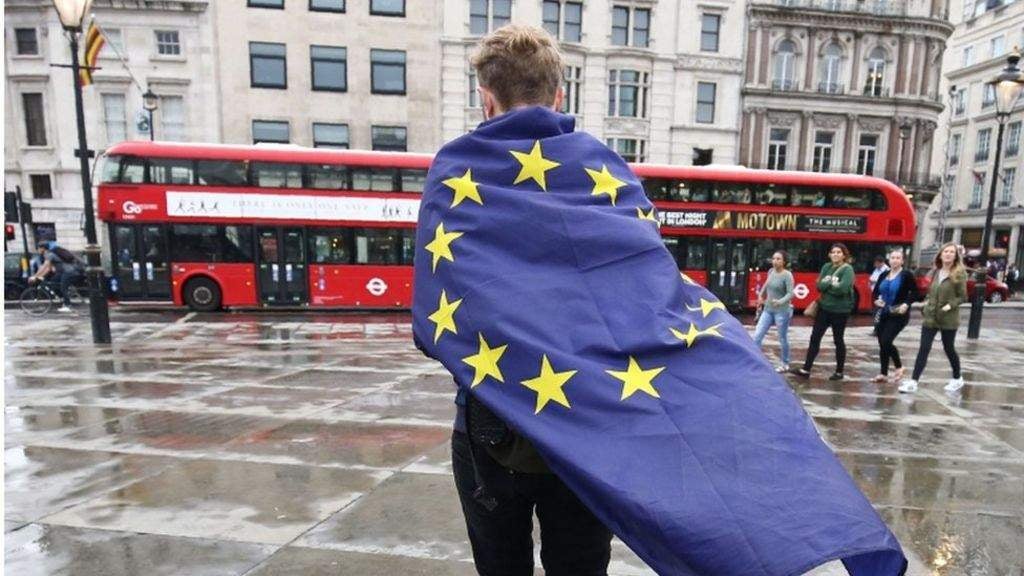 As a raft of 'Brexit novels' hit the shelves, should writers care whether future readers will understand their contemporary references, asks Sam Leith
'Literature,' said Ezra Pound, 'is news that STAYS news.' A good line, and there's truth in it. But as we hurtle towards the end of March, and with it the glorious new stretch of open road (or, to the differently optimistic, body-part-strewn 27-car pile-up) that Brexit will bring, Pound's quote comes into closer focus.
We often look to fiction to take the temperature of an age, and several novelists lately have been attempting to do just that. Ali Smith's Autumn was one of the first of the so-called Brexit novels – written and published in some haste after the 2016 referendum. Smith's friend Olivia Laing took a similarly on-the-hoof approach to her first novel Crudo, which is described as having been 'written in real time' over the summer of 2017.
Amanda Craig used a London couple moving to the countryside to explore the tensions in post-referendum Britain in The Lie of the Land. This year brought Jonathan Coe's Middle England – which strung its story along a timeline of real-life events. Are these books more or less likely to have an enduring power and value as literature for being so closely responsive to current events? Political or writing-to-the-moment literature isn't a new thing, of course.
Frankenstein emerged from the anxieties of its own age; so (in quite specific ways ) did Jonathan Swift's Gulliver's Travels; so did A Tale of Two Cities and Robinson Crusoe.
Skelton, Dryden, Pope, the Auden of the 1930s, Robert Lowell in the 1960s, Philip Roth and Don DeLillo… You can see in all of these a slant or a direct approach to current events. And there have been valiant attempts to take the question on directly. I think, for instance, of Norman Mailer's The Armies of the Night, or the late Gordon Burn's 2008 book Born Yesterday. (It's fitting that three of Olivia Laing's books, including Crudo, were shortlisted for the prize that bears Burn's name.) But is there something different, I wonder, in the approach of those that survive, versus those that seem tethered to their contemporary references like an out-of-favour mafia capo to a concrete block?
Allegory, you could say, helps. We now read Gulliver and Frankenstein, for instance, more as myth or fairytale than as contemporary satire. So does mood-music, or what J G Ballard called 'the dream-life of the nation'. Middlemarch or North and South or War and Peace (very historically specific as they are) endure for non-scholars as documents of social behaviour and the human heart, rather than as urgent dispatches from a place and a time.
Sometimes, mind you, they do more than survive. Upton Sinclair's The Jungle not only described a contemporary issue – the horrorshow that was Chicago's meatpacking industry – but can also be said to have affected it. Not quite, that said, as the author intended. Sinclair hoped to accelerate the US's transition to socialism, but instead the widespread disgust at what he portrayed brought about changes in the US's meat inspection system.
'I aimed at the public's heart,' he said, 'and by accident I hit it in the stomach.' In any case, why does a novel have to survive? We don't ask newspapers to survive, except in archives. But there's a sense that the formation of literary canons happens over time – so most novelists openly or subliminally shoot for posterity. But does aiming for posterity necessarily mean you'll create a greater work of art? It all raises the question of the novel's relationship to time.
As Ali Smith wrote in Autumn, her question was 'what time is, how we experience it'. That raises philosophical questions, but also more mundane practical ones. Reviewing Jonathan Coe's Brexit book, for instance, I drew attention to the slightly awkward way in which Jeremy Corbyn's election as Labour leader was glossed ('The surprising – even astonishing – election of this obscure but long-serving, rebellious backbencher…').
After all, I said, the reader in 2018 doesn't need to be told, the reader in 2028 might welcome the reminder, and the reader in 3018 might get a PhD out of it. Sam Byers, whose Perfidious Albion has been one of the most highly praised of the Brexit novels, pulled me up on social media: 'Criticising a novel based on how readers will feel about it in 3018 seems like a whole new ballgame to me.'
Which, though it slightly ignored the archness of my tone, was a fair point. As he put it in our subsequent exchange: 'I think our expectations around literature's endurance through time are odd in comparison with other forms.' And so they are. I blame Ezra Pound.
Sam Leith is literary editor of the Spectator
This article originally appeared in issue 66 of Spear's magazine. Click here to buy.