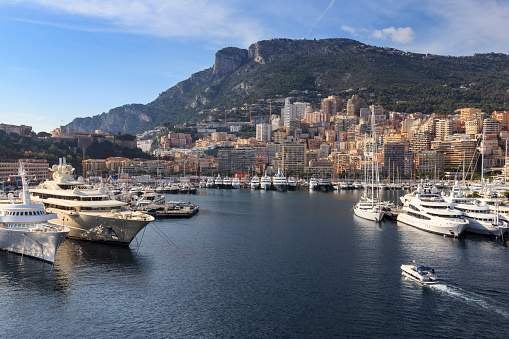 Seven Seas Explorer takes luxury cruising to another level as it tours the Mediterranean's finest destinations, writes Jane Kelly
I awoke to see Monte Carlo, sparkling cream, white and pink beyond my window, getting closer by the second. A view from the sea of land slipping by and spotting your next port city is the delight of cruising, but on this trip the ship itself was also the destination.
Seven Seas Explorer, christened last year by Princess Charlene of Monaco, has been proclaimed by Regent 'the world's most luxurious ship'. I haven't tried them all out, but it looked pretty convincing to me as I gazed up at 473 chandeliers, and made my way over 50,000 square feet of Carrera marble.
Ascending the gang-plank of Explorer, I was transported into the life of the super-rich, inside what looked like a floating Trump Tower. I'd booked a cruise from Livorno to Barcelona, including two cities I'd never seen before, and the first stop was Monaco. But once on board, the outside world and its charms rather faded from view.
My 738 fellow passengers, mainly retired Americans, had obviously decided to spend their hard-earned cash on unadulterated pleasure. The ship's hull is nearly 1,000ft long and the prize location is surely its 3,875 sq ft Regent Suite, which (the line claims, for good or ill) is 50 per cent larger than the average US home. Unlike them it also has a Chagall and a Picasso in the hallway. There are 2,200 other pieces of art on board.
The suite has its own therapy room with ocean-view shower, a pair of heated marble loungers, sauna and steam room. The master bed, costing £112,000, took a year to make and is fitted with a Savoir mattress made from a bred-for-the-purpose horse hair. Of course it also has a butler, with a chauffeur in every port.
My own more modest Veranda Suite was a comfortable 307 sq ft with a balcony, fridge, 40in TV and dressing area with space to hang clothes. One night was turbulent – very exciting, surely the cruise equivalent of the rhino charge on safari – but usually there was no detectable motion from the ship. It would seem that the days of seasickness are over.
We slept peacefully in our Egyptian cotton sheets, looked after night and day by 552 crew. Some were a little too desperate to please and cowered away when they saw me coming as if I were a particularly despotic lady of the manor. It wouldn't have surprised me to see a deferential hand reaching into my shower to offer me the L'Occitane en Provence soap.
To help me with a boiled egg in my cabin, I received eight pieces of cutlery and four thick napkins. Sadly the egg had no flavour, the only thing on Explorer which wasn't delicious, and the bread was like cardboard. Rumour had it that the Americans onboard were not much interested in fresh bread.
In most details Regent didn't miss a trick; on Sunday English newspapers, laboriously photocopied, were waiting in the oak-panelled library. What could be more pleasant than reading The Times with the Mediterranean flowing past and a spectacular roast lunch on its way.
Wining and dining is the main activity on board. Six thousand bottles of wine were available, along with 1,000lb of lobster. Some of the most striking design features are in the restaurants and bars. In Art Nouveau-inspired Chartreuse, to the voice of Edith Piaf, we dined on steak tartare and caviar in hazelnut oil, coquilles Saint-Jacques with chorizo, spaghetti, snails, and black-foot chicken. There was hardly a species we didn't get our teeth round. Hand-made coffee truffles appeared, the chocolatier on board was brilliant, followed by Mont Blanc, a pyramid of meringue with chestnut and matcha tea sauce.
At the Pacific Rim, diners enter via a drum-shaped sculpture modelled on a Tibetan prayer wheel consisting of 90 intricately decorated disc wheels cast in bronze. This $500,000, installation, at three tons weighing more than a luxury car, needed a reinforced deck to hold it. (The menu, at six pages, must also add to the tonnage.) I chose sashimi with ginger and jalapeño peppers – a bit disappointing in flavour after all the flummery, including window frames inspired by lotus flowers. My companion did better, with miso black cod wrapped in a hoba leaf. I'd never tasted fish so delicate.
The Compass Rose, rather oddly named after a small if courageous warship in Nicholas Monsarrat's harrowing  novel The Cruel Sea, was a lot more restful on the eye. More Bournemouth than Bangkok, but the continued opulence was there in Versace china and 9m-long Bohemian hand-blown crystal droplets suspended above us. In the 'Prime 7' steakhouse, to the music of Stan Getz, we went all American, wielding menus the size
of Texas. All beef was from the US, and the filet mignon melted in the mouth. The highlight of the meal, though, was the caramel popcorn sundae, the size of a child's head,
in a ten-gallon hat.
There was a remarkable range of ages on board, from intrepid nonagenarians with walking frames to youthful gym bunnies. They enjoyed a 'boot camp' where a Russian called Sergio forced them to perform star jumps and 40 minutes of weight training. I wallowed in a salt pool and Jacuzzi overlooked by the cliffs behind Monaco. As it was chilly for most, I swam alone in an infinity pool in the spa, a Perspex wall letting me look down on a Russian yacht reputedly worth £350 million.
Nearly everything on board is inclusive, which means free cocktails and quality wines from early evening on. Payment is only required for rare vintages such as a Russian vodka
at $150 a shot.
You could go home with no bill at all, unless you're tempted by the Canyon Ranch Spa, which also has its own TV channel on board. I indulged in a massage costing nearly £200 for 50 minutes from Nicki, a Thai lady with hands of flexible steel. 'We start with the backside first,' she announced. Happily that was just American terminology.
I was bewildered by the size and intricacy of the rest of the spa: a 'thermal suite' with an ice room to 're-energise body mind and spirit'; an 'experiential shower' providing 'gentle spring rain', 'tropical monsoon' and 'massage', where presumably the water thumped you, or you could enjoy an 'Atlantic storm'. Nicholas Monsarrat wouldn't have known what to make of it.
There was also an infrared sauna for 'detox and healing', but instead we spent our days on shore excursions. Some took a two-hour cycling tour of Lucca, while I tried a ten-hour trip to Florence, which I hadn't seen in 40 years. Since I was last there it's become impossible to see any galleries without pre-booking and queuing. The city now receives (or suffers) 13 million tourists a year, almost all taking selfies. We mainly saw the outside of buildings – Brunelleschi's dome brought cries of, 'Holy Moly' from some Americans.
I was excited to see Marseilles for the first time. France's second city is still a hidden gem. I loved seeing the Château d'If off the coast, where the Count of Monte Cristo was held captive in Dumas's novel.
Our last day was spent in Barcelona exploring the work of architect Antoni Gaudi, and not just his astonishing Sagrada Familia, the cathedral still in progress which attracts three million visitors a year. We were taken to his small chapel in a workers' village, where the bent columns and broken roof seem to defy gravity.
I left the ship knowing I hadn't just been self-indulgent, I'd expanded my mind as well as my waist, and I'd do it all again tomorrow.
A ten-day cruise on Seven Seas Explorer is from £3,879 per person. Master suites are waiting-list-only and cost £27,509, £12,989 and £10,089 for ten nights. All prices include return flights, transfers, shore excursions, unlimited beverages, prepaid gratuities, dining and wifi.
Web rssc.com/ships/seven_seas_explorer