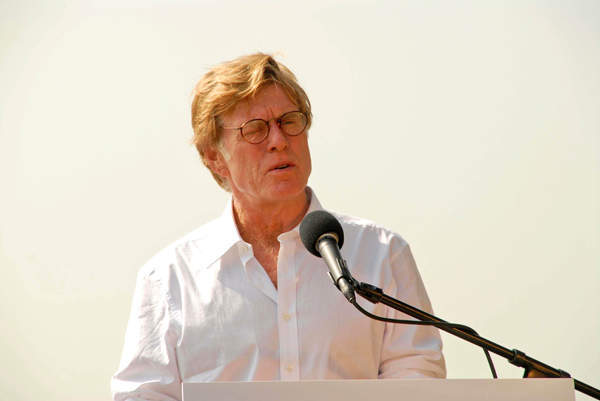 Robert Redford is worth a reported £117 million.
Born in 1936 to Matha W and Charles Robert Redford, Robert was sent to Van Nuys High School where he showed little interest in his studies. As a child, he was fonder of out-of-classroom activities — in particular sports and art.
Nevertheless, he joined the University of Colorado but left prematurely.. He then traveled extensively in Europe and finally enrolled himself at the American Academy of Dramatic Arts to study painting.
Redford's acting career began with television shows where he played small guest roles. Soon after in 1959, he started appearing in plays on Broadway. His biggest breakthrough came in 1963 with a leading role in Neil Simon's Barefoot in the Park, in which he played a newlywed lawyer. His talent was noticed by several bigwigs in Hollywood – which is how he secured his first major film role in War Hunt, released in 1962.
Redford went on to appear in movies such as Situation Hopeless…But Not Serious, Inside Daisy Clover and This Property Is Condemned during the early days of his film career.
Inside Daisy Clover brought Redford into the limelight winning him a Golden Globe for New Star of the Year. During the late 1960s, he appeared in back-to-back movies, however the majority of these bombed at the box office.
Finally, in 1972, he tasted success again with Jeremaih Johnson, and political drama The Candidate, a dark, satirical look at campaigning. He received his first Academy Award nomination in 1973 for the film The Way We Were, and continued his run of success with 1976's All the President's Men, a drama about the Watergate scandal.
Redford donned the director's hat for the first time with Ordinary People released in 1980, which fetched him an Oscar for Best Director. Overall, he has directed nine films. His most recent directorial effort was The Company You Keep, released in 2012.
In one of his most important achievements, Redford established the Sundance Institute in the 1980s to help and support independent filmmakers through workshops and other means. He later launched the Sundance Film Festival, which has been showcasing independent films for over20 years. In 2008 alone, Sundance screened 125 feature films from across 34 countries.
Redford has received numerous awards and honours for his work. The Academy of Motion Picture Arts and Sciences (responsible for the Oscars) recognised his contributions to the medium in 2001 with an honorary award for serving as an "inspiration to independent and innovative filmmakers everywhere".
Robert Redford is currently married to Sibylle Szaggers, his longtime partner who he married in 2009. He divorced first wife Lola, in 1985, with whom he has has three children.
Looked upon as a role model by scores of young filmmakers across the globe, Redford last appeared onscreen in the movie All is Lost in which he played a lonely aged traveler fighting for survival at sea. He is next set to appear in the Captain America movie franchise, in Captain America: The Winter Soldier, out later this year.