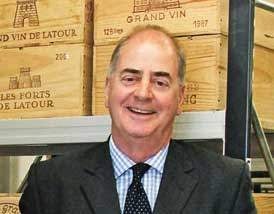 'Once people are buying at auction, it usually means that they've achieved a certain degree of knowledge and understanding of wine and its value,' says Richard Harvey MW, Bonhams' global head of wine. He describes the Bonhams offering as a 'very professional service' focused on its clients in terms of how wines are presented and sold. Most deals are paid out in three weeks.
With specialists in Hong Kong, New York, San Francisco and Los Angeles, Bonhams offers independent advice to buyers and sellers. The department prides itself on its wide range of vintages, including wines from Australia, Lebanon, Madeira and Spain.
The auction house also has a substantial presence in spirits: back in May it sold a rare bottle of the Macallan Valerio Adami 1926 60-Year-Old for $1.1 million.
'Auctions offer an opportunity to acquire wines that are not available elsewhere,' says
Harvey. 'People come into auction houses to find rare bottles, and love having collections where they have a selection of the best vintages.'
Harvey has noticed more buyers of older vintages crop up over the past year. 'I think it's this idea of tasting something that has a certain historical resonance,' he muses. 'If you're looking for older vintages, an auction is the place to come.'