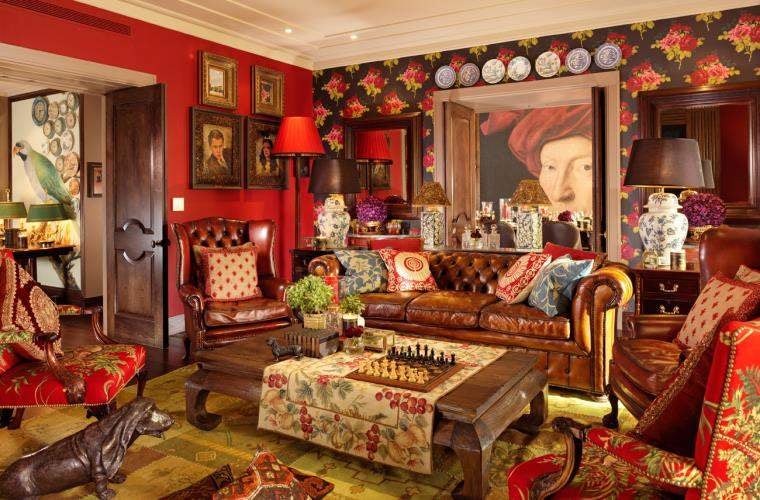 A visit to St James' Court, A Taj Hotel feels like a trip down the rabbit hole, writes Sophie Killip
London is known for its fair share of luxury hotels, almost making it too easy for the discerning traveller to find standout service in the heart of the city. However, when it comes to make a decision on where to stay in London, there is one proposal that should not be overlooked: St James Court, a discreet Victorian masterpiece nestled on Buckingham Gate.
Owned and operated by Taj Hotels, St James' Court doesn't give anything away to curious passers-by, but hidden behind its ochre façade is a spiralling maze of rooms and comforts. For starters, it boasts four restaurants, including the Michelin starred Quilon; two bars; and a recently renovated wellness centre.
Though the hotel originally debuted in 1902, this is not to say that it has become outdated. Being ushered through the front doors by an amiable doorman, we check in at a sleek, sophisticated lobby. Sunflowers on a nearby table are set against the backdrop of a marigold coloured wall, almost the living incarnation of Van Gogh's painting; gentle piano music plays while guests chatter, sitting in low, leather armchairs.
St James' Court is currently undergoing a multi-million pound refurbishment, which is clear as we make our way to our room. One area is blocked off by a makeshift door; the corridors change from carpets to wooden floors, walls from warm amber to a deep, sophisticated blue. We are also in luck – our room is one of those that have been recently renovated, by renowned architecture and interior practice Dexter Moren Associates.
The room is bright and airy; pops of colour on throws and lampshades mingle with the room's cool neutral tones. It's an elegant space, perfect for escaping the hustle and bustle of London's city centre. Settled in, and having arrived slightly too early for dinner, instead we head back through the labyrinth to try St James' Court's Alice in Wonderland themed afternoon tea.
Held in the hotel's restaurant, Kona, the table for our Afternoon Tea is set for the occasion: a Mad Hatter's hat and oversized playing cards suggest we have fallen down the rabbit hole. Forget an extensive wine list – here the teas take precedence, with a range of green, fruit and traditional tea varieties. There's everything from 'Gunpowder' to 'Lapsang Souchong', but I opt for a St James' Court customer favourite: the classic Earl Grey.
The selection of finger sandwiches are aptly named, including Alice – cucumber and cream cheese on beetroot bread – and Fish Footmen – tuna mayonnaise on white. The 'Queen's Recipe' drop scones are a delight; soft and delicate, they perfectly match the rich clotted cream and strawberry jam served with them.
As we come to try the sweet treats sitting atop the cake stand, it becomes apparent that the Alice in Wonderland Tea is – without a doubt – for those who have a sweet tooth. On show are 'Pocket Watch' bubblegum macarons, a 'Queen of Hearts' mango tart and a 'Tea Cup' white chocolate mousse (to name a few) washed down with an intruiging strawberry 'Drink Me' smoothie. As I personally have a sweet tooth, I find the offering delightful. My dining partner, usually more inclined to dark chocolate, remains content with the scones.
Feeling full, we bid adieu to Wonderland and head into St James' Court's hidden courtyard – where we proceed to enjoy the rest of our summer evening over several glasses of Chablis Louis Moreau. Sometime later, settled into my fluffy, crisp-sheeted king size bed, I realise it's easy to imagine the ways that St James' Court is similar to Lewis Caroll's children's book. Full of twists and turns, St James' Court is a curious mix of the old and new, but – despite its age – it remains a timeless classic.
Sophie Killip is the web editor of DesignCurial, and a contributor to Spear's