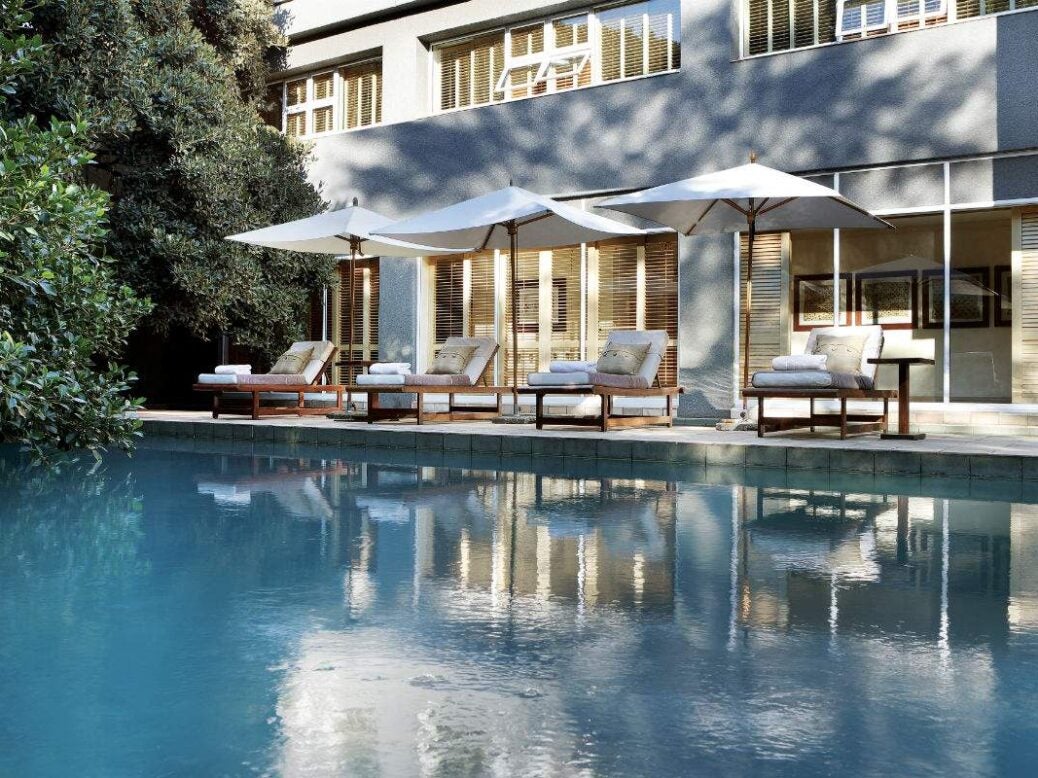 Rich in South Africa's recent history, Johannesburg's Saxon Hotel, Villas & Spa is the ideal place for business, pleasure and ambassadorial elegance, writes Christabel Milbanke
Douw Steyn, CEO of Compare the Market, is undoubtedly one of South Africa's most flamboyant billionaires. From building his own eponymous utopian mega-city on the edge of Johannesburg to cultivating friendships with some of the most powerful people in the world, including Oprah Winfrey and the Clintons, Steyn doesn't seem to be the kind of person to do things by halves, and his Joburg 'boutique' hotel offering, the Saxon Hotel, Villas & Spa, is no exception to the rule.
The Saxon is situated in the Sandhurst neighbourhood, an affluent, peaceful and, most importantly, safe area of Johannesburg, where imposing high-walled, neutral-coloured mansions give off an aura of vigilant security. It was previously Steyn's own private residence, where he has played host to and entertained some of the most significant individuals in recent history – not least Nelson Mandela, who, seeking sanctuary after his release from prison, spent six months completing his autobiography Long Walk To Freedom within Steyn's walls. Steyn now lives in what some are calling the most expensive home in South Africa, the 'Palazzo Steyn', a jaw-droppingly opulent mansion in the center of Steyn City.
Otherwise known as Johannesburg's inner sanctum for visiting celebrities, dignitaries, international businessmen and heads-of-states, the Saxon Hotel, Villas & Spa is a grand, five-star establishment with 53 rooms, with a set of three standalone villas and an expansive and sensational spa.
Fortunately for me, the Saxon's unparalleled level of seamless service started as soon as I set foot in South Africa. Not feeling too hot after a sleepless ten-hour-flight from London, I thanked the heavens as I was immediately greeted by the Saxon's exceedingly polite chauffeur, who escorted me from the plane to the very front of a sprawling and chaotic-looking queue of tired and disgruntled travellers at immigration. Due to Saxon's special relationship with the O.R Tambo Airport security, I was welcomed to Johannesburg in record time and whisked away to the most spaciously elegant and ambassadorial hotel.
Upon arrival I was enthralled when the Saxon's imposing yet unostentatious mechanical wooden gate slowly gave way to a driveway in which an immense, tentacled 'tree of life' stood symbolically rooted directly in front of the main entrance to the hotel in what seemed to be a declaration of Steyn's monumental ascendancy. A lift brought me level with an elevated wooden path with modern lighting which meandered through a stunning canopy of trees, leafy vegetation and the sounds of nature towards the second floor of the inexplicably vast villa in which I was to stay – complete with its own private heated plunge pool, ideal for midnight swimming, blissfully enclosed by the natural sights, scents and sounds of South Africa.
Now, I can only hope that the reader does not take my emphasis on the sheer scale of the villa in which I stayed as frivolous exaggeration. At 883 square metres, not including the terrace and courtyard, the villas are beyond vast. Amid the heavenly cream interiors of ultimate luxury – contrastingly embellished with thoughtful dark touches of African culture such as ethnic patterned rugs, art and artifacts – I found an abundance of king-sized furniture. Many sofas, which seemed to have been designed for giants, were planted at the edges of an exceptionally large main room that accommodated not just a restaurant-style dining area with multiple tables for two but also a lavish lounging area consisting of a fully-fledged bar, staffed by 24-hour butler service. Four of the oversized sofas arranged around a two-by-two-metre coffee table that I was unable to reach from the sofa, even when perched on the edge.
That being said, the villas are the absolute model space for diplomatic or business events and large family gatherings, and this is what they were evidently designed for, with a dedicated conference room that is able to seat up to eighteen guests.
If the large living space of the villa lacked a certain cosiness, all was forgiven when I found myself utterly enveloped and enraptured by my magnificent suite (of which there are seven). This seemed designed for pure relaxation and elegant indulgence with an oversized bed, bath and private terrace perfect for late night star-gazing.
But for me, the highlight was the dining area in the main hotel which, overlooking a grandiose, sky-reflecting swimming pool framed by giant terracotta pots, must be the most deliciously impressive and leisurely location in Johannesburg for entertaining clients to important business lunches and dinners. After dining, I often noticed the men sneaking off to the whiskey bar, where regulars have their own personal bottles on display. On this occasion, however, I preferred to retire to the privacy and seclusion of the newly opened, fully-appointed Saxon spa, designed by Stephen Falcke, where the 'Saxon Signature Himalayan Journey' treatment literally stripped away any remaining stress I had from the flight.
Just two hours away is the Shambala Private Game Reserve, a 30,000-acre estate in the Limpopo province and Steyn's personal getaway, into which he has brought many endangered species, including lions, leopards, elephants, cheetahs, rhinos, giraffes, and zebras.
Saxon's guests can be transported to the Zulu Camp, a set of nine private, cocoon-like, thatched chalets made entirely out of natural materials used by the Zulus. These chalets are at the highest end of luxury camping, perfectly interweaving authentic bushveld life with Western luxury, and the effect is magnificent.
Inside the rounded thatched walls, I was enclosed in somewhat romantic colonial-style interiors with heavy dark French Provincial style furnishings, including a mammoth king-sized bed with the finest of white linens, as well as a separate high-spec bath and shower room, complete with hot running water.
The attention to detail was glorious and, without a television in sight, I was drawn to a beautifully illustrated book detailing all the animals that I could hope to encounter in the reserve.
Despite the novelty of hot water, I thoroughly enjoyed the additional private outdoor shower where my senses felt utterly exposed to the wild. Also, a little door from my bedroom led to a wonderfully simple patio area next to a natural spring. It was as if nature were knocking on my door, and I felt filled with a wondrous sense of gratitude for these private, vivid moments of contemplation and commune with the earth.
Built into a beautiful though dangerous and murky green lagoon with thundering waterfalls and twittering, basket-weaving birds is the main dining area of the camp, where all the guests come together to share safari stories over a meal of gourmet food and wine, including crocodile and ostrich meat. Afterwards, guests can catch up at the adjoining bar and pool area, which, overlooking the lagoon, fosters the illusion that you might be swimming in its warm waters. With a formidable roaring fire, cosy sofas, and, of course, the world-class service for which the Saxon is renowned, this is a perfect spot for lounging about reading Joseph Conrad's Heart of Darkness and for personal introspection. Their onsite Shambala Spa also offers a range of traditional massages to reach an even deeper level of relaxation and meditation, as well as luxury manicures – ideal after a day of game driving.
The game drives on Shambala offer a soft adventure experience, perfect for first time safari-goers or for those just wishing to dip their toes in. Not without amusing commentary, our South African guide drove our land cruiser  all over the reserve, which is home to all of the 'Big Five', and toured us through their breeding facility. Memorable moments of the safari included coming face-to-face with a black rhino and a gorgeous river cruise on the 'Steyn Dam', from which we spotted a majestic lone albino lion high on the hill next to to Steyn's private villa on the reserve.
Rooms at The Saxon Villas and Spa start from R7,400/approximately £442 based on two people sharing a luxury suite including breakfast, complimentary minibar, Wi Fi and sparkling wine on arrival.
Stays at Zulu Camp at Shambala Private Game Reserve start from R11,750/approximately £701 based on two peoples sharing a chalet including all meals, sunset cruise, game drives and bushwalks.
Related
Culinary adventures on Canada's Atlantic coast