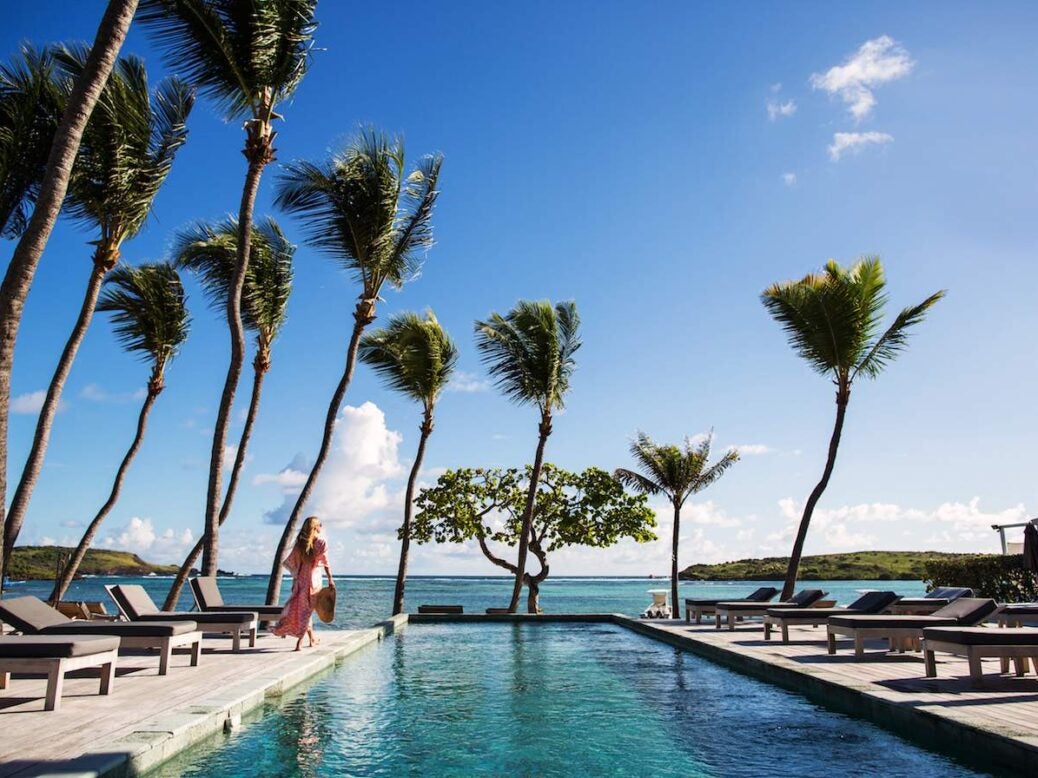 Matthew Hardeman checks in to one of the Caribbean's most exclusive five star resorts where the rich and famous are invited to come and play – unless your name is Kardashian.
More synonymous with monied snowbirds and the chains of Chanel handbags than those of slavery, the volcanic island of St Barths is the envy of its Caribbean neighbours, still grappling with poverty, crime and living off state handouts from elsewhere, in the case of neighbouring Guadeloupe. None of that is true here.
At eight square miles, it's as exclusive and expensive as it is tiny: you're just as likely to bump into Roman Abramovich as anyone else (he owns a hilltop mansion here), especially when everyone knows everyone on the island – a former Swedish colony and a French possession since the 17th century, for all but a brief period during the Napoleonic Wars. But its idiosyncratic past is only half of its outlier status – for all its peculiarities and privacy-loving plutocrats, you have to wonder if its best-kept secrets lie with the few luxury resorts here that can still claim to be calming.
Le Sereno is one of them. Beginning life in 1972 as the Sereno Beach Hotel, the property's new owners came in plans for a major overhaul in 2002 (to re-opened four years later), sketching out the luxury coastal resort that exists today with the help of famed Parisian designer Christian Liaigre, better known for his modernist wenge wood furniture than luxury beachside resorts.
Made up of 36 suites and three large four-room villas overlooking the bite-shaped cove of Grand Cul de Sac, the resort consciously shuns its rivals' flashier central locales, reality-TV celebrities and unmitigated bling. Instead it offers a sexier, more elegant (read: romantic) alternative to what may be the ultimate St Barths icon: the irreverent Eden Rock (owned by the Matthews family of Made in Chelsea fame) and its next-door neighbours at Le Guanehani. You won't find a press junket, pools of screaming kids or pink dolphin decor at Le Sereno. There are no pests here, of any kind – it's the only hotel on the island that has a guests-only pool.
'No Kardashians allowed,' the hotel's manager, Samy Ghachem tells me, with a seriousness that's equally reassuring and amusing to my ears.
It's not hard to see why, as we arrive via the VIP meet and greet service from St Maarten airport – a service unique to Le Sereno. Nestled on the island's quieter northeast shore, the hotel spreads along the effervescent sand beach of a turquoise lagoon in an almost surreal picture of calm. Its bright, white cubes slope up into palm trees and lush green hills, unblemished and undisturbed.
Oddly enough, the balmy seabreeze flows over the bay's water and laps the shore like a non-stop high-powered fan is perhaps the hotel's most important feature – the sun alone would otherwise roast even the hardiest traveler (it also makes for a great kite-surfing spot, if that's your thing – the operator next door also offers dive tours, jet ski outings and kite surfing lessons). It also buffets the mosquitoes you'll find you elsewhere on the island.
The accommodation matches its surroundings for tranquil vibes. Sixteen suites (two thirds of the total) – the 1200 square foot Grandes Suites Plage – lie directly on the waterfront, offering panoramic views of the lagoon from its four-poster beds. Private gardens and air-conditioned sitting areas accompany outdoor wooden decks with minimalist sofas and lounge furniture, Liaigre's signature mirrors and other unique, chic pieces designed exclusively for the hotel. The full-size bathrooms are as sleek as they are uncompromising: exotic woods and granite sinks, a deep soaking tub and cavernous walk-in rain showers, replenished twice daily with Ex Voto products.
At 7,000 square feet, the three villas – Le Sereno's penthouse offering – afford even greater exclusivity and privacy. Set further back from the shore, at some elevation, they offer spectacular views of the shallow azure bay that extends waste-deep for half a mile until it hits the open ocean – a calm oasis frequented by whales in the spring and hundreds of sea turtles at a time year-round. Ten minutes of snorkeling was enough to spot one in my case – of course, the hotel has all the gear on hand, from paddleboards and kayaks to snorkels and masks.
Here, guests have access to three extra self-contained suites to be used communally, or as separate luxury apartments (each guest can have a key to their own) attached via outdoor walkways to a sleek and spacious shared lounge and kitchen, adjoined to the master bedroom and a master bathroom, with a cinema room to boot. The villas all share their own pools (adjacent to the master suite) and alfresco dining areas.
(Click to expand)
The surroundings matter just as much to the vibes indoors as anything within: turquoise light from the ocean radiates back through the villa's glass panels onto Liaigre's pure white walls and furniture, illuminating a bright yellow kettle here or crimson red cushion there. It's all about what's outside on St Barths, Samy tells me as he shows us around. Bringing it all in with sweeping panoramas comes as no coincidence or fad.
Two nights in, it's already obvious that this is not a place that 'makes do' – from the appliances down to the 'mocktail' menu (worth familiarising yourself with after a night on the marina, and a detox is badly needed). It's an attitude perhaps best embodied in the service of the young European seasonairres who flock to the island for work – the best among whom presumably stand a chance for a job at Le Sereno. Standards are rigorous, but the staff are happy and impeccably in-tune.
As proud of its culinary offering as anything else, the hotel's restaurant has recently taken on Alex Simone, head chef from The Arts Club. Partnering with London restaurateur Giuliano Lotto of La Petite Maison and Il Baretto, Simone has obviously acclimatised to the heat of the Caribbean kitchen, offering surprisingly fresh and ambitious Mediterranean cuisine from the relaxed open pool-side-beach-side dining area at the heart of the hotel. The results are surprising, only in that all food on the island must be imported first by sea or air. The hotel's bar proves equally accommodating, playing host to at least one 'mixologist' (whether you embrace the phrase or or not) who can make a proper cocktail.
The on-site spa is an obvious must, with its lengthy list of premium massages and beauty treatments – as is Le Sereno's design highlight: the stunning elongated pool that forms the hotel hub, watched over by the long, slender palm trees that line the way to the beachfront. There's something undeniably sexy about it – perhaps attested to by the constant feed of fashion shoots that take place here for the likes of Victoria's Secrets and the sprinkling of well-heeled/flip-flopped guests reclining around its rim. It's also a popular spot for weddings, for which guests can book out the entire hotel and its staff at £135,000 for three nights.
Not all the fun has to take place at the hotel, if you can pull yourself away from the pool and the spa (or even the pool-side Vinayasa yoga with yogi Nanda). Take brunch at Dõ Brazil on Shell Beach, hire a catamaran from Jicky Marine in Gustavia, some twenty minutes drive from the hotel. Head out for a swim around the rocks and smaller offshore islands and a gaze at the Turner-esque technicolor sunsets here, with rum cocktails and champagne in hand, generously applied by the boat's crew. Above all: take your time.
While most come to St Barths to relax, the locals and seasonnaires know how to party when things get a little /too/ quiet. Expect /a lot/ of champagne with dinner (potentially all over your face, if it's 'La Grande Bal' night at La Bagatelle on the marina, where the lobster and dancing on tables are encouraged by the spirited young staff in equal measure). Even still, the net effect is one of zen – it's easy to escape what little chaos there is on St Barth's.
Like anything else on this island, Le Sereno comes at a cost – booked together, its villas start at $30,000 per night in high season. But if good times are what matters, who's to say that's not money well spent?
Le Sereno
Villa rates start at € 4500 / $4,890 per day – Low Season / Starting at € 7500 / $8,151 per day – High Season
Suite rates start at € 570 / $620 – € 1335 / $1,452
www.lesereno.com
Tradewind Aviation offers air shuttle rates from Antigua to St. Barth (36 minutes fly time) starting at £278/ $395 (one way flight plus tax).
La Bagatelle
www.bagatellestbarths.com