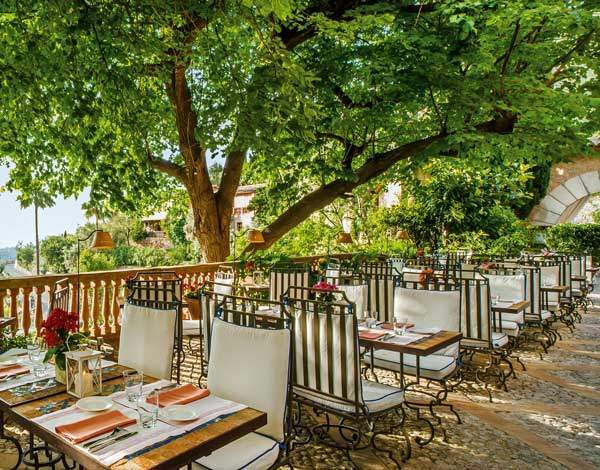 The Residencia is a place which respects Robert Graves's and Deià's artistic legacy, writes Hugh Thompson
It's easy to see what drew the poet Robert Graves to Deià in the first place. The village on the northern coast of Majorca is set in a natural amphitheatre of surrounding hills – ideal for a man who lived his whole life as a performance, and used Deià as a place to put on theatrical events with his bohemian friends and the many women who became his 'muses'. In a charming memoir, his son, Tomas Graves, has described this landscape as anthropomorphic: the topography of Deià is compared to a sitting woman's torso, the surrounding hills to her back and arms, the village 'nestling around her pubic mound'.
At the celebrated Residencia Hotel, there is an old 1960s photograph of Graves leading his boys through some olive groves on a donkey. The Residencia was converted by Orient Express (now Belmond) in 2002, and comes with gratifying amounts of luxury: palm trees around the pool, bathrooms to get lost in, and a hot tub outside many of the hillside suites. The gardens are full of persimmon, hibiscus, bougainvillea and pomegranate trees. Higher up the slopes, there are views of the sea, but in the hotel you are surrounded by the dramatic cliffs that Graves described as his 'circumambient hills'.
The olive trees of Majorca are famed for the 'liquid gold' they provided for those building the great cathedral at Palma, the finest monument in the Balearics. The Residencia is central to an 11-hectare olive farm estate, and the hotel still produces some 500 litres of its own olive oil each year. There are some 1,500 olive trees scattered around the grounds, which makes for an entrancing walk through their silvery upturned leaves. Many of these trees are centuries old – indeed, according to one local resident, some date back 1,000 years – and the trunks have torqued into elaborate shapes, pollarded by time, rather than the axe. Dinner at the restaurant – called, naturally, El Olivo – includes seafood baked in salt, bringing out the moistness in both prawns and white fish in a counter-intuitive way. Chef Guillermo Mendez is from neighbouring Soller, and there is a strong emphasis on local Majorcan specialities like suckling pig or lamb crusted in olive sea salt, best Lux meets rustic charm in Majorca washed down with the local Raimat rosé. Everything comes with liberal amounts of the main local produce; even an oil-drizzled lemon sorbet.
Back in the 1960s, when Robert Graves held court, the village had a reputation for attracting bohemian artists by the score. Musicians like Kevin Ayers of Soft Machine brought a rolling entourage down from London. One local artist remembers with amusement how, when she was a teenager, these bohemians would usually arrive with a beautiful woman in tow – who would decamp when they found a more talented competing artist to go off with. So when Richard Branson arrived to first convert the Residencia into a hotel, his wife Kristen promptly went off with Kevin Ayers. Graves caused considerable domestic mayhem with his habit of adopting visiting female 'muses' for poetic and romantic inspiration – although he would tire and move on to another 'goddess' within a few years. One local resident who knew him told me that Graves was always more comfortable with fictional characters and idealised women; the real thing came with too many complications.
While longer-term residents may complain that Deià no longer has quite the same joie de vivre, it still has an engaging laid-back atmosphere for those arriving there. After wandering along the cliff-top path towards Soller, nothing quite beats a chilled glass of rosé at sunset – best enjoyed at one of the beaten up shacks down at the Cala, the small fishing port where Graves swam at the end of each writing day. Graves' house has been preserved as a museum, with his son, William, ensuring it still has an idiosyncratic personal touch. Along with the usual manuscripts and portraits, the kitchen features 1950s tins of marmalade and Marmite that were sent from England for the family. In another room is the printing press that Laura Riding, the wildest of all Graves's muses – she once threw herself out of a window; Graves promptly followed suit – had installed when she became jealous of Virginia Woolf 's success with the Hogarth Press.
When I met William Graves in Palma, he told me that electricity only arrived in the village in 1963. Robert Graves was made 'an adopted son' of Deià not for his poetry or literary work – even though just the previous year he had been in the running for the Nobel Prize – or even the runaway success of I, Claudius, but because he successfully lobbied local government to provide a power line. William remembers as a small boy sitting around the kitchen Aga when visiting writers or artists came to pay their respects at teatime. 'My father would stay in the kitchen to talk to them if they were interesting – but if they were boring, he'd go to his study and leave us to deal with them.'
The Residencia is a place which respects Graves's and Deià's artistic legacy. There's a permanent exhibition of paintings by his Catalan friend Joan Miró, and plays are put on in the garden. As somewhere to stay far from the beaches, but close to Palma, with its magnificent cathedral and convenient airport, the Residencia is an ideal retreat. However, male travellers might perhaps consider whether their female consort could be tempted away from them, by someone from the talented artistic community who still make Deià their home.
Hugh Thomson writes for Spear's