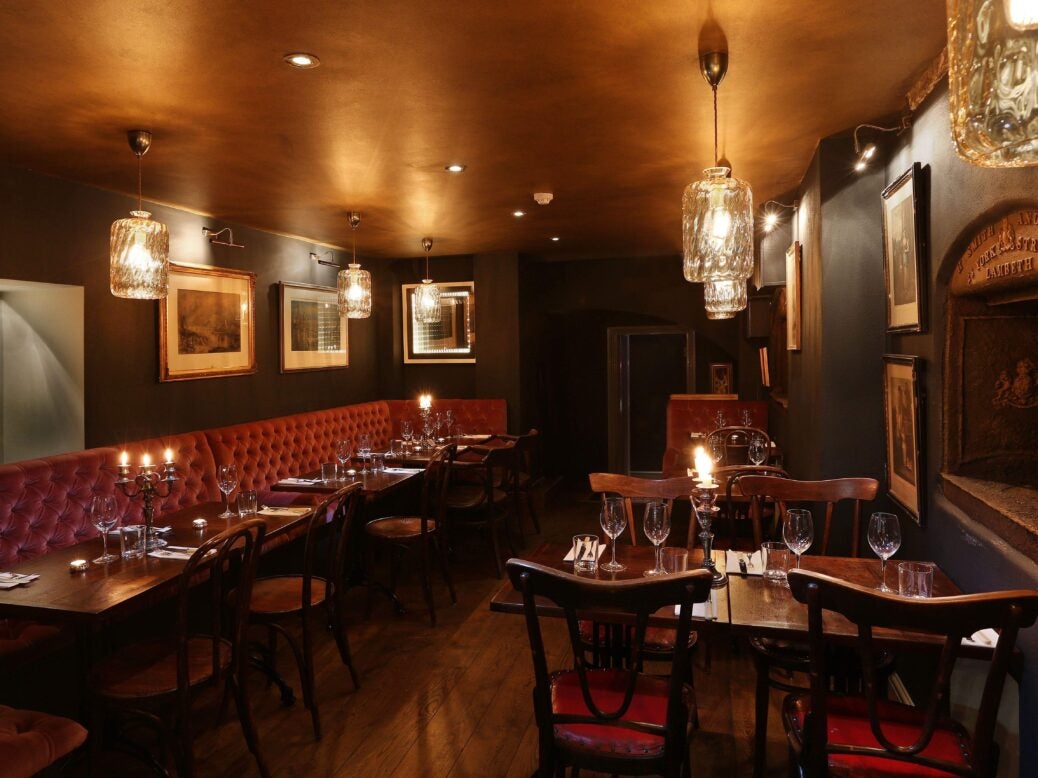 Christopher Jackson visits the famous little restaurant in Mayfair and finds an establishment whose charms are evolving under George Barson
Kitty Fisher's is in Shepherd Market, a nook whose secret charm belies a seedy reputation. The place has long had an association with high class prostitution, and even alarming death – Keith Moon and Mama Cass succumbed in short succession in the same flat just round the corner. As if anxious to remind historians of these connotations, it was here that Jeffrey Archer met with prostitute Monica Coghlan en route to boisterous political immolation and caddish literary success.
Kitty Fisher's too has been a success, but a far nobler one. It was opened by three well-connected friends Oliver Milburn, Tom Mullion and Tim Steele in 2014. It went straight into the stratosphere; the place caught on. But things here have evolved considerably since those early headlines of David Cameron struggling to get a table, and is now an ideal place for a business or pre-theatre lunch.
What hasn't changed is the space: it's still cosy, and you still have to duck your head as you walk down the staircase whose dimensions feel like they were designed during the reign of Richard II. We begin with champagne and cocktails, thereby planting the precedent for too much wine and whiskey later on.
The menu is as compact as the space itself. There are five starter options varying from nibbles – olives, and roasted almonds – to heartier things such as chicken liver parfait and even that old favourite, bread and butter.
My companion, formerly a famous meat-eater, has gone to India and come back as a vegetarian; one is still never quite sure if he is joking. But if so, he is keen to keep the gag going a little longer, and orders the Welsh rarebit. I am always worried by this dish, since I am never sure whether it contains rabbit meat. Having recently read Watership Down I am tempted to look on it not as a meal but as a criminal act. It was delicious, full of fondue-y, gooey decadence. The creamy butter went perfectly with the sourdough.
The excellent food here is the work of George Barson who became head chef in March 2017, and is also executive chef at sister restaurant Cora Pearl, which opened in June 2018.
Barson came to cooking after growing up in a food-loving family in Devon; and there is a marked West Country feel to his cuisine. One has to imagine Barson as the sort of man who catches his own fish in local harbours, and is ever hunting for elderflower berries from hedgerows. It's this sort of obsession that denotes the authentic chef.
My records show that in an outlandish moment we ordered everything on the menu, from quail and cauliflower risotto to duck, squash and turnip. The sides were crispy potatoes, Hispi cabbage, mustard seeds, and broccoli and smoked yoghurt. It was one of those meals when things arrive in a kind of suite of colour, and one prods at things, making impromptu combinations which even the chef may not have foreseen.
My companion, stubborn even as the wine flowed on this strange affectation of deciding not to eat numerous dead animals, plumped for the beetroot, Dorstone goat's cheese and walnut ketchup. Pronouncing it less delicious than a transcendental meditation but still very much up to scratch, he seemed happier than anyone I've ever seen at a Yoga class.
Success presents its own difficulties; initial hype wears off and it is precisely at this point that one needs to adapt. It's an admirable aspect of Kitty Fisher's that it is doing that while retaining its original calibre. That's really always been about the service, which remains friendly in a way which never seems contrived: this is a place to while away not just the afternoon but the night as well.
As we left the restaurant I'm fairly sure my friend did a pretend goodbye and then took a secret detour to a Burger King. If he did, he will have missed out on some of the finest aspects of this excellent restaurant – but Kitty Fisher's is the sort of place not good for diets.
Christopher Jackson is deputy editor of Spear's