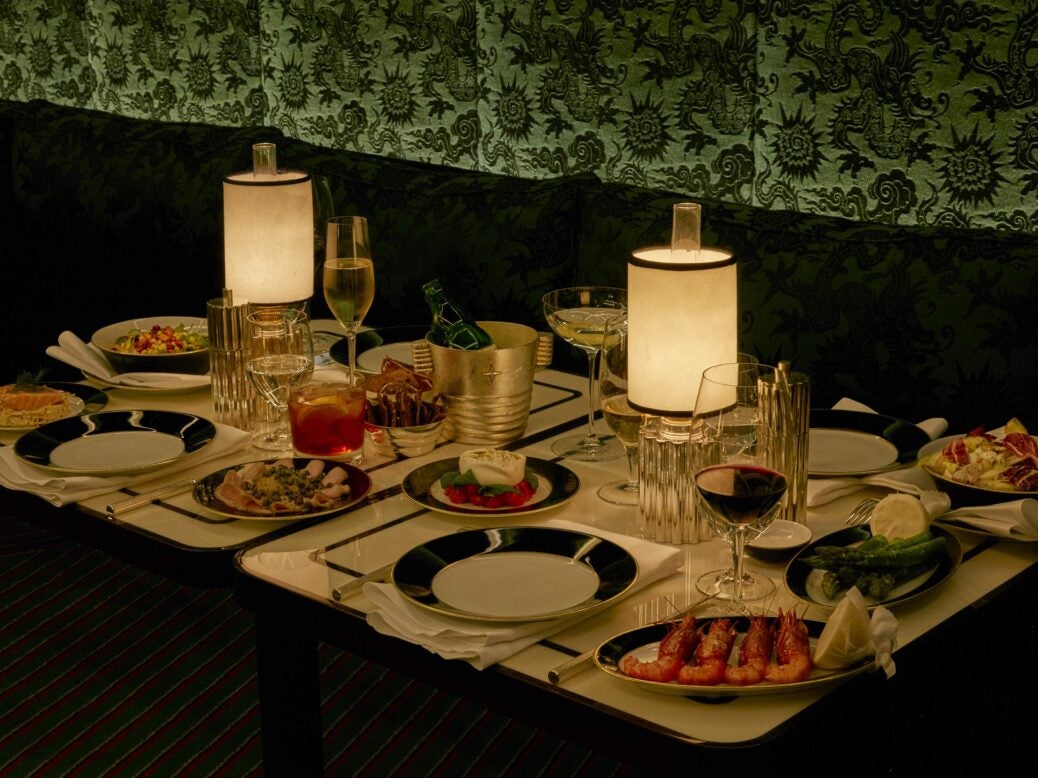 Multiple colours and striking flavours define dining at Isabel, writes Hannah Solel
Albemarle Street in Mayfair is known for once being the home of the country's oldest publishing house, John Murray, which published Jane Austen's novels, Byron's poetry and Darwin's Origin of Species among other English language triumphs. The street, seeping with history, seems a fitting location for the recently opened restaurant, Isabel, a few doors down.
Isabel, named after the grandmother of the Chilean-born investment banker turned restaurateur Juan Santa Cruz (and not the famous Chilean author, Isabel Allende), is corridored and mystical, and specialises in an unusual combination of Mediterranean and South American flavours.
Ushered through to the dining room, we encounter a glowing, golden square-shaped central bar; white marble-topped tables are arranged on the outskirts of the room, set with gold-based lamps and menus bound in leather the colour of post boxes. The menu is categorised into 11 sections, requiring close reading and some educated guesses as to translations: carnes frias are cold meats and pescados frios cold fish, for example.
The meal began with icy pina coladas, followed by a classic Italian combination of burrata, small halved tomatoes and basil leaves, and a cooling dish of raw tuna and avocado – the four pink slices and four green slices were alternately arranged, topped with lime and accompanied with a small, sharp portion of wasabi sauce. Along came snack-sized toasted corn breads, reminiscent of melba toast, which I interpreted as edible tools. But scooping the silky burrata proved difficult, and after a few attempts, it seemed the toasts were more suitable for dipping.
Next, we sampled an arepa pizzette – a slim and crispy cornflour base generously dressed with a topping of smoked anchovies, mild romanesco and a spiced tomato puree. The pizzette was divided into four, each a sizeable, delicious mouthful.
Following our waitress's advice for the main course turned out to be wise. Her tale of how the braised beef short rib is cooked – slowly, off the bone, for four hours – was both persuasive and enticing. Presented to the table on an oval silver tray, this set the august tone for the outstanding beef, which was tender and worthy of timely appreciation. I would have been more than content with the beef alone, but we also enjoyed the aji chicken, striped with orange sauce (romanesco and pepper) and green sauce (coriander and jalapeno). The chicken was subtlety flavoured despite the striking colours, and joined by servings of vegetables: sweet potato rounds and sesame-sprinkled charred broccoli.
But to finish a hearty meal with vegetables is not the norm. We were intrigued by the dulce de leche fondant and quenelle of vanilla ice cream, though disappointingly, the dulce de leche flavour was near to impossible to detect among the rich cocoa fondant. Crunchy cantucci biscuits followed, tasting similar to sponge cake and delicately balanced with chopped pistachios and dried fig pieces, a final indulgence.
The restaurant recently launched new winter breakfast and lunch menus. The breakfast offering includes freshly-baked cornflour arepas topped with poached eggs, avocado, almonds and cayenne pepper, while the lunch menu is aimed at those working in Mayfair who require light yet nutritional dishes to aid their busy afternoons.
The barrage of unfamiliar flavours at Isabel banished all thoughts of spiky Austin and dry Darwin – magical realism abounds. I will be back.
Hannah Solel is a writer and researcher at Spear's