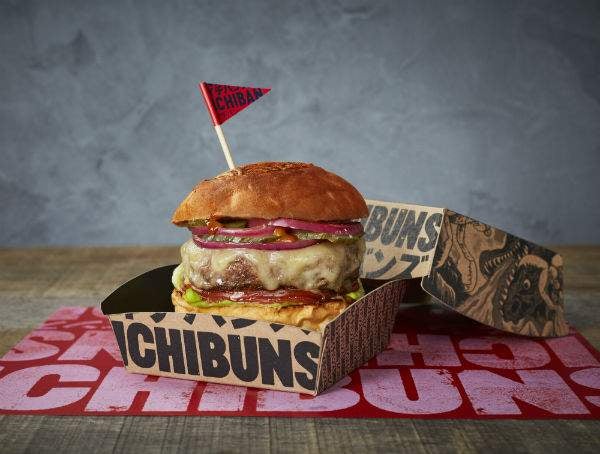 Ichibuns in Soho is that rarest of things – a fusion cuisine restaurant that actually works, writes Sophie Killip
In the heart of Soho, in Wardour Street, sits the newly-launched Ichibuns – a piece of optimistic Tokyo-cum-America within the shadow of Centrepoint. It's a retro, stylish Japanese-American fusion restaurant – partly inspired by Hokkaido, one of Japan's northernmost islands, with traces of the Uma Thurman-John Travolta scene in Pulp Fiction.
The outside comes with an unexpected (and arguably unnecessary) bouncer, but soon we were ushered inside. The kitchen, directly in front of us, has glass panes to let diners spy on their orders; we pass this, and are led downstairs amid Ichibuns' rhythmic soundtrack towards our seats. As the music rises, it inches close to the tipping point of 'too loud', but we maintain our calm.
It transpires that we have been placed in a dimly lit, somewhat close cocktail bar. Around us is a young, and perhaps unappealingly hip crowd – a couple here and there, groups of girls confiding to one another their boyfriends' shortcomings. It might be said that there's too much to look at: the wall behind us is lined with tiny Japanese arcade games; to our left, the front of a small blue truck broods for no apparent reason; and the other wall is a confusion of speakers.
The food arrives – and again we realise Ichibuns is determined to prove its uniqueness. Slow-cooked wagyu beef maki confuse the taste buds at first, but eventually the cheeseburger and sushi flavours merge in an unexpected way – like a haiku somehow marrying a sonnet. Meanwhile, the snow crab harumaki – contrary to its name, these were served hot – resemble a unique spring roll: mild and crunchy – with a slight kick.
For the main course, we opt for the restaurant's signature burgers. My companion plumps for the 'Panko burger': panko is a kind of breadcrumb and it forms a crust around the Australian wagyu beef. It comes with cabbage and Japanese fried pickle. Mine is the classic katsu chicken burger: it's served in a toasted brioche bun. It's certainly a burger but not like any I've had before – it's a subversive play on what one expects food to be. This is another way of saying that it's a highly original dish. And it also helps that it works.
All this unusualness is washed down with a Kaizen cocktail, served in a "sealed-to-go" plastic cup, reminiscent of a container of Bubble Tea: this is made with vanilla and chilli sugar – and the chilli comes through with a kind of surprising sweetness. It should also be mentioned that all of the food at Ichibuns is served with plastic cutlery, and in takeaway boxes: happily, I am assured this is all recycled.
We finish with purely Japanese mochi balls for dessert as well as two 'Ichi Shakes' – chocolate hazelnut for me;  peanut crunch for my companion. This was a rich but satisfying conclusion to an evening undeniably centred on heavy meat, and in keeping with the American diner theme.
On our way out, we are shown the first floor which is currently only open for the lunch time rush; the differences between the spaces are startling. Whereas the basement floor offers a suave, night-time experience, the top floor is open and bright, full of lush greenery. The pièce de resistance is a pair of sunken tables in the kotatsu style, scattered with pillows made of reworked kimonos.
Ichibuns, in a delightfully playful way, has created a niche experience in the heart of Soho. As we leave the restaurant – not quite sure if we're leaving a portion of Midwest America or a bit of downtown Tokyo behind us – the queues are still winding out onto the pavement. Cheersing our Ichi Shakes, we decide that such interest is what Ichibuns deserves.
Related