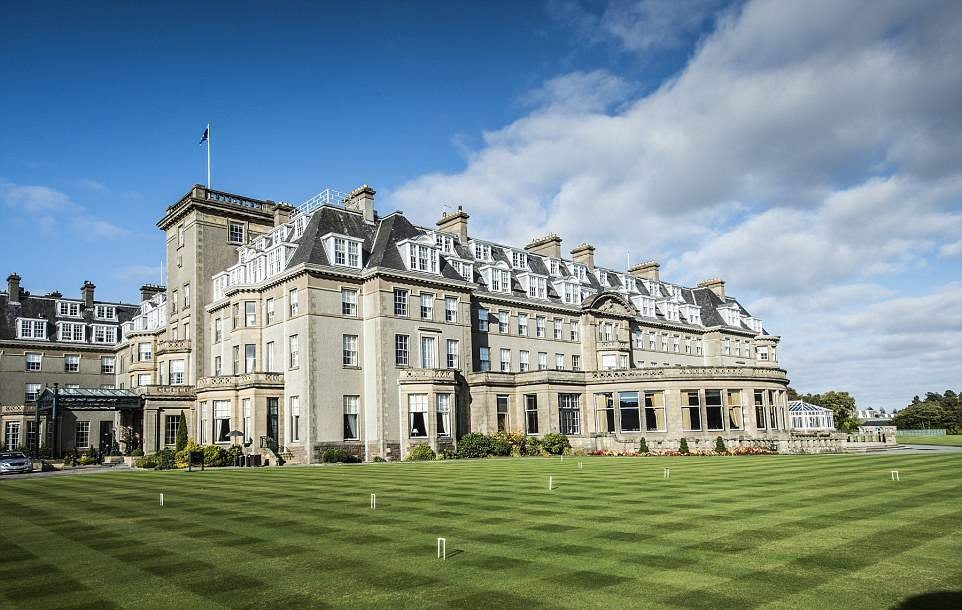 Gleneagles is too often pigeonholed as a golf hotel, but its new billionaire owner is determined to alter that perception, writes Andrew Harris
Know how fast a peregrine falcon can go, once it's folded its wings and locked onto lunch in the undergrowth? No, neither did I until I'd met Duncan from the British School of Falconry at Gleneagles Hotel. Over 240 m.p.h! It's the fastest living thing on the planet, capable of nought to sixty in half a second. Explaining an obsession with birds from an early age, where I thought for a moment that our backgrounds were more aligned than seemed likely, Duncan represents but one of several opportunities to experience a variety of outdoor pursuits in a place whose name is forever associated with golf.
Golf there certainly is, laid out all around, like an undulating perfectly preened, green welcome mat, the world-famous King's and Queen's courses, up and running before the hotel's grand opening in 1924. But any pre-conceptions that non-golfers like myself will be confined to a corner of the clubhouse with Arnold Palmer's memoirs are misplaced. Other attractions abound, and they began with the breath-taking views from Gleneagles toy train-set station.
The stunning landscape of Strathearn, that sweeping swathe of Scottish countryside where the highlands descend into a dramatic dance with lowland Perthshire, is where the boss of the Caledonian Railway Company had his epiphany. In that gilded age of grand hotels, he would build one right there. Guests would arrive at a purpose-built station on his trains, dine, dance and network in his hotel, and play golf on his courses. They did. They still do.
Given the railway connections hard-wired into Gleneagles DNA, it seems churlish not to use them. Stansted will only lead to a bad mood, whereas the little cream and chocolate station can lead you all over the Highlands, ease you into Edinburgh, and back and forth from Kings Cross as seamlessly as it was intended to do. Only die-hard railophobes will fail to appreciate the North Sea raging right outside the window, or dinner with Durham Cathedral gliding by. For the more adventurous, the Caledonian Sleeper service has been delivering the mother of all wake-up calls for over a hundred years, when morning blinds are raised, and London's metropolitan mayhem is replaced by the jaw-dropping majesty that is the Scottish Highlands. An eagerly anticipated £100-million upgrade later this year, is promising double beds and en-suite bathrooms in First. If breakfast with morning sunlight shimmering off Loch Lomond down below sounds irrepressibly romantic, rest assured it is.
Scotland's grande dame of destination hotels has recently changed ownership. Ennismore, which is currently rolling out the ultra-trendy Hoxton hotel brand around the world, acquired Gleneagles in 2015, after 31 years of ownership by the drinks conglomerate Diageo. The paunch of corporate conventionality has been replaced by the thrusting ambition of Indian born Sharan Pasricha, the power and the personality behind Ennismore. Landmark buildings recently acquired in both Edinburgh and London's Mayfair, for Gleneagles branded private members clubs, imply that this will be a space to watch.
For now, Ennismore is approaching the final stages of a meticulously undertaken multi-million-pound overhaul of Gleneagles. Those anticipating a giant Hoxton in the glens will be disappointed. The refurbishment is as subtle as it is stylish. Colour schemes and design themes that are unlikely to cause any undue disquiet to the dozing dowager of highland hospitality have managed to incorporate a plethora of opulent and newly creative elements.
Some are just long overdue lifts out of Diageo's dodgy ideas of what passed for aesthetically endearing, such as the super-stylish uniforms replacing the 1990s cabin crew look. Others are more edgy, such as the corridor carpet meticulously woven to resemble an old threadbare one, to entirely new innovations, like the American Bar. Replicating in elegantly accurate detail an authentic New York cocktail lounge, its glittering confines are locked, loaded and ready to welcome an entirely new generation of glamorous young things. A slew of upscale design talent was quietly deployed throughout the 232 rooms, suites and public areas, from the David Collins Studio, responsible for the sumptuous overhaul of the main Century Bar, to Glasgow's fabric fashionistas, Timorous Beasties. The result is more likely to tap you on the shoulder than hit you in the face, but it is unquestionably impressive.
The legacy from the drinks giant is knocked back with an array of mixers though. An underwhelming modern accommodation block next to the main building may have seemed a great idea on a 1980s Drambuie-besotted boardroom afternoon, but probably represents a more sobering challenge to Ennismore's executives. Likewise, a cluster of nearby time-share properties suddenly seems out of sync with a Gleneagles private members club around the corner from Berkeley Square's Sexy Fish. Time-share in the 21st century is about as sexy as a bowl of congealed cullen skink. As Ennismore's grip tightens, however, it wouldn't be at all surprising, to see time eventually called on Diageo's time lords. A more welcome inheritance is the expansive spa by award-winning, ESPA. Sleek opulent surfaces oozing zen-like tranquillity, all staffed by knowledgeable therapists, deliver an indication of how ESPA's founder, Susan Harmsworth, came about her MBE.
More energetic pastimes, aside from falconry, include off-road driving, where Hampstead housewives can aim a 4X4 at something more challenging than the school run; tennis, where nearby neighbour, Andy Murray is sometimes spotted; gun dog training; and an equestrian school conceived by Mark Phillips. The clay pigeon shooting school, originally set up by Formula 1 legend, Jackie Stewart, caters to experienced shots as well as novices. Ex-gamekeeper John, a sprightly sixty-nine-year-old, patiently delivers expert instruction on how to blast mobile pottery to bits, using a double-barrelled Beretta. As another plate flies nonchalantly by, looking no more like a pigeon than the previous one, John explains how he's never been to London in his life. Riveted by the scenic highland backdrop that he calls home, it's not difficult to understand why. London might only confuse him anyway. It confuses me, and I live there.
The queen of Scots hotels in full flow is a sight to behold. Like any grand hotel worthy of its status, stuff simply needs to be going on left, right and centre. And stuff does. Not only is there a piper in full regalia at the entrance, as one might expect, but there's also Duncan again, standing patiently in the main lobby. On his arm, under its leather hood, like some avian medieval executioner, a large and indisputably gorgeous golden eagle. He'll eagerly explain how there are now 500 nesting pairs in Scotland… but then again, it's probably best not to get him started if you intend to change and squeeze in an aperitif before dinner.
There are stirrings of activity in the palatial ballroom, which comes complete with steps for guests to descend as their names are regally read out. Incidentally, the Earl of Strathearn, whose resurrected title was a wedding present from his granny (beats a monogrammed duvet set, I suppose), otherwise known as Prince William, recently stayed in the hotel for its 90th birthday. Across the way in the sumptuously revamped Glendevon room, scene of the G8 conference in 2005, another function is underway, while at Andrew Fairlie, Scotland's only two Michelin-starred restaurant, palates are primed for the nightly onslaught of gastronomic excellence.
And then there's the Strathearn, Gleneagles' enormous dining room, the Mount Kilimanjaro of the Scottish culinary landscape, as much theatre as restaurant. Its array of starched napery stretching off into the distance invokes Fred Astaire winged collars, and ladies waving around cigarette holders as big as billiard cues. Huge shiny cloches are manhandled around, pretty much, one suspects, as they have been since 1924, as the Strathearn grinds its gears toward another evening catering to its eclectic cocktail of customers.
Next to us, a sizeable Swedish family gathering, all immaculately attired in various shades of black and grey, (scandi noir?) are fawning over their elderly leader. Straight out of the Saturday night BBC 4 subtitled slot, there's a loud clink as one of them swings her not inconsiderable set of pearls over her shoulder, to avoid dangling them into her soup. Tiny Siobhan from County Clare, three months into the job, and with an infectious giggle that should sustain any career, struggles valiantly past with the cheese trolley, as the boys from Bangalore glide by. How long before the fashion police arrive to take them into custody is anybody's guess, but attention is diverted to the American couple who have secured pride of place in the enormous bay window. Daughter or girlfriend? One suspects the latter, where a discreet corner table would have been a more judicious choice. That man might benefit from a little private tutoring.
Ennismore's new tagline for their repositioning of Gleneagles is 'the glorious playground', which I can't help warming to, because that's precisely what it is. There are clearly grand plans to keep this grand hotel spinning on the glamorous axis for which it was always intended. By the time of the 2024 centenary and an inevitable super-sized Highland fling, the glorious playground could be looking as glorious as it's ever done.
Rates at Gleneagles start from £275 per night based on 2 people sharing on a B&B basis.
ScotRail provided 1st class travel between Glasgow, Edinburgh and Gleneagles. Virgin Trains provided 1st class travel from Gleneagles to King's Cross.
The Caledonian Sleeper: www.sleeper.scot