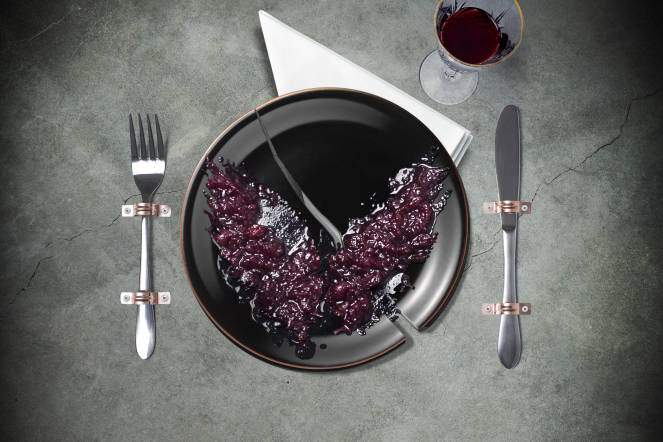 Thomas Adès' new surrealist masterpiece beautifully and melodically portrays the horror of a dinner party gone wrong, writes Melinda Hughes
As ominous church bells toll, we seat ourselves in the auditorium of the Royal Opera House to watch The Exterminating Angel, the new opera by Thomas Adès. Premiered in Salzburg last year and written for specific cast, it notably stretches the vocal limits beyond the stratosphere and features the unusual appearance of an ondes martenot (the instrument which creates that creepy horror sound you hear in American sci-fi 1960's movies). This was the hook that that compelled my boyfriend to actually drag me to the opera for the first time.
The opera directed by Tom Cairns is based on the 1962 Buñuel film; a story of a wealthy society group arriving from a night at the opera to a dinner party where an altogether disturbing situation ensues; none of them can physically leave the room. This surrealist story is one of foreboding and punishment of those who are 'unprotected from God.'  As the food and drink run out, some sort of metaphysical force keeps the guests inside for days. One by one, they become sick and almost feral-like, begin to turn on each other.
Adès' music is complex yet still melodic, themes reminiscent of Stravinsky, Messiaen and Berg with playful nods to Johann Strauss evocative of a time when one could never leave the party as yet another waltz struck up. There's also a reference to Bach's Sheep may safely graze when the sheep appear. Yes, there were real sheep on stage.
I cannot even begin to describe how phenomenal the singing from each and every one of this star-studded cast was. Never again will I see Thomas Allen, John Tomlinson, Christine Rice, Anne Sofie von Otter, Iestyn Davies, Sally Matthews and Amanda Echalaz all on stage together. Audrey Luna's high notes were ridiculously super-human and the lush tones of Sophie Bevan and Ed Lyon gave a beautiful pathos to an otherwise desperate situation. Comic additions were welcomed from the richly-toned baritone James Cleverton and 'adept at comedy falls' Thomas Atkins. As for the chorus; their singing was just beautiful, particularly in the offstage requiem. The extra instrumentation of bells, percussion and a guitar on full view in the side boxes gave the opera an extraordinary otherworld feel.
Please don't let contemporary music put you off. Indulge yourself, for the ROH is always a treat and this opera is worth it for the sheer spectacle, stellar cast, wonderful staging, stunning costumes and set, all of which will make you too seem inexplicably unable to leave.
Follow Melinda on twitter @melhugsopera