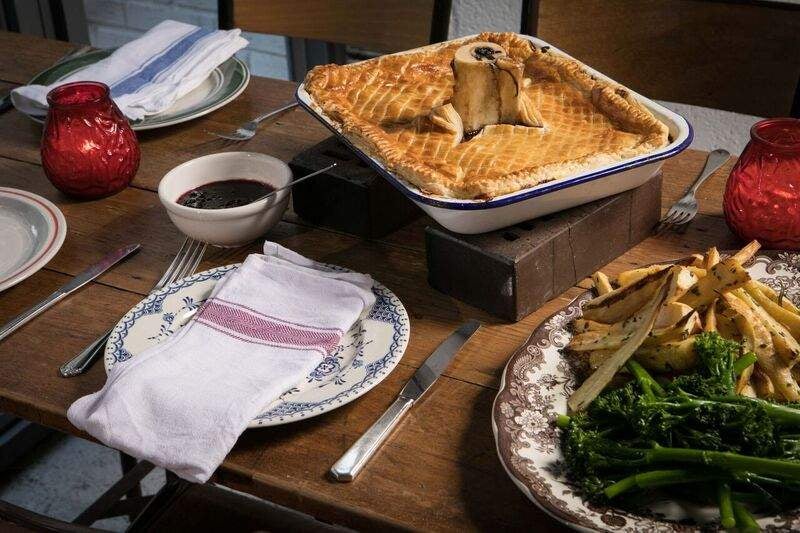 Alex Matchett visits the latest Yuletide edition of legendary pop-up Dram & Smoke and finds himself transported back to lost Caledonian childhood Christmases.
The antlers of the stag I photographed atop Bealach na Bà did not just fill my phone screen. They pinned my hinterland; set against the gold leaves of sunlight, peeling over a granite sea and the auburn leas of Wester Ross' ancient, loch lapped, mountains – images and memories inviting mis-memories and the craft of imagination. Scotland marks something of the spiritual, and, although it was a red deer rather than a reindeer, something of the festive in me: impossibly romantic country, roaring fires, warming drams and picnics in rain lashed cars.
I was excited then to attend the inaugural evening of pop-up phenomenon Dram & Smoke's latest London edition in Borough. Over the last few years Paul Ross et al. have made a name for themselves with a movable feast of Scottish seasonal fayre served in innovative style in post-industrial, pro-social venues. I've been twice now, both times making new acquaintances around large tables that invite the sharing of toasts and tales over hearty, serious food. The first time was remarkable in that it took place on the eve of the last general election, yet no one spoke of the trite tramlines of policy, instead enjoying the welcome distraction of a steaming, salt crusted lamb joint that required a hammer to break its baked shell.
This time round we were spoilt again with jolly distractions, notably in the shape of a games room, featuring a beer-pong table and live music – all serving the social mesh and the 'General Flumgummerie' of the mission statement.
The culinary showpieces came soon enough, kicking off with a welcome hot toddy on the door. We then sat down to the leanest, thickest partridge breast offset by a crumbling, deep and rich ball of game stuffing. There was an artichoke too for added crunch and a pear slice that gave a subtle sweetness. However, although fulfilling a clever nod to the carol, the pear was really the one left out of the party, asleep on the sofa after one too many sherrys.
The second course saw the obligatory smoked salmon – something I fear I could never eat enough of. This was some of the best I have ever tasted. A sledge of beetroot and sloe gin cured rouge flesh across a thick oatcake added to by a fresh salmon pâté which you must dollop on top. The cool and crunch disappear quick enough to yield to the smoky foundations. Next, tin teapots dispensed pumpkin soups with crucial haggis crumbs, indomitable in affecting the flavour with that smooth, juicy gaminess you only get with haggis.
By this stage were on our second round of beers. There's a great selection of wine but we'd gone for the all too rare Harviestoun brews that Dram & Smoke had thoughtfully stocked up on. Bitter & Twisted, the lighter Schiehallion, the legendary Old Engine Oil and the darkly textured Ola Dubh were all on offer. I'm not going to say Harviestoun make the champagne of beers because that's lazy and they don't, but they do make some of the best beer around. They're surreptitious and care more about quality than quantity; the beers are fantastic and each time I have one it does feel like a very special treat. The Ola Dubhs are actually barrel aged, a little like whisky, and though they're strong they don't taste it. They have treacle and smoke but are still lively enough to stand out as truly special. A friend of mine once made us walk across Edinburgh for three hours to find a pub serving, the sweeter, coffee-like, Old Engine Oil, and, I was… grateful.
The main event finally arrived in the form of steaming venison pies. They'd been simmering all evening on the pass at the open kitchen, on display as if behind the impenetrable shop window. The meat was soft and rich in a stew that owed more than a bit to the not so secret ingredient: Buckfast. Banished since my unremembered university days (and nights), I was happy to welcome 'Bucky' back into the gastronomic pantheon, if just for the night.
Although the food is brilliant it is the evening as a whole you pay for, and it is an all too rare event: a warm, friendly shindig. It's collegiate and you'll make fast friends and forget any formalities and that is very, very welcome. Although this is the 'Xmas Project' it's the usual deal with a hat on, Christmas is coinciding with Dram & Smoke, not the other way round. If this were held in August it would still feel just like all the best bits of Christmas. May they long continue to perpetually cheer spirits.
For pudding you'll be treated to chestnut brownies and whisky ice cream, but by this stage I was already reminiscing, reveling in a Scottish hinterland of childhood Christmas memories, transported by the swiftest of emotive vehicles: food & drink. On this journey Dram & Smoke proved the ablest of pilots. Slàinte.
Dram & Smoke's Xmas Project continues this month
Week 1:  Tues 13th / Wed 14th / Thurs 15th / Sat 17th / Sun 18th                               
Week 2:  Mon 19th / Tues 20th / Wed 21st / Thurs 22nd / Fri 23rd