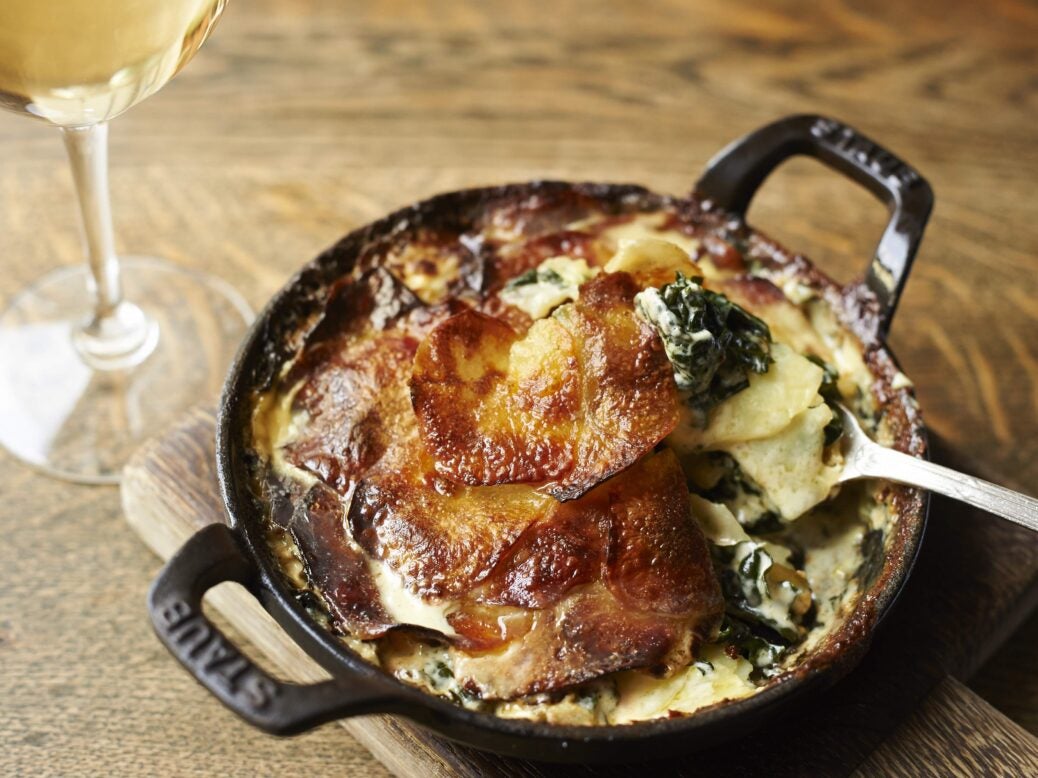 Edwin Smith meets Michelin-starred chef Angela Hartnett in the French Alps, where she tells him what drew her to the cosy surrounds of Hotel Portetta from the buzz of Mayfair
'What's a famous chef like you doing in a place like this?' That isn't my first question to Angela Hartnett – one-time Gordon Ramsay protégé, now star-name in her own right. But it might have been.
Not because our surroundings are insalubrious – far from it. Dressed in jeans and a hooded sweatshirt, she sits across from me on a bespoke George Smith couch upholstered with Mulberry fabric in the cosy surrounds of Hotel Portetta, in the French ski resort of Courchevel. But, for a chef who picked up her first Michelin Star in 2004 at the Connaught and has since won acclaim and another star for Murano in Mayfair, coming out here could be considered a strange move.
After all, mountain food is often little more than lashings of melted cheese, stodgy carbs, cured meat and more cheese. Great as hearty fare if you're torching calories flying up and down the pistes all day. But not the way many noted culinary talents would choose to bring their skills to bear.
'We came unstuck a bit last year,' says Hartnett, referring to her first year in charge of the kitchen here (she also oversees the restaurant at the Lime Wood Hotel in the New Forest, which is part of the same group). 'We took away some of the French classics and didn't do them as much as we should have done. This year we've brought them back.' So Cucina Angelina, as it's now called, offers old Gallic and Savoyard favourites such as tartiflette and steak tartar. Hartnett adds that if a customer asks for a tomato and avocado salad, 'we will do it. Tomato might not be in season, but at the end of the day it's what the customer wants. I'd go nuts at any chef who said, "Oh, I'm not doing that."'
But, in keeping with her roots (one set of Hartnett's grandparents emigrated from near Parma to Wales), the menu has a distinctly Italian feel. There is spaghetti, gnocchi, bruschetta, chunky rabbit terrine, pork belly with a delicate radicchio, hazelnut and raisin salad, as well as interesting sides such as finocchi gratinati – fennel gratin.
The highlights, though, are a beautifully translucent sea bream ceviche with orange and chilli, as well as 48-day aged sweet beef ribs that have been hung in Himalayan salt caves in Northern Ireland by farmer Peter Hannan. While Hartnett says the restaurant sources what it can from local producers, she makes no apology for hauling this stuff up the mountain. The Lime Wood group and restaurateur Mark Hix (a good friend whom she refers to simply as 'Hix' over dinner) are among the select few that Hannan supplies.
For dessert there are light yet gooey isole galleggianti floating on a sea of crème anglaise and a simple lemon torta, which Hartnett says her pastry chef regularly petitions her to embellish. 'Listen, mate, when it's your name above the door, you can do what you like,' she says light-heartedly. But she's not exactly joking.
Hartnett's down-to-earth attitude might seem at odds with Courchevel's bijou image. The streets of Courchevel 1850 are encrusted with designer boutiques – Cartier, Chanel, Hermes, Graff – and garnished with six-foot blondes who appear to have had work done, despite still being in their twenties. But Cucina Angelina and Hotel Portetta are nestled in the neighbouring yet distinct Courchevel 1650, a short drive down the winding mountain road, 200 vertical metres below. At this altitude luxury seems to be manifested in comfort and a relaxed atmosphere.
Up on the slopes there are other places to eat. Last season the Duke and Duchess of Cambridge racked their skis and stepped into La Soucoupe, where tables encircle a huge grill over an open fire and diners enjoy unexpected takes on mountain cuisine such as moudin – a soft, light black pudding that's served in apple and chestnut sauce, and which doesn't bear much resemblance to its English cousin.
Those with tastes that are more in keeping with the tsars than with British royalty might prefer Le Cap Horn, which sits near the small private airport at Courchevel 1850. Here it is possible to spend €99 on a single main course and well into the tens of thousands on the 500-strong carte des vins. But you won't catch Hartnett there on her day off.
'You look at some of the menus and they're ridiculous,' she says. 'It's not morally right to rip people off just because it's Courchevel. They seem to get away with it, but if I were paying €100 for a main, I would want it to be the best main course there is. So, it's much better that we're here.'
Edwin Smith is a freelance writer
Hotel Portetta: From EUR 3,080 (circa £2,617) for 2 persons, 7 nights, half board
Contact: info@oxfordski.com, Tel: 01993 899 420, www.oxfordski.com