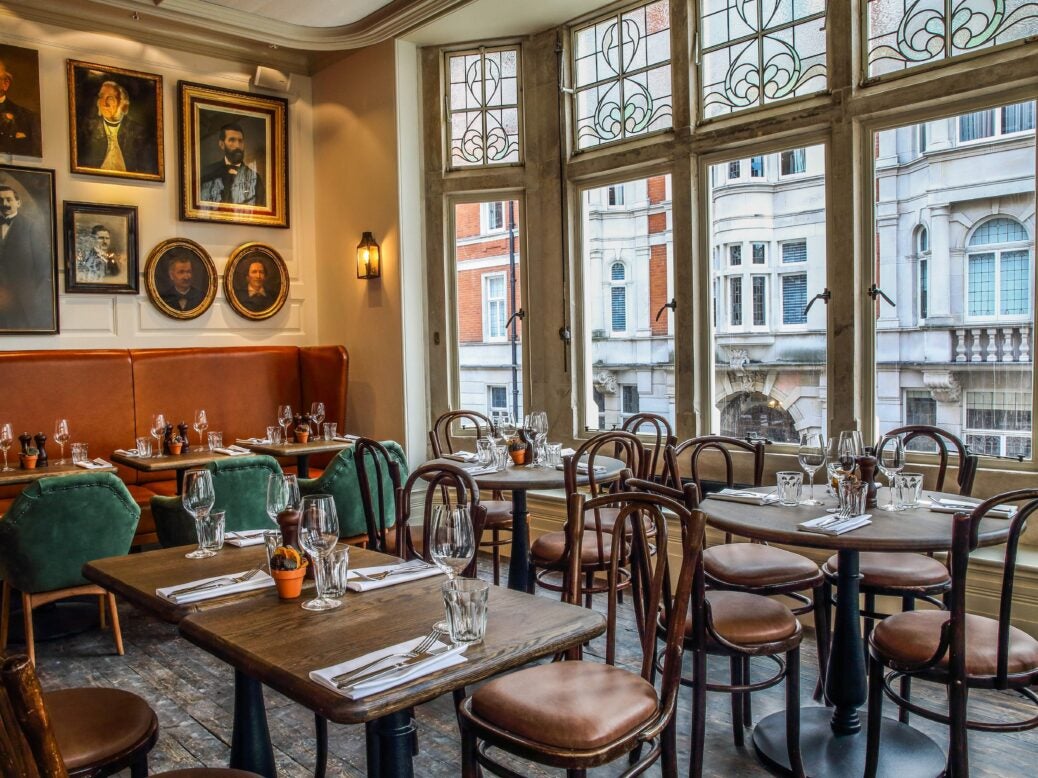 With friendly and attentive service, this Victorian styled pub serves generous, inventive and big-hearted cooking, writes Grace Allen
Coming in from the street on a chilly January evening, I find the Coach Maker's Arms has everything I love in a London pub. It's warm, crowded, and filled with the immensely good-natured and comforting sound of people genially shouting over each other. Nevertheless, climbing the stairs to the restaurant on the first floor feels like escaping to another place – peaceful, with plenty of candles giving the room an amber glow. Pale walls, enormous windows and wooden ceiling fans, plus portraits of various imposing Victorian gentlemen and a fireplace in the corner – a country house with a side of colonial style. I'm early, and extremely happy to sit and admire the room with a glass of perfectly chilled prosecco while my companion arrives.
When she does, and we get down to the serious business of eating, there is plenty more to admire. A swirl of slow cooked Hebridean lamb surrounded by crunchy pickled cauliflower and a lightly spiced yogurt is inventive, although the lamb might be a little too fatty for some (not me). Pumpkin with chestnut granola and ricotta dumplings is real comfort food, seasoned nicely and livened by crispy, butter-fried sage. A lot of care has gone into the cooking of my Lyons Hill venison, which is deliciously crusted on the outside and (very) rare in the middle and served with parsnip both roasted and in a smooth and buttery puree. It goes beautifully with the Rioja we're drinking.
The star is a starter of Jerusalem artichoke, sunflower seeds and kale with a truffle dressing. I am often vocally – and probably irritatingly – opposed to the ubiquity of kale on menus. All vegetables are healthy, so why should this, with its scratchy corners and tough, tracing-paper texture, appear everywhere as a nod to 'clean eating'? (Now I have subjected you, too, to my kale rant. Sorry). Anywhere, here I am forced to eat my words, as its inclusion seems well thought out, fried to a delicate crispiness, salty, and tasting like it should be extremely bad for you. The Jerusalem artichoke is tender and the whole dish intensely, lip-smackingly savoury. A real triumph of vegetarian cooking. 'Refreshing, unusual, so tasty', is my friend's summation. I think I just manage 'wow'.
For pudding, a Bramley apple pie with cinnamon parfait and caramelised chestnuts is luxuriously chewy and rich; my toffee pudding cake is served with grilled, crisped and cubed pear and custard ice cream, something I had never tasted before (why not? It seems so deliciously logical) and could only wish there was more.
The service was friendly and attentive. This was especially notable when a tendency to flail my hands around when I talk (unwise when at a small table crowded with glassware) sent a wine glass dramatically flying and two concerned waiters rushing towards me. I cannot resist proudly noting that I managed to catch the glass before it spilled. One of life's small triumphs. The prices may be towards the 'Mayfair' end of the pub dinner scale, but this is so much more than pub grub – it's generous, inventive and big-hearted cooking.
Grace Allen is a writer at Spear's