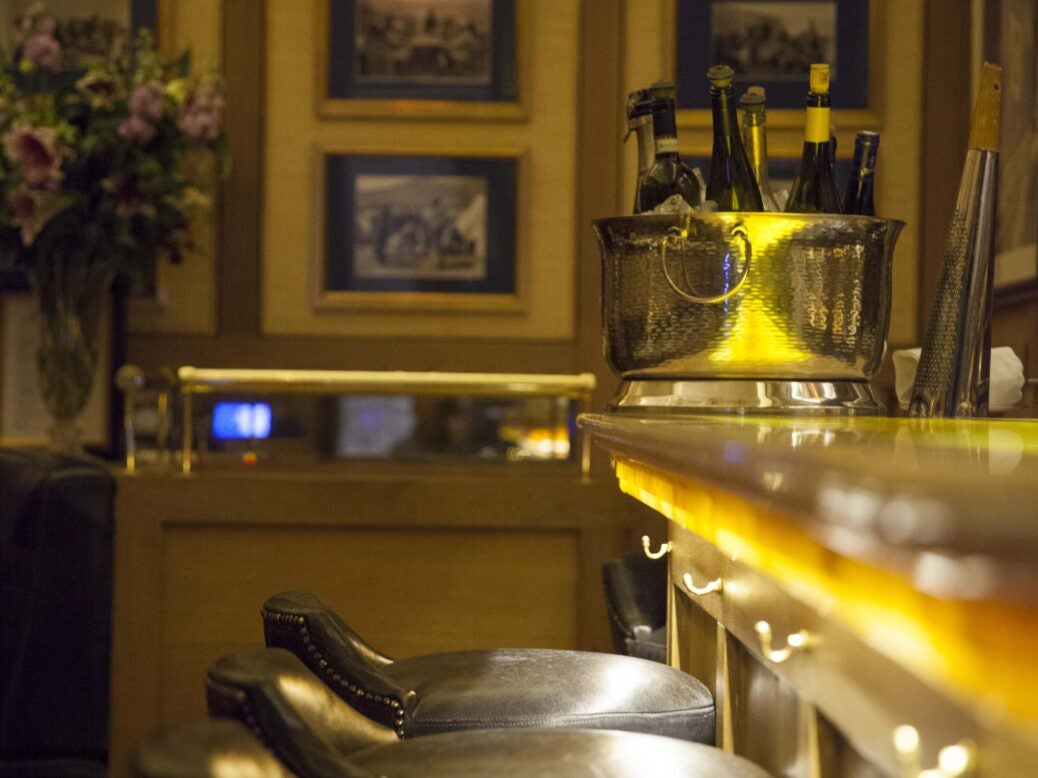 Zak Smith's indulges in the luxury yacht-like splendour of a discreet Italian establishment.
As London adjusts to a chaotic year gone, and an uncertain one beginning, one thing is bound to settle the stomach and make the epicures, gluttons and bon vivants happy -truffles. And Chucs, the postage stamp sized Italian on Dover Street, has beautiful, decadent and indulgent fresh white truffles flown in specially from Alba. Lots of them.
Chucs Restaurant & Cafe is the sister concept of the 1950s inspired swimwear and men's fashion label next door. Created by executive chef Alessandro Verdenelli, it offers a generous all-day dining menu that, since the restaurant opened, has played host to countless business breakfasts, power lunches and intimate Mayfair dinners. With space for just 30 guests, tables are hard to come by, but you're in for a treat if you are lucky enough to get a reservation.
Elegant and sophisticated, the dining room feels more like the inside of your best friends Ferretti 150 sailing from Capri to Porto Ercole than it does a London restaurant. With warm light wooden paneling, polished brass rails and subtle nautical detailing, the private yacht feel is obvious, oozing style, and is finished off with a wall display packed with classic images and photographs of the Amalfi coastline. Whether you are coming with an investor during the day or mistress at night, this is the place for a discreet conversation, the corner booths being like gold-dust.
The food is as you would expect from a Mayfair Italian- expensive and rich. The fresh white truffle pasta (price not shown) was a delectable affair, the subtle flavours of the truffle flirting effortlessly with the creamy sauce, producing a dish that was so good that it actually ruined the rest of the meal. White truffles are much harder to come by than black truffles, so if you are a truffle fiend, this is the place to go.
The grilled sea bream with sautéd vegetables was lovely, a fairly simple dish, but, as a counterbalance and follow up to the gut-busting starter, felt like an appropriate and welcome break. The menu contains all the traditional Italian dishes one could hope for, and despite the hefty if unsurprising pricing, felt approachable. The variety of dishes, from grilled veal to salads and pastas, will satisfy even the fussiest of customers.
Dessert was an indulgent affair. No Italian meal is complete without a spoon or three of Tiramisu, and the Chucs variety did not disappoint. Soft, with just a hint of coffee and alcohol, with a finger biscuit that perfects the balance between crisp and soft, it left me with a belt pressed hard into my paunch but with a grin wider than a five year old at Legoland.
There are few restaurants that manage to create a real sense of occasion, and at least for dinner, Chucs' real sense of occasion is in abundance, and should my January diet allow, i'll be sneaking back for some more truffle pasta.