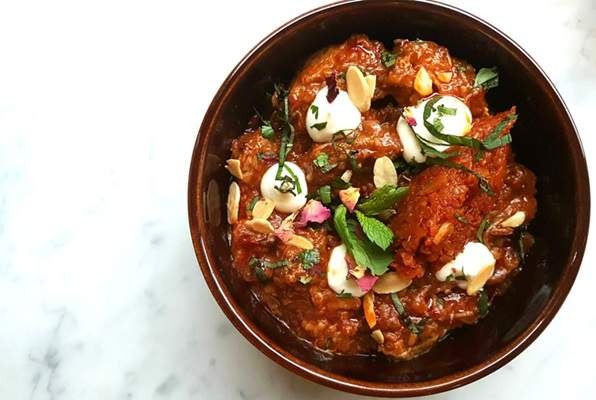 This unpretentious bistro is a melting pot of flavours, both provincial and transcontinental, writes Laura Plumley
During the 15 minute walk from Liverpool Street station to Brick Lane in Shoreditch, a marked change of atmosphere and architecture can be felt and observed – the uniformly tall glass office blocks are replaced by Brick Lane's signature eclectic mix of shops, clubs, museums and restaurants. We were making our way to Blanchette, to sample the French-North African themed menu on a warm summer's evening. The exterior of the restaurant is painted a cool, pale teal which marks it out from its neighbours, but otherwise Blanchette is perfectly in tune with the surroundings. Opened almost two years ago by three Parisian brothers, and named after their mother Blanche, who still resides in France, the little restaurant has a homely, inviting feel. The interior presents itself as 'bistro' territory, and as we move towards a slightly small, but intimate café-esque table, we pass the large, airy bar where people sit, stand, eat and drink, tapas-style. We've entered the world of French provincial cuisine with a dash of North African spice.
We are warmly greeted by Yannis Alary, one of 3 brothers who also own a Soho restaurant of the same name. According to Yannis, the Brick Lane Blanchette is part of the community here, with both locals and tourists frequenting this unpretentious gem in equal numbers. Its popularity is clear – by 7.30 pm on a Monday evening it is almost full.
Yannis, who looks more like a student than a veteran of 16 years in the hospitality industry, oozes quiet confidence but is approachable and takes time to share his extensive culinary knowledge and opinions surrounding his growing business. Indeed, for a relatively new restaurant, Blanchette has remarkably well-established roots – the three brothers' experience extends over two continents, from Paris to New York and London, and spans almost 30 years.
Everything in this little restaurant is perfectly matched – the décor, the unpretentious food and presentation and the enthusiastic staff all reflect the bohemian appeal of Brick Lane. The menu is not overcomplicated but offers dishes from a wide range of French regions. There's cured pork sausage from Lyon, ham from the Pyrenees and cheese from Saint-Claude. One of Blanchette's specialities is its dry aged beef. This process of dry aging by storing beef in near freezing chambers for several weeks concentrates the flavours and tenderises the meat. The technique can only be used on high quality meat, thus ensuring from the outset that Blanchette's beef is top notch.
We were advised that choosing dishes to share was their usual MO, and we weren't disappointed when we were presented with our several small starters, served on rustic wooden blocks. With cheese from different regions of France being a menu staple, my hopes were high for both the baked St Marcellin and cheese beignets. Although far from disappointed, I found the cheese to be a little bland, but it was complemented well by the deliciously sweet caramelised onions which accompanied both cheeses. The mains had an equally homely feel about them, with the pork deliciously tender and the fish beautifully flaky. The range of desserts was limited but they were well presented and cruelly moreish! Our choice of French wine (Petit Ballon Blanc Côtes de Gascogne) was perfectly chilled. My only niggle about the food was that a couple of the side dishes were slightly overly salty.
Overall, the restaurant's presentation, atmosphere and food quality were excellent and well worth the trek from Liverpool Street tube station. It's evident from the success of their Soho restaurant, and their flourishing Brick Lane business, that these three brothers show no signs of slackening their ambition or enthusiasm.
Laura Plumley writes for Spear's