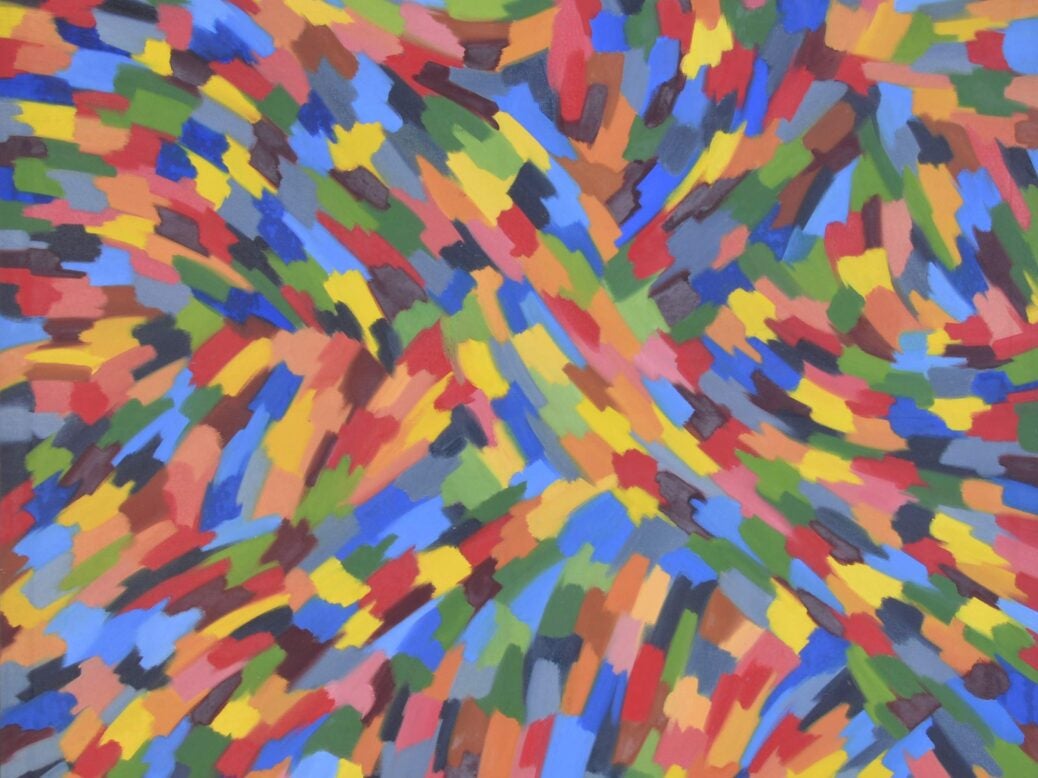 The wondrous works of the late Berenice Sydney, on exhibition at the Saatchi, is a colourful tribute to life, vitality and creative freedom
Currently on view at SALON, Saatchi Gallery's basement exhibition space, is Dancing With Colour, a show of works by the British artist Berenice Sydney (1944 – 1983) – remarkably the first presentation of her work staged at a major public art gallery in over thirty years.
In keeping with SALON's policy of staging museum standard exhibitions by historically important artists, Dancing With Colour is presented in collaboration with Mallett and Dreweatts 1759 and is comprised of a selection of oil paintings and works on paper that reflect Berenice's signature lyrical and highly animated graphic style.
One of the most expressive and original artists working in Britain in the late 1960s and early 1970s, Berenice Sydney's oeuvre spans paintings, drawings, prints, children's books, costume design and performance. Her paintings, notable for their fluency of form and movement, are inscribed with her passion for music and dance as well as the sense of liberation and freedom of expression which prevailed in Britain during the 1960s.
Born in Esher, Surrey in 1944, Berenice – as she was professionally known – was educated from the age of six at the Lycée Français Charles de Gaulle in London. From her early years, she studied ballet with Marie Rambert and classical guitar with Adele Kramer. As an adult, she trained at the Dance Centre in Covent Garden and attended flamenco dance studios in Hampstead and New York City.
In addition to reading the classics and studying mythology, she was fluent in five languages. She was enrolled at the Central School of Art and Design but left formal art education to set up a studio in Chelsea. She participated in over 40 exhibitions both in Britain and abroad before her tragic death of an asthma attack shortly before her 39th birthday. Her work is held in over 100 important private and public collections, including the Victoria & Albert Museum and Tate.
Despite such an assured place within the history of art, her work resists categorisation. Speaking to Spears, Jennie Fisher, the head of pictures at Dreweatts 1759, notes,
'Actually, she is quite difficult to place categorially within one area of art history, in that obviously she has a place within the mid-century modern British tradition, with links to the likes of Bridget Riley, but she also has a place within a wider international context.'
'Her early work clearly draws on the works of Matisse and Picasso and her later works owe something to American Abstract Expressionism,' Fisher continues. 'The overall result is very much an amalgam of these influences, along with her very own inimitable style'.
Two paintings from 1966 demonstrate these early influences: Lady Enjoying the Sun (On the Beach) (1966) and Untitled (1966), reflect the impact of cubist and fauvist vocabularies that were central to Berenice's practice.
An Untitled painting from 1967 recalls Jasper John's breakthrough 'Numbers' series, whilst one further from 1968 the swirling biomorphic forms of Georgia O'Keeffe.
It is, however, the sense of expressionism and fluidity in Berenice's paintings that links her art with her lifelong interest in dance and music. Fisher says, 'Alongside her art studies, she also studio ballet and flamenco and guitar. Everything is interlinked, I don't think you could have the art she produced without those other influences.'
Berenice travelled widely throughout her life, including to Greece, the Aegean islands and Egypt; the history and mythology of which provided the subject matter for many of her paintings, including two graphic linocuts on view in Dancing With Colour, one entitled Psyche and Eros, the other The Three Graces.
Exhibited in her first solo show at the Drian Galleries in London in 1968, the critic Marina Vaizey praised these drawings and prints based on Greek myths in Arts Review, describing them as 'neo-classical in technique and vaguely reminiscent of the famous period of Picasso, arguing 'a tough self-training' and as being 'coherent and elegant exercises.'
Berenice continued to explore themes in her work relating to Persian mythology, Christian symbolism and Greek mythological subjects as well as referencing Ancient Egyptian art, creating a hieroglyph of her professional name and even working on papyrus.
As her style developed, Berenice abandoned figurative representation for total abstraction, in which geometric or freely composed forms created rhythmic and harmonious compositions. As is witnessed in another featured painting, Untitled (1983), the vortex-like compositions of these later works generate a dynamic structural frame that expresses liberation, joy and exhilaration.
Berenice had concentrated on these Op Art-like paintings in the early 1980s shortly before her sudden, tragic early death from asthma and a heart attack while in her studio. In her own words, Berenice saw the vibrant use of colour as 'the paramount means of expression' and these last paintings are testament to the artist's extraordinary freedom of spirit.
Says Fisher, 'She was absolutely full of vitality. She was someone who clearly lived life to the full. I think one thing that shines through when hearing some of the comments about her life is her sense of humour. She took her art seriously and was very proud of her achievements but also didn't take herself too seriously. She always wanted her work to convey a certain amount of humour.'
Related
Review: Known Unknowns, Saatchi Gallery
Review: The Court of Redonda, Heong Gallery