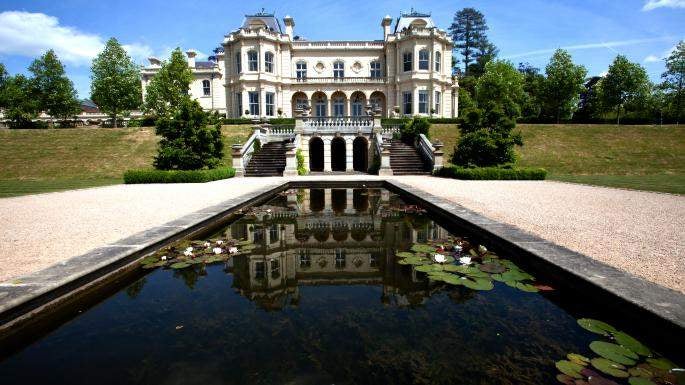 The transformation of a former press baron's country estate into a boutique hotel scores highly with our roving reviewer
Beaverbrook, known as Cherkley Court in earlier times, was one of those English country houses which was at the heart of the most captivating political and social affairs. Formerly owned by the legendary Canadian-born press baron Lord Beaverbrook, the house served as a meeting place for Churchill and his cronies and attracted veritable VIPs among the rich, famous and intellectual. These included Ian Fleming, H.G Wells, Charlie Chaplin, Rudyard Kipling, and Elizabeth Taylor, all of whom have eponymously named suites in their honour.
As well as being a strong hand within British political affairs, Lord Beaverbrook revolutionised the British media, forging a new atmosphere of optimism and patriotism through his ownership of the Daily Express. The rich history of Cherkley Court can be felt in the Victorian neo-classical mansion's vibrant, tactile and somewhat witty interiors that have been expertly curated by interior design doyen Susie Atkinson, the woman behind Babington House and Soho House's Brit-luxe aesthetic.
Churchill, one of Beaverbrook's closest friends, spent so much time at Cherkley Court that he even had his own room (now available for guests to stay in), which was uniquely situated so that he could survey the driveway and see who was approaching in case he should need to make a hasty getaway. The rather suave suite uses bold patterns, lines and dark wood to represent Churchill's powerful character, and even features the original desk he used to paint from. Guests may be confused and (or) charmed by the low-seated chair by the bathtub. Supposedly, Churchill got his best ideas while enjoying a hot soak, which naturally meant a secretary had to be on hand at all times to put pen to paper.
I stayed in the Elizabeth Taylor suite, with its rattan carpets and delicate country florals. With a plump, pastel-pink four-poster bed dominating the chamber, littered with champagne, chocolate truffle and Sipsmith gin. It's easy to imagine Taylor herself sashaying to the balcony for an angry cigarette.
The balcony looks out onto a delightful 'Italian garden' featuring a sunken pond designed by influential British horticulturist Richard Bisgrove. In Cherkley Court's heyday this was the site of a rather chilly outdoor pool, perhaps popular with Lord Beaverbrook's hardier guests. The beautifully tiled marble bathroom with polished wooden accents is a bona fide showstopper. Allow the trappings of time to wash over you in the stately sun-lit bath or enjoy the expansive double shower with your very own Hollywood squeeze.
The dining room is host to a Japanese restaurant, whose Chef Maruyama worked extensively at Nobu in both London and Monaco and trained at Tokyo's famous Kojyu. The food, with ingredients taken from the estate's herb gardens, is reliably sublime.
Beaverbrook's Peacock Bar is a feat of design, rivalling London's top members clubs for majesty and 'roaring twenties' glamour. With cocktails smoother than the bespoke blue satin seating, I simply cannot imagine a more beautiful bar.
If cocktails aren't your thing, and perhaps you're with the kids, you can watch an old movie in the original art-deco cinema room. Alternatively, drop them off at kids' club 'Sharky and George'  before heading to the soon- to-open Coach House Spa, which is being designed by one of the world's finest glass architects, Brian Clare, and promises to be a vast improvement on the old outdoor pool.
In addition to the main house, accommodation can be found at the Garden House and the Coach House Cottages, where smaller rooms make for a more authentic, less ostentatious country feel, yet with the same brilliant design by Susie Atkinson. The downstairs restaurant at the Garden House is a delight, populated by locals enjoying exceptional Anglo-Italian fare.
There is something Wodehousian about the Beaverbrook. Perhaps it's the smattering of  illustrations and newspaper clippings that makes you feel as if the bespectacled writer of 'Society Spice' might be pottering about the place putting beakers to doors. Or it may be the feeling that it is you who is Blandings Castle's most recent impostor. If only walls could talk.
My advice is forget the Ned, and head to the Beaverbrook.
Beaverbrook, the former country estate of press baron Lord Beaverbrook lies near Leatherhead, Surrey, 19 miles from London.