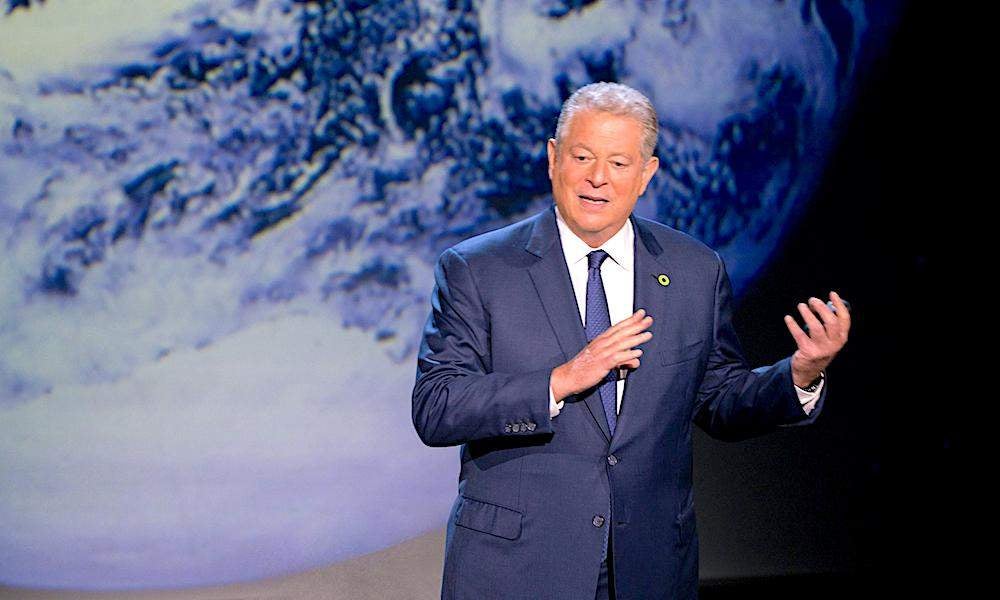 Al Gore's  insightful sequel to the Oscar-winning documentary doesn't have the same impact as its predecessor, but it offers a glimmer of hope nonetheless, writes Sophie Killip
In his Oscar-winning 2006 documentary, An Inconvenient Truth, the former US vice-president Al Gore famously – notoriously to some – used an animation to show the World Trade Centre Monument being flooded, in his now equally famous power point presentation. His argument then was predicted rising sea levels and storm surge. Over a decade later, he repeats the trick of flooding the Monument – except this time the footage is from national news covering Hurricane Sandy, not a computer hard drive.
An Inconvenient Sequel: Truth to Power is the equally thought provoking follow up from the documentary that won Gore the Nobel Peace Prize in 2007. Since An Inconvenient Truth's release, Gore has been flying around the world, trying to save it one air-mile at a time. This is what we see in Truth to Power – less PowerPoint, more people. The ex-politician visits areas and individuals that have been most affected by climate change, including the ice sheet on Greenland melting at an unprecedented rate, and a distraught young Filipino who was caught in Typhoon Haiyan.
At its core, Truth to Power consolidates what we discovered in An Inconvenient Truth, aided by new, updated slides in Gore's original pitch and the scientific, climatic discoveries of the past decade. Gore's fervour for his cause is as strong as ever, and at times his calm exterior begins to crumble. We see more of Gore's zealous passion as he addresses his Climate Reality Leadership trainees, voice rising, his frustration beginning to show through the cracks. It is addictive to watch, pulling in the audience (both on screen and sat in the cinema) to allow them to invest in Gore's agenda.
Many of the facts in Truth to Power feel thrust at the audience in an 'I told you so' fashion, and Gore's frustration towards the naysayers is palpable. Unfortunately, shock tactics are overused by Gore when he argues the repercussions of rising temperatures worldwide. Shots of heatwaves (roads melting in India) and floods (a woman being dragged out of her car in Louisiana) feel somewhat like scaremongering. Some might regard this as hypocritical, considering Gore's scathing remarks in his book The Assault on Reason on the impact of the Bush administration's propaganda on the public's levels of fear. For what it's worth, I don't.
The major focus in the second half of the film is the 2015 Paris climate conference, which Gore attended. Truth to Power shows him arranging a deal with solar-powered projects to make the energy source more attractive to India, which was sitting, it would seem, rather comfortably on the fence. It makes Gore – as the film would like you to believe – essential to helping the agreement be reached; a knight in shining armour, if you will. One can only understand Gore's recent dismay as President Trump pulls the US out of the agreement which he was so invested in. Gore sums it up brilliantly as the film recognises this fresh obstacle, quoting Mike Tyson: 'Everyone has a plan until he gets punched in the face.'
An Inconvenient Sequel: Truth to Power is an insightful update on the climate crisis, and what is being done – albeit slowly – to tackle it. It doesn't have the same impact as its predecessor, but perhaps this is because its audience, for the majority, are already onside. Throughout Truth to Power, there is a glimmer of hope that we are moving in the right direction, but Gore is persistent that there is still an awfully long road ahead. One can only hope that President Trump gets to watch this film, although the chances of that happening seem remote. As for the rest of us? Gore is worth revisiting. After all, climate change hasn't gone away.
Sophie Killip is a writer at Spear's