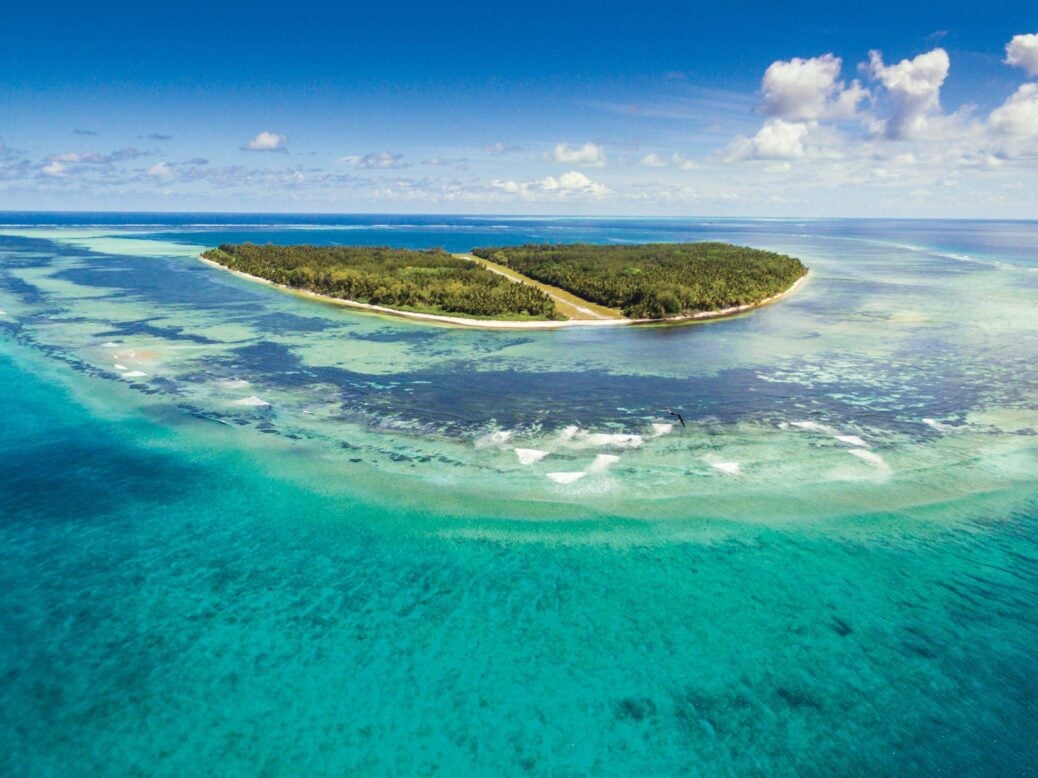 Resplendent with dazzlingly colourful wildlife above and below water, the Indian Ocean paradise that is Alphonse Island is a treat for all the senses, writes Teresa Levonian Cole
The rustling outside my hut was followed by a pause. Then a loud chop-chop, like that of an axe against a tree. 'Anyone there?' I called into the inky, star-packed night. Silence. I made my way along the beach. The swishing grew louder, then stopped. Scanning the undergrowth with my torch, the beam suddenly fell on a pair of hooded, unblinking, reptilian orbs — their owner as startled as I was. We eyed each other, waiting to see what the other would do. And then the beautiful green turtle resumed her pat-patting, compacting the sand in the hollow. Of the phantom hatchet there was no sign — buried, perhaps, along with her eggs. She finished nesting and waddled back to the water.
I grew attached to the wildlife during my week on Alphonse, most particularly to the grey heron that stood sentry each morning on the beach. Part of the group which includes Bijoutier and Saint-François, this little private atoll in the Seychelles, 250 miles south-west of Mahé, has long been famed among fishermen for its pristine marine life, and the best saltwater fly fishing in the world. In 2016, however, the single hotel on Alphonse reopened, its 26 huts and villas elegantly revamped to cater for leisure guests as well as the fishing confraternity: just 12 dedicated 'rods', who wade like whimbrels each day in the coralline flats, angling for feisty permit, milkfish, bonefish, triggerfish and the holy grail, giant trevally. None of which I had heard of before.
Like Baba Yaga, I lived in a wooden house on stilts — albeit a rather luxurious A-frame version — by the beach. I could happily have spent the week idling on the white sands. But with an alluring range of options, never has relaxation been so breathless…
I met with the island's conservationists, Pep and Ari, for a tour of my new home. Guests are provided with bicycles to negotiate the sandy paths that criss-cross the island's 174 hectares, through coconut groves that were planted in the 1800s. By 1950, one million coconuts per year were being harvested here, for the production of oil.
'There is a colony of nesting shearwaters nearby,' Ari tells me, 'and the Seychellois who worked here believed their cry was the sound of ghosts.'
The shearwaters are out of sight, deep inside their burrows. But ruddy turnstones are out in force, green-backed herons stand hunched, and rare black-naped terns surprise me, by hovering like hummingbirds — and flying backwards. Dazzling white fairy terns patrol the skies in pairs, while frigatebirds soar, angular wings like pterodactyls.
We cycle down the 0.8-mile airstrip that bisects the island. My journey to this remote corner of the planet consisted of an Air Seychelles flight from Paris to Mahé, an overnight stay at Eden Bleu, then a one-hour flight on the weekly twin-prop that arrives bearing guests. Others arrive by private jet. Today, a Citation Excel is parked in the shade of the palm trees — the property of Alphonse's owner, the South African-based property developer Murray Collins, who is visiting with his children. I look around for signs of the island's Aldabra giant tortoises, 50 of which roam free, and occasionally stray on to the runway.
'We can't chase them away,' says Pep, 'so if they are in the area when a plane is due, we have to turn them upside down, till the danger is past.' Collins is waiting for me at the beach bar, scanning the horizon for humpback whales. I ask what inspired him to invest in Alphonse. 'I'm passionate about conservation and sustainable tourism,' he says. 'It's in the blood.' While his other hospitality ventures include Machaba Camp in Botswana, and rhino conservation in Zululand, the idea here, he says, is to offer guests a 'blue safari'.
Blue is the operative word. Never have I seen such clear, translucent waters, ranging from deep cobalt, through brilliant turquoise, to pale jade. I snorkelled off Bijoutier, in a silent world of balletic fish painted in the garish primary colours and bold prints of Fauvism. The Picasso triggerfish is a startling and surreal sight, while Matisse might have designed the costume of the pyramid butterflyfish. Iridescent parrotfish scraped at corals, cleaner wrasse groomed grouper, while damselfish darted about like streaks of lightning. Delving deeper, I went scuba diving with Lucy, the resident marine biologist, where I fell in love with a gorgeous oriental sweetlips. A school of masked bannerfish, meantime, were raiding the prosperous bank of coral. Sergeantfish looked on. It was like swimming in an aquarium.
In fact, you hardly need to leave the shore. Some 80,000 bonefish live on the shallow flats, and paddling in a glass canoe revealed turtles and barracuda, as well as peppered rays and lemon sharks in water barely 12 inches deep.
On the subject of kitchens, chef Trevor worked magic each day. All the reef fish that are caught are released, but pelagic and deepwater fish are daily staples — tuna, wahoo, grouper — sliced as sashimi or grilled as steaks, served with salads fresh from the kitchen garden, and prime meats from South Africa. Palm hearts are as commonplace
here as lobster is in New Brunswick. And if we weren't eating at tables on the beach, surprises would be set up, in shady corners of this little paradise.
As idyllic settings go, the best was saved till last: the famed lunch on Tiger Flats. Escorted by acrobatic spinner dolphins, a fleet of catamarans bore us on the 45-minute journey towards Saint-François. Parasols and chairs had been set up, tables piled with food. And there was Trevor, at his barbecue station, grilling fish. We lunched ankle-deep in consommé-warm waters, until the incoming tide called time.
I would like to say I contributed to the feast. I went deep-sea fishing on the 'kitchen run', and hooked a 30kg yellowfin tuna — so Shaun the skipper deduced, from the strain and arc of the line. But I never did see it — it was snatched at the last moment by a shark. Another day, I donned a harness and went marlin fishing. I learned all about the rods and reels and lines and lures — huge lures! — and what to do if and when…in vain. My fish was nowhere to be seen. Neptune, today, was protecting his own.
Shaun, an experienced marlin fisherman, sighed in sympathy. 'And that,' he said, 'is why it's called fishing.' As opposed to catching, I suppose.
Teresa Levonian Cole is a writer who specialises in travel, arts and lifestyle