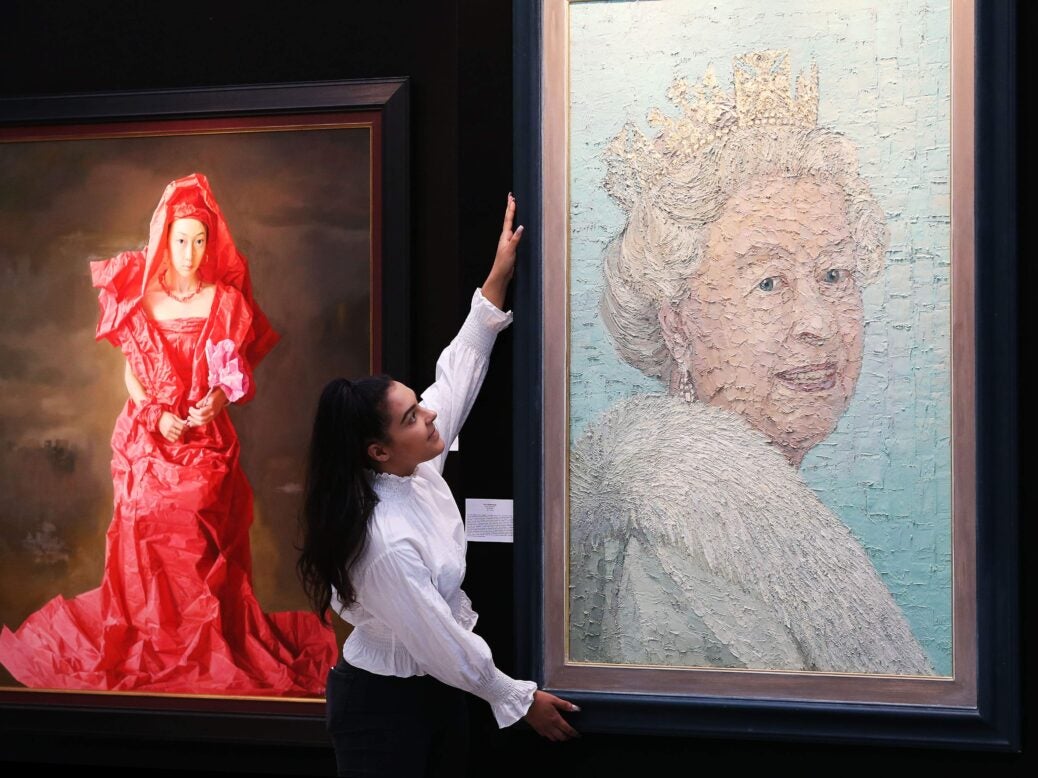 One of the biggest art and antiques events starts next week – Sophie Killip speaks to the Fair's Director, Mary Claire Boyd, to find out more
Returning to London's iconic Kensington Olympia Exhibition Centre next week is none other than the Art & Antiques Fair Olympia, celebrating its 46th edition. As of the 20th of June, this global, flagship arts and antiques event will take over the exhibition centre – and as one of the UK's largest and most well established arts fairs, it's certainly not one to miss.
From modern, contemporary British artists to the Old Masters, art enthusiasts will be delighted by the range of paintings, prints and posters. Both seasoned antique collectors and first-time buyers will be spoilt for choice with over 100 antique dealers showcasing their wares. Jewellery enthusiasts are in for a treat; thousands of pieces will be on display from established designers such as Cartier, Vacheron Constantin and Boucheron.
The fair ensures that every item on display has been individually vetted by a team of independent experts – so that visitors can buy goods with confidence. As well as an unrivalled 50,000 pieces on offer, the Fair also has an impressive line-up of speakers; prepare to gain insights into everything from art history, designing beautiful interiors, and the hottest new trends.
Ahead of the Art & Antiques Fair Olympia, Spear's spoke to Mary Claire Boyd – the Fair Director of the House & Garden Festival, and Art & Antiques Fair Olympia – to find out just what is in store for those planning to visit.
'New for this year are a number of dealers from mainland Europe', Boyd revealed, mentioning that she is particularly excited to see what they will bring. 'These are dealers with new stock that visitors wouldn't usually be able to see in the UK. [For example], we will have Galerie Hurtebize from Paris who sell 19th and 20th century art; French jewellery dealer, Joelle Lasry; and Galerie Olivier Waltman selling contemporary art and design'.
Next up are the trends and talks for 2018 – what does Boyd think buyers will be most interested in this year? 'Modern British Art has been rising for some time and continues to be popular at the Fair, and pieces from Uzbekistan are increasing in popularity', she said. 'Art Deco furniture has been selling well and signed jewellery is always popular with collectors and connoisseurs'.
'[As for] this year's talks programme… [It's] looking so varied that it really depends where your interest is. If you have an interiors project on, there are free clinics with top UK interior designers [taking place this year], which is a new feature of our link up with the House and Garden fair. Other speakers include interior designer Rabih Hage; Joanna Wood and Tim Gosling discussing how to combine contemporary design with antiques in a period property; and paint maker and architectural historian Edward Bulmer'.
We also asked Boyd what her advice would be for first time art and antique buyers. 'Follow your passion and learn along the way', she said animatedly. 'Buying art and antiques is immensely rewarding emotionally, and sometimes even financially; visit the top London fairs like Olympia, discover what you like, and then talk to the dealers there who have boundless knowledge about their subject'.
'Build up a relationship with dealers and they will source pieces for you and help you build a collection,' continued Boyd. 'Visiting museums and top galleries will also help you to improve your "eye" and be able to distinguish the best pieces – and buy from a vetted fair if you can'. Catching on to this last point, we questioned why vetting each of the objects on display at the fair is so important.
'Many of our dealers have over 20 years' experience in their (sometimes very narrow) field – and they are still learning,' Boyd explained. 'We cannot expect our visitors to know whether a piece is heavily restored or genuine. The fact that a team of over 100 experts check every single piece for sale before the fair opens is a huge reassurance to collectors and buyers'.
Visitors come from 'far and wide'. 'We know from our on-site shippers, Stephen Morris, that they send pieces off to Tasmania, Monaco, America, Europe and Asia – but similarly, we have a strong contingent from local west London and around the UK. Yes, we sell to multi-millionaires, but also to people looking for one piece of art for their wall, the missing piece for their collection or a wedding present for a friend,' says Boyd.
Finally, we found out what the fair director herself would buy from the fair. 'I live in an old house which is a mixture of periods from 15th century to Georgian; I love the character of it and the antiques in it,' says Boyd, 'but there is no doubt it is brought to life even more by putting some contemporary pieces in it. For me a carefully curated mixture of old and new furniture, objects, and art is my ideal'.
Can all these pieces, from various historical ages, be found at the Fair? Boyd definitely thinks so. 'I think what people are surprised about when they visit for the first time is the sheer breadth of stock on offer, and how unusual and thought- provoking those pieces can be', she says. 'There are thousands of objects from history on sale in the antiques fair whether it is Jane Austen's desk (sold in a previous Fair), an ancient Greek vessel for holding wine or a 19th century Indian iron. Prepare to be intrigued'.
The Art & Antiques Fair returns to Kensington Olympia Exhibition Centre for its 46th edition from the 20th – 27th June. All Spear's readers can receive 2-for-1 tickets when they use the code, SPEARS, to book through the fair website, here: www.olympia-art-antiques.com. 
Sophie Killip is the editor of DesignCurial and a regular contributor to Spear's