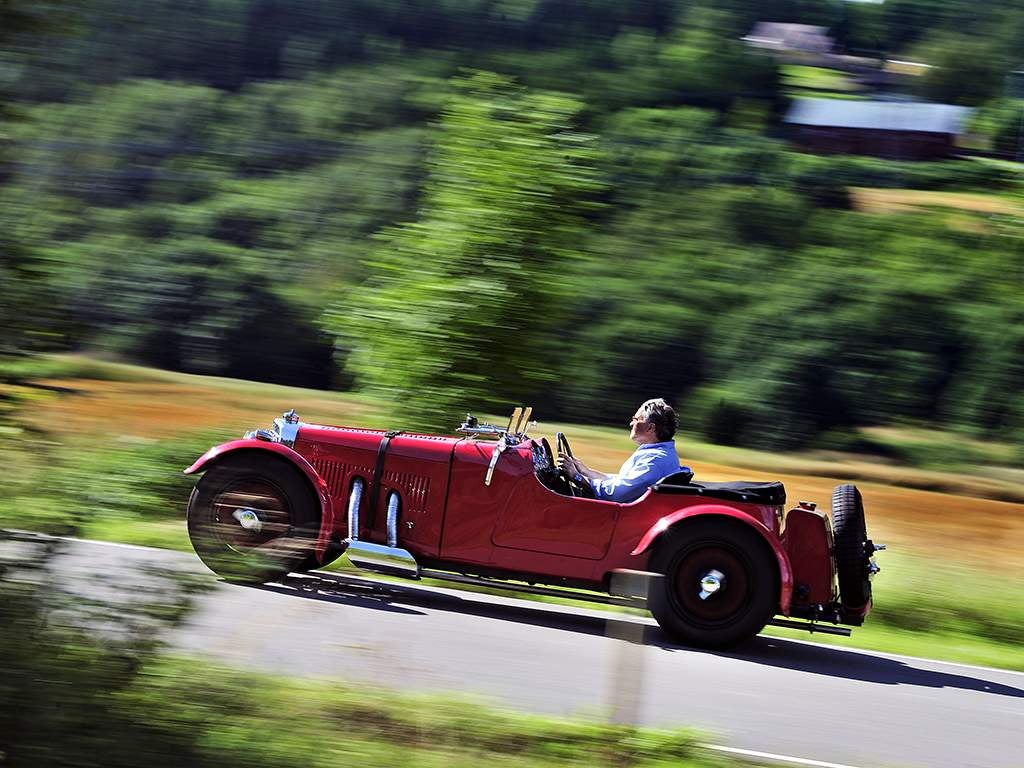 Pre-war Aston Martins have proved a profitable investment as well as being a delight to drive — and lucky owners even have Ecurie Bertelli to revive their prized assets, reports Jeremy Leasor
Were I to tell you of investments whose value grows by 10 per cent year on year, whose possession gives endless pleasure, and whose use brings joy to all who see them, you might be sceptical. If I told you they could open doors which would otherwise be closed and be a ticket to a world about which most of us can only fantasise, you would snort in disbelief. If, on top of this, I told you they were also tax-free, you would laugh in derision and jeer that I was selling snake oil.
You would be wrong. Such dreams do exist. They are not unique, nor are they the crazed delusions of desperate salesmen. They are vintage cars.
There is a growing tendency to assume that any car more than a few years old is a classic, with a value to match. This is not always the case. Plenty of dreadful and dull cars have been produced. Junk does not improve with age: it just becomes old junk. Happily, there are exceptions. One such is Aston Martin: in particular, a pre-war Aston Martin.
Mention Aston Martin and many will imagine the James Bond DB5 from Goldfinger, or a V12 driven by Daniel Craig. They might not know that the company was formed in 1913 by Robert Bamford and Lionel Martin to sell Singer cars, or that the first of the line was built in 1914, when Bamford and Martin slotted a Coventry-Simplex engine into the chassis of a 1908 Isotta Fraschini. Martin had had previous success in various specials at the hill climb outside the village of Aston Clinton and he and Bamford named that first Aston Martin, and the ones which followed, in its honour, and in his. Production (if you can call making one car production) was halted by the First World War but resumed in 1919.
Aston between the wars was never a large company. By 1939 it had only made 681 cars. (In 2015 it built around 4,000.) It is easy now to forget how unappreciated such cars were in the decades following the Second World War. Back then they were just old cars and could be had for little more than their value as scrap. That 460 of those pre-war cars survive is a remarkable testament to their quality and reliability and the keen enthusiasm of their owners.
For such a small company whose finances were frequently precarious, Aston Martin had a remarkable record of competition success in all kinds of races, from club meets at Brooklands to the Mille Miglia and the 24 hours of Le Mans. The cars were relatively small: four-cylinder engines ranging in size from just under 1500cc to two litres. Their lack of size was more than balanced by the quality of the engineering and robust construction. They would be driven across Europe to race, win, and then be driven home. Eighty years on, owners still do this. The handling is taut and precise, with a tendency to understeer, so four-wheel drifts and steering with the throttle are a joy and come completely naturally. A crash gearbox only adds to the pleasure, double de-clutching a forgotten skill to master.
The brakes are exceptional for the period, and good by today's standards. Some of the cars are disarmingly quick: 130mph from two litres is impressive in a car new in 2016, but in something almost 80 years old it is extraordinary.
'Ah,' I can hear you thinking, 'but at what cost does all this fabulousness come?' (The question loathed by all true old car enthusiasts: 'What's it worth?') A Silver Ghost man with whom I was discussing this very issue said he tended to answer: 'About the same as a house.' I suppose it depends what kind of house you have in mind. In the case of an Aston the price could start at £100,000 for a 'bitsa' (bitsa this, bitsa that), £250,000 for a Sport or International, and £450,000 for a Le Mans. A good Ulster or Speed model with racing provenance (some of them have genuine and continuous provenance from the day they left the works) could set you back £3 million.
'Yes,' you are wondering, 'but there must be a drawback. Where would I get the spares? Who would I get to look after it?' This is always a concern with an old car. The vintage car world is rife with specialists and experts who will sling you a pitch that politicians would kill to be able to emulate. You will discover too late the depth of their ignorance and low standards of their work. Happily there are exceptions, and owners and hopeful owners of pre-1940 Astons are very fortunate to have Ecurie Bertelli.
Ecurie Bertelli grew from what began as Morntane Engineering in 1976, founded by Nick Mason, Derrick Edwards and Judy Hogg specifically to restore and maintain vintage Aston Martins, known as the Bertelli cars. Augustus 'Bert' Bertelli was an Italian-born engineer whose family settled in Cardiff in 1894, when he was four. He played football for Welsh schoolboys and could have done so professionally, but he was offered an engineering apprenticeship in Stoke-on-Trent aged fourteen. (He actually preferred rugby, and later played for Cardiff.) He returned to Italy when he was eighteen to work for Fiat.
The Italians have always had an almost supernatural talent for design and engineering, and Fiat was top of the tree. It recognised Bertelli's ability and had him ride as mechanic to the legendary Felice Nazzaro in the 1908 Targa Bologna. They won. He then returned to England at the outbreak of the First World War to work on the design of aero engines.
Bertelli teamed up with Bill Renwick after the war to build a 1.5-litre engine which they hoped would be taken up by a variety of motor manufacturers. This was quite common then, with engines such as Meadows, Gough, Anzani, Lycoming and Continental being used to power a range of cars from different makers. It is common now. Aston Martin was by no means the only modern manufacturer to follow suit when it revived the practice with the Jaguar-based engine in the DB7 and subsequent power plants based on Ford and now Mercedes units.
Robert Bamford left the company in 1920 and Count Louis Zborowski, a colourful and successful racing driver of immense wealth who built the three Chitty Bang Bang aero-engined cars, injected much-needed finance. Despite his help, by 1924 Aston was bankrupt. It was bought by Lady Charnwood but failed again in 1925. It closed the following year, and Lionel Martin left. Bertelli and Renwick saw an opportunity to capitalise on Aston Martin's established reputation and promote a brand-new car powered by their engine. With the backing of Lady Charnwood and other investors they bought the company from the receiver. The Bertelli and Renwick engine was to power all Astons up to the Second World War. Bert Bertelli's coachbuilder brother, Enrico 'Harry' Bertelli, had the adjoining premises. He supplied most of the bodies.
As Wartski is to Fabergé, so Ecurie Bertelli is to pre-1940 Aston Martins. Both are the acknowledged experts in their fields. Ecurie Bertelli's technical director Andy Bell and CEO Robert Blakemore and their team offer a truly comprehensive service. To those who aspire to own one of these cars, they can advise on each aspect of every model from condition to originality and give guidance on which would best suit a buyer's budget or intended use. They always have a number of cars for sale in their Art Deco-inspired showroom, but they also have a rather more discreet list of machines which could be available to the right purchaser. Of the 460 survivors, Ecurie Bertelli has had around two-thirds through its workshops. It has supplied parts for almost all the rest.
Behind the showroom are the workshops. Each car has its own bay. Some are in for routine servicing, others are being prepared for racing. Comprehensive restoration to any specification can be undertaken. Where over-restoration was once the fashion, originality, or the appearance of originality, is now the goal. Ecurie Bertelli can restore a car to look as if it has never been apart. Spares are not a problem, either, as the company can make or source anything that might be needed — even a new engine.
With the dramatic escalation of vintage and classic car values, it is no surprise that they are bought as investments. A 1936 Ulster for which you might have to pay £3 million today could be the very car advertised in the July 1955 issue of Motorsport for £375. They have outgrown most other investments and seem rather more secure. There is a bonus, too: they don't attract capital gains tax. They can also be used. There are increasing numbers of organised events for those who enjoy participation, from something as simple as a few old cars on a run to the pub to full-blown race meets where some turn up with transporters and a team of mechanics worthy of Formula One.
The pinnacle of these events is the annual Mille Miglia, a re-enactment of the 1,000-mile road race run between 1927 and 1957. It starts and finishes in Brescia and is only open to cars of which at least one example took part in the original. A vintage Aston is the perfect key to this door. You will join massive Mercedes SSKs from the late 1920s whose superchargers shriek like banshees grinding coffee, howling twelve-cylinder Ferraris from the 1950s driven by smooth men with hooded eyes, Maseratis, Oscas, and every other kind of Italian exotica — but always, or so it seems, at least one blown eight-cylinder Alfa Romeo piloted by a pair of impossibly exotic Italian girls.
It is run as a rally, rather than a race as such (although it can at times be hard to tell the difference), and competitors come from all over the world. It is without doubt the social motorsport occasion, sans pareil. It will probably come as no surprise to hear that eligible cars can attract a premium and that participation can increase a car's value. Of course, nothing is quite the same as the provenance of having actually competed in period. Many Bertelli Astons did just this and many continue the tradition.
With any old car there is always the worry of breakdowns — after all, the newest of the Bertelli Astons is almost 80 years old. When things do go wrong, it is almost never in the hotel car park: it always seems to be in the middle of nowhere. At night. In the rain. Ecurie Bertelli provides a support team so even this need not cause anxiety.
In the unlikely event that you tire of your Aston, or should you decide to sell it for any other reason, for a modest commission of roughly half what an auction house would take, Ecurie Bertelli can help you ease its passing. It can make this as painless as such sad things are possible to be and can arrange the sale so discreetly that almost no one need know it has happened. Apart from the buyer. And you, of course.