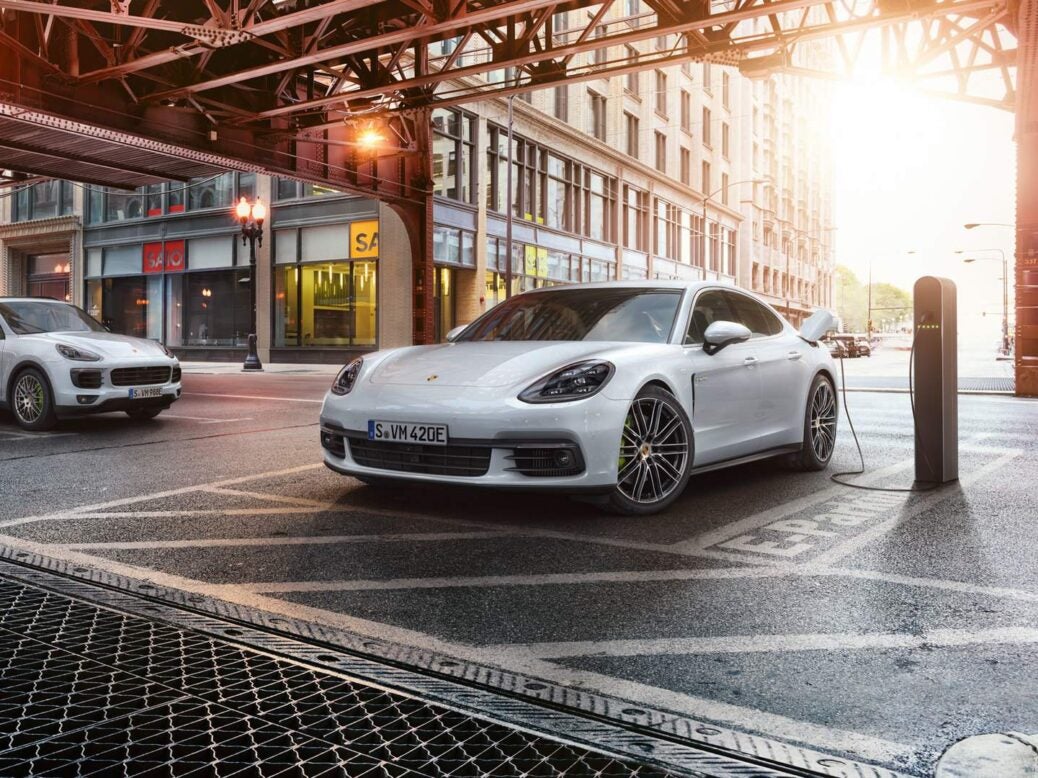 After nine years of trying, the Porsche Panamera has finally elevated estate cars to a new level, writes Gareth Herincx
It's fair to say the Porsche Panamera has divided opinion over the years. Launched in 2009, facelifted four years later and replaced in 2017 with a subtly changed second-generation model, it's now won over its critics and is selling better than ever.
New for 2018 is the first variant: the Sport Turismo. Shooting brake, estate car, sports tourer – call it what you will – the Panamera now turns heads for all the right reasons.
Transforming the fastback into a load-lugger has solved many of the external styling issues that plagued the original Panamera. The front of the car is much the same, but now the slightly raised roofline extends further back before joining a massive new tailgate, topped with an adaptive roof spoiler for increased downforce (apparently a first for an estate car).
Even though it's the same length as its regular sibling, it has a larger luggage capacity and, crucially, more headroom for rear passengers.
The other main difference inside is that the Sport Turismo is billed as a 4+1, meaning there's room for three rear passengers, though a two-seat configuration is available on request, which is just as well because the centre seat is very much a short straw. On the plus side, there's plenty of head and legroom for two adults in the back and the luggage capacity is up 20 litres to 520 litres. Flip the back seats down and 1,390 litres of space are available.
There's more to this car than kerb appeal and extra space – the Sport Turismo is the closest thing to a limo, sports car and estate all rolled into one. Chairman Oliver Blume describes Porsche as 'the leading brand for exclusive, sporty mobility', and the Sport Turismo is the perfect example of such a car.
The range, priced from £73,071 to £139,287, starts with the 325bhp 3.0-litre V6 Panamera 4 Sport Turismo and tops out with the mighty Panamera Turbo S E-Hybrid Sport Turismo, which combines a 542bhp twin-turbo V8 engine and a 134bhp electric motor, giving a total output of 671bhp. I tested a mid-range Panamera 4S Sport Turismo, which starts at £93,979, though mine cost £113,788 with a 20-strong list of optional extras, including 21in platinum silver alloy wheels, a £1,000 Bose surround sound system and 'Night Vision Assist' (of which more later).
Powered by a 440bhp 2.9-litre V6 paired to a slick eight-speed twin-clutch automatic gearbox, it's capable of 0-62mph (0-100 km/h) in just 4.4 seconds and a top speed of 177mph. Fuel economy is 34.9mpg, but in practice, given the temptation to enjoy the performance, 25mpg is closer to the mark.
Step inside and the driver's seat glides to your pre-set position, making the low-slung cabin feel very special indeed, even before you twist the keyless starter. The cockpit is loaded with kit and is beautifully trimmed. Porsche has had a button purge and the dashboard has a more minimalistic feel.
The centre console is dominated by an impressive 12.3in touchscreen, while ahead of the driver there's a full digital dashboard which replaces traditional instrument dials with digital ones. Special mention for the optional Night Vision Assist, in which an infrared camera can detect pedestrians and large wildlife before they are illuminated by the headlights and the thermal image appears in the instrument cluster. Genius.
In fact, the Sport Turismo is packed with tech, though much of it is out of sight. There are driver assistance systems, including adaptive cruise control, plus rear axle steering, adaptive air suspension and Porsche 4D-chassis control, which analyses pitch, roll and yaw and in real time and tweaks the car's ride accordingly.
Fire up the engine and it sounds the part with a gentle baritone, which rises to a growl and then a roar when you plant your right foot. That said, it will also purr when cruising. You can choose between four drive modes via a nifty rotary dial on the steering wheel derived from the 918 Spyder.
The car defies physics, because despite its two-tonne weight and large proportions (it's more than five metres long), the steering is sharp and it feels agile. The ride quality is on the firm side, especially in the sport modes, but it's generally compliant – even with those massive wheels.
Four-wheel drive is standard across the range so there's no shortage of traction, giving you the confidence to explore the extremes of the big Porsche. It never seems anything other than poised and balanced, and once you get used to its size you can really have fun on more challenging roads. Body roll is virtually non-existent, while the power just keeps on coming from the eager V6.
The difference between the drive modes is marked. Normal is best for effortless, refined, motorway cruising, while sport will be more than enough for most. However exhilarating the more hardcore sport plus is, the suspension really firms up and rougher roads can be a little uncomfortable.
Frankly, the car's ability to cover large distances at significant speed in luxury, while allowing you to chat to your passengers, is truly impressive. Combine it with entertaining driving dynamics, should the mood take you, and it's a remarkable package.
The Panamera 4S Sport Turismo combines performance, practicality and state-of-the-art technology like no other. Beautifully built, blisteringly fast and boasting serious badge appeal, you won't find a more gorgeous, engaging estate car.
Web porsche.com/uk
This article first appeared in the May/June edition of Spear's magazine. Buy your copy or subscribe here
Related
The 488 GTB is Ferrari's automotive masterpiece
Exhibition: Getting under the skin of Ferrari
Review: Rolls-Royce swerves to the 'dark side'